The Arnova 7c G3 is a product refresh of the older 3G connected Arnova 7c G2 tablet.
This update features a Snapdragon S2 MSM8255 clocked at 1.4 Ghz processor which can be found in devices like Sony Xperia Active/Play 4G/Ray, HTC One V, Sensation, Flyer and many other devices. This 7 inches tablet is very complete offering all the features you may need to fit in your jacket's pocket: 3G, GPS, HDMI output, Bluetooth and a dual camera. It runs on Android 4.03 Ice Cream Sandwich.
Arnova 7c G3 specifications
Operating System
Android 4.0.3 (Ice Cream Sandwich)
Build fingerprint: ARCHOS/msm7630_fw8930/msm7630_fw8930:4.0.3/IML74K/user.release.20120523.141215:user/release-keys
Linux Kernel Version: 3.0.8-perf chenqh@ubuntu-int #6
CPU
Qualcomm MSM S2 8255 1.4 Ghz
Integrated GPU: Adreno 205
Flash Storage Memory
Capacity 4 Gb or 8 Gb
Speed Class 6 equivalent, see our benchmark below
System Memory
512 Mb
Additional storage
Micro SD slot (SDHC compatible)
Display
TFT LCD 7 inches capacitive dual touch screen
800×480 resolution
3G
Yes
Bluetooth
Yes
Wifi
802.11 b/g/n
Gravity Sensor
Yes
Camera
0.3 Mp (front facing)
3 Mp (front facing)
GPS
Yes
HDMI
Yes (mini HDMI, aka HDMI type c connector)
Interfaces
Micro USB slave 2.0: Mass Storage Class (MSC)
MicroSD slot
Battery life
Video playing test: ~ 9 hours 15 minutes
Wi-FI/Bluetooth/3G disabled, brightness to 50%, Bick Buck Bunny 720p continuous video play
Android Market / Google Play
No Has Archos own Market place, Appslib
Kickstand
No
Dimensions
199.4 mm x 119.2 mm x 10.8 mm (7.8'' x 4.69'' x 0.4'')
Weight
368 g

Arnova 7c G3 presentation video
Arnova 7c G3 case, buttons and connectors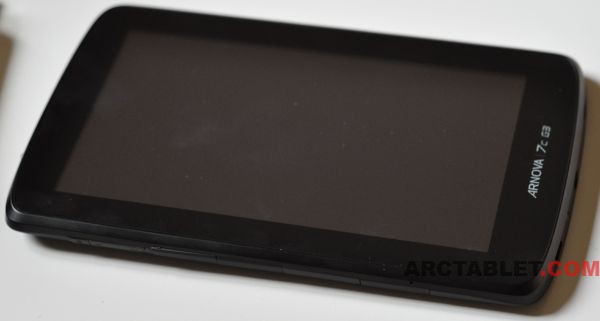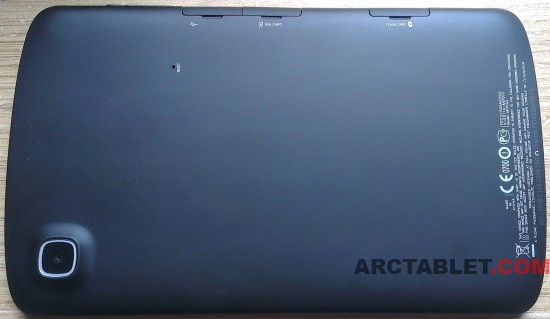 Back camera (3 Mpixels) and reset pinhole.


Audio jack connector located in the center and single speaker


Buttons and connectors, from left to right: Power and Vol – / + buttons, micro USB connector, micro HDMI port, SIM Card slot, Micro SDCard slot.
Snapdragon S2 processor
Qualcomm MSM8255 System on Chip (SOC) Specifications:
Manufacturing process: 45 nm
Frequency: 1.4 GHz
Adreno 205 GPU (which offers HD playing capabilities of 720p videos)
Embedded DSP (GSM, GPRS, EDGE, UMTS/WCDMA, HSDPA, HSUPA, HSPA+, MBMS baseband)
GPS Module
Arnova 7c G3 benchmarks
Arnova 7c G3 vs Arnova 7c G2 benchmark results
 
Arnova 7c G3

Arnova 7c G2

Firmware versions used for tests
msm7630_fw8930
4.0.3 IML74K
user.release.20120523.141215
msm7627_fw8918
2.3.3 GINGERBREAD
eng.bingo.20110817.155043
Antutu Benchmark
higher is faster
Total score: 3964
Total score: 1620
Linpack Pro v 1.2.9
higher is faster, benchmark run in multi-thread
(we took the best numbers we could achieve, there is a lot of variance on these bench results)
35.56 MFLOPS
9.50 MFLOPS (single thread)
CF-Bench v 1.1
higher is faster
Native score: 5516
Java Score: 2004
Overall Score: 3408
Native score: 1343
Java Score: 778
Overall Score: 1004
ArcTools I/O benchmark v 0.69
higher is faster
Read: 34 307 Kb/s
Write: 6643 Kb/s
Not tested
Smartbench 2011 v 1.2.1
higher is faster
Prod. index: 
Games Index:
Prod. index: 342
Games Index: 1395
Quadrant Advanced 1.1.7
higher is faster
Total: 2796
CPU: 2954
Mem: 1332
I/O: 7096
2D: 689
3D: 1911
Total: 1084
CPU: 3135
Mem: 881
I/O: 792
2D: 119
3D: 511
Vellamo v 1.0.3

higher is faster

1364
306
Nenamark v 2.0

higher is faster

33.9 FPS
10.4 FPS
GPUBench v 1.0.0

higher is faster

Absolute: 38752

Relative: 36439

Absolute: 19317

Relative: 16902

GLBenchmark v 2.5

higher is faster

does not work
does not work
Arnova 7c G3 battery life
We ran a battery life test playing Big Buck video (720p, mp4, reencoded sound in AAC format: this file big_buck_bunny_720p_AAC.mp4), brightness was set at 50%, sound at 50% and Wi-FI disabled.
ArcTools battery life test was used to generate the following graph.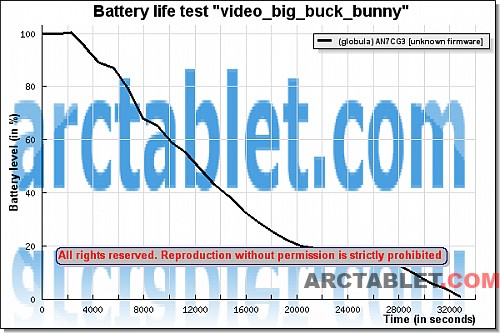 With this test scenario, the battery life of the Arnova 7c G3 continuously playing a video was around 33 000 seconds, that is about 9 hours and 15 minutes, which is so far one of the best battery life we have measured on an Archos/Arnova 7″ tablet.
Arnova 7c G3 and other Arnova 7 G3 tablets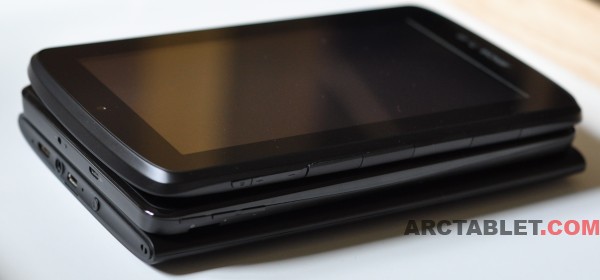 From top to bottom: Arnova 7c G3, Arnova 7f G3 and Arnova 7 G3
Compared to the other 7 inches tablets in the Arnova G3 family, the 7c G3 offers 3G connectivity, dual camera, Bluetooth, HDMI outpout, GPS and increased battery life. This comes at a price, the Arnova 7c G3 has 512 Mb memory where other models have the double while the Arnova 7 G3 or 7f G3 costs about half the of price of an Arnova 7c G3.
Our opinion
The strong points of this tablet are the weight which is only 368 grams, the 3G capabilities, transforming the tablet in a good companion to keep you updated with news/emails and therefore an alternative for a laptop. It is also Skype capable tablet, the audio/video calls are working fine even over the 3G connection. Using navigation software makes this tablet a good choice to not buy a dedicated GPS device. There is also a micro HDMI port which helps you connect the tablet to a TV and play multimedia content on it.
The screen resolution is 800×480 with 120 PPI density is quite the minimum for a tablet; we are hoping to see an improvement in the future on this side. A new addition to this tablet is the second camera, which features a 3Mpx CMOS, you will not see much performance from this new camera, is missing a stabilization sensor to improve a little the quality of the videos and pictures, the front camera now sports 640/480 resolution which makes it a little better for video chatting.
Selling between 200 to 250 euros, it may look quite expensive for an entry level 3G tablet which is finally a little limited by its relatively ancient processor, low resolution display and the absence of Google Certification and Play Store support. At current prices for the 7c G3, there may be other options to consider, depending on your budget, such as the Chinese Ramos W23 tablet (7″, 3G, ARM Cortex-A9 AMlogic MX Dual Core, 1.5 GHz, Mali 400 Dual Core GPU, 1 GB RAM) that sells for around 120 euros or the new Google Nexus 7 3G (HSPA+) just available at 299 euros.