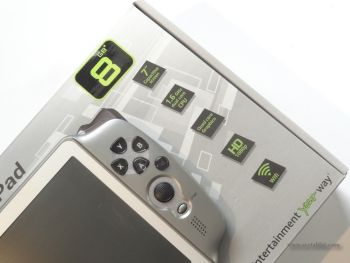 Archos GamePad boot
Archos GamePad performance: benchmark results
Test conditions:
– Arnova GamePad pre-production device with firmware build dated 20121126
– all benchmarks were executed after all tasks have been killed
– test were run multiple times to check for consistent behaviour, the results shown here correspond to average values
Archos 101 xs vs Archos GamePad benchmark results

Archos 101 xs (G10)
Archos GamePad
Test setup
Firmware version
pre-production device, with beta firmware
Linux kernel version 3.0.21+ built Aug 16 12:50:16 CEST 2012
Android 4.0.4 Build G10A-user 4.0.4 IMM76D 20120809.121151
pre-production device, with beta firmware
Linux Kernel 3.0.8+
Android 4.1.1 Build JR003H.20121126.142255
Antutu Benchmark
higher is faster
Total score: 5874
CPU: 2940
GPU: 1387
RAM: 1069
I/O: 478
Total score: 12167
CPU: 3922
GPU: 5831
RAM: 1748
I/O: 666
Linpack Pro v 1.2.9
higher is faster, benchmark run in multi-thread
(we took the best numbers we could achieve, there is a lot of variance on these bench results)
94.9 MFLOPS
79.8 MFLOPS
CF-Bench v 1.1
higher is faster
Native score: 10756
Java Score: 3288
Overall Score: 6275
Native score: 10156
Java Score: 2836
Overall Score: 5764
ArcTools v 0.69
higher is faster
Read: 29842 Kb/s
Write: 13780 Kb/s
Read: 27224 Kb/s
Write: 7351 Kb/s
Smartbench 2011 v 1.2.1
higher is faster
Prod. index: 2816
Games Index: 2810
Prod. index: 2972
Games Index: 1795
Quadrant
higher is faster
Total: 3557
CPU: 6170
Mem: 3346
I/O: 4671
2D: 1000
3D: 2599
Total: 3715
CPU: 6342
Mem: 4252
I/O: 4801
2D: 1032
3D: 2150
Vellamo v 1.0.3
higher is faster
1374
1384
Nenamark v 2.0
higher is faster
55.0 FPS
55.2 FPS
GPUBench v 1.0.0
higher is faster
Absolute: 39195
Relative: 34964
Absolute: 41931
Relative: 40939
While these numbers should be weighted by the fact they were run on the pre-production devices, they give the general idea about the machines performance. It appears the GamePad has about the same performance as the 101xs and that the Quad-core Mali-400 GPU is pretty powerful givent the high results in GPU benchmarks.
Battery Life
From a fully charged tablet, we played this video file big_buck_bunny_720p_AAC.mp4(Big Buck Bunny 720p, stereo sound in AAC format) in loop until the tablet battery gets empty.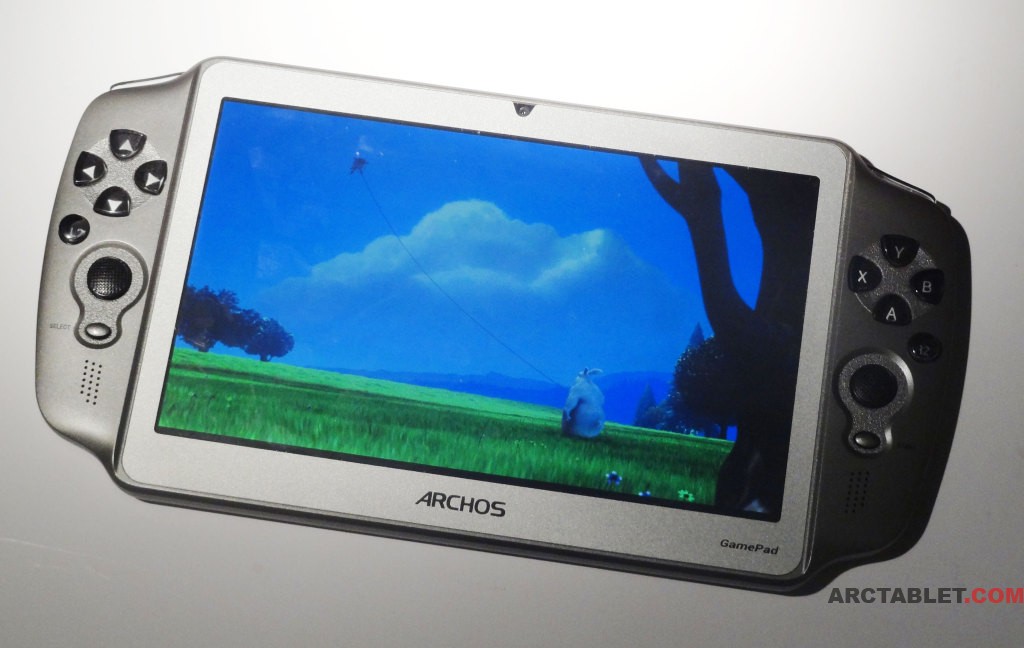 More details about the test conditions:
– using latest firmware (20121126) available on the pre-production device
– machine started after a fresh reboot
– tablet fully charged (lockscreen says "Charged", Settings / About tablet / Status says Battery level100%)
– media sound volume set to half (Settings/Sound/Volume, set Media bar to middle position)
– brightness set to half (Settings/Display/Brightness)
– Wi-FI disabled
During this test, on our pre-production Archos GamePad, we have measured an effective battery life of 4 hours and 36 minutes. For comparison, most other Archos and Arnova tablets of all sizes also give it up after 4-6 hours. We have used our ArcTools application to run the battery test for the details of the discharge curve, see below: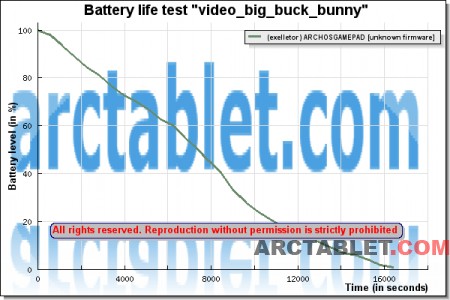 When it comes to battery life with gaming, it is worse. Running Asphalt 7 with full brightness and Wi-Fi on, the GamePad could only handle it for slightly more than two hours. Nova Battery Tester standard benchmark measured 1% drop per 72 seconds, or a battery life of 2 hours with maximum brightness and maximum CPU load(all the networks off). Archos 80G9 got more than the double in the same benchmark(results from Nova Battery Tester page). We can only say we would like to have a bigger battery in here.
Continue to Part 4: Gaming & Software