ARCHOS has recently introduced, their first line of Android Smartphones with 3 different models from 3.5" to 5.3". According to the press release:
"The flagship device, the ARCHOS 50 Platinum, features a stunning 5.0 inch full black IPS display paired with a quad-core CPU at 1.2GHz and an 8MP camera. Enduser will have an experience similar to a Samsung Galaxy S3 for half the price."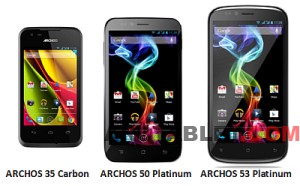 Actually, we would not take this assumption for granted, as we think the Samsung Galaxy SIII and ARCHOS 50 Platinum smartphones can hardly be compared, their hardware is really different, from the CPU to the screen (Samsung model has about 2x more pixels) both offer different performance and features which probably result in a really different user experience, at a different price.
Here is a quick table pointing out the differences on both smartphone specifications:
ARCHOS 50 Platinum specs

Samsung Galaxy SIII specs

VS

CPU: Qualcomm 8225Q (Snapdragon S4 Play)
(quad-core ARM Cortex-A5 at 1,2 GHz)
GPU: Adreno 203
RAM: 1 GB

Display: IPS 5"
960×540 pixels (qHD), 220 DPI
Storage: 4 GB
3G max Speed: HSDPA 7,2 Mbits/s – HSUPA 5,76 Mbit/s
Retail price: 199,99€ / ~ $260

CPU: Samsung Exynos 4412
(ARM Cortex-A9 quad-core at 1,4 GHz)
GPU: ARM Mali-400MP4 at 400Mhz
RAM: 1 GB / 2 GB
(i9300 model / i9305 Lte model)
Display: 4,8" Super AMOLED HD
1280 x 720 pixels, 306 DPI
Storage: 16, 32 or 64 GB
3G max Speed: HSPA+ 21 Mbps (GT-I9300)
Current price GT-I9300 (unlocked) : €385 / $450
On paper, there is a significant speed difference for processors based on ARM Cortex-A5 and ARM Cortex-A9 architecture. Wikipedia indicates 1.57 DMIPS / MHz (per core) on the A5, while 2.50 DMIPS/MHz/core are announced on the the ARM Cortex-A9. Other factors have great influence…