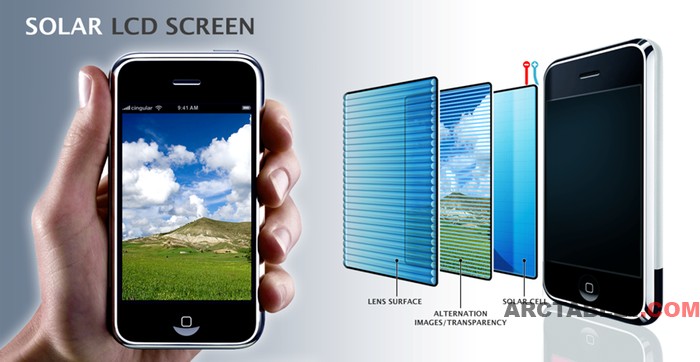 WYSIPS stands for What You See Is a Photovoltaïc Surface. This technlogy is a transparent and flexible photovoltaic film to integrate on top of phones or tablets screens enabling them to use solar energy to produce electricity. This patented film is a low cost component (approximately $1.00 for a 4″ display) adapted directly into the screen, fully transparent with very low impact in the picture definition or brilliance.
WYSIPS SAS is a subsidiary of SUNPARTNER SAS, established in 2008. This technology has been invented by Joël Gilbert, an astrophysicist who has been in solar energy research and development since 2004. He describes his invention has "Inspired by the holographic process used on book covers, I had the idea of replacing one of the two images with thin photovoltaic strips, and it works."
According to WYSIPS, their technology is implemented in thin film combining micro lenses and photovoltaic (PV) cells on which we apply image stripes and transparent stripes. The lenses concentrate light on the transparent parts to allow the PV cells to capture solar energy. The lenses transform the image for the observer depending on the programmable viewing angles.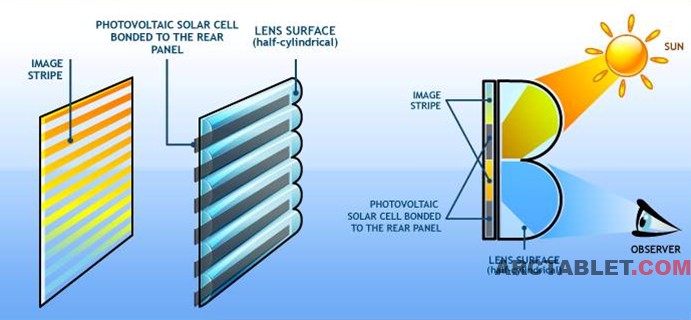 This great WYSIPSenabling technology did win a CTIA Wireless 2011 award in Entreprise & Vertical Market / Green Telecom & Smart Energy Solutions, Applications and Hardware category.
http://www.youtube.com/watch?v=vMAfRTp5z-I
WYSIPS have recently announced a factory creation near Aix-en-Provence in France. The company has already acquired a production line and they are now looking to establish the facility. With a 4 millions euros of investment, the production setup is planned after this summer, to start working in January 2012.
Their recent press release confirms a collaboration project to integrate this technology in tablets, partnership with Archos and Gemalto manufacturers.

From: Archoslounge foum (thanks Hoch) and WYSIPS website. Pictures from WYSIPS website