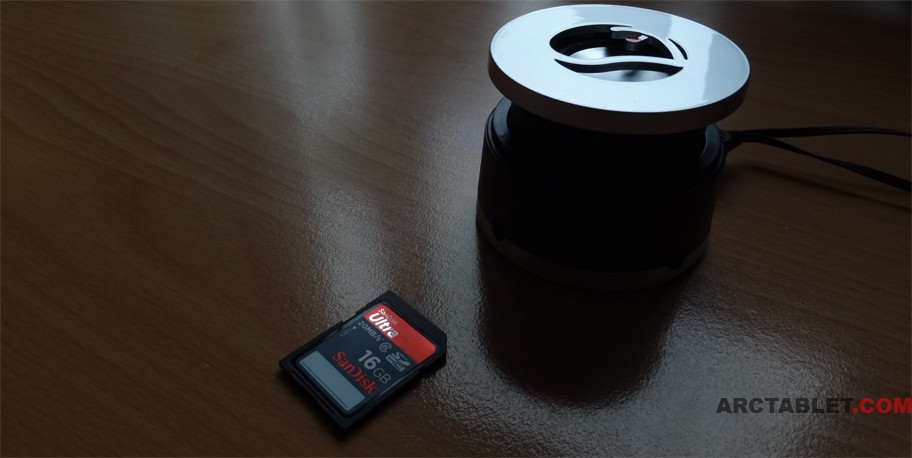 Very nice speakers with excellent battery life, good audio quality, nice finish and they are easy to use, too. I would recommend these to everyone who is considering the Archos Round Stereo Speakers. At the same pricepoint, they offer better audio quality, nicer design and an inbuilt battery.
Tech Specs.
| | |
| --- | --- |
| Power output | 1.5W x 2 |
| Frequency Range | 80Hz – 20kHz |
| Input sensitivity: | 260 mV |
| Connectivity | Up to 1024 units |
| Bluetooth | No |
| Sound output | Stereo |
| Tactile buttons | Power button. |
| Colors | Silver/Black; Black(Microbeat 20); White(Microbeat 22) |
| Dimensions | 65mm (diameter) x 45 mm (open) x 32 mm (close) |
| Battery life | 4-5h listed, 12 hours tested |
Design and Build Quality.
The speakers come from a plastic box which just doesn't look nice. It feels really cheap in hands and looks like there are some cheap-ass Chinese toys inside. The cables don't feel very solid, but well… You get two cables with the speakers – one sound cable intended for use with only one speaker and a double one which connects to two units and charges them.
You can rol the "double" cable up and save space by that. The cable itself is ~60cm long and it's very handy to have it rolled up.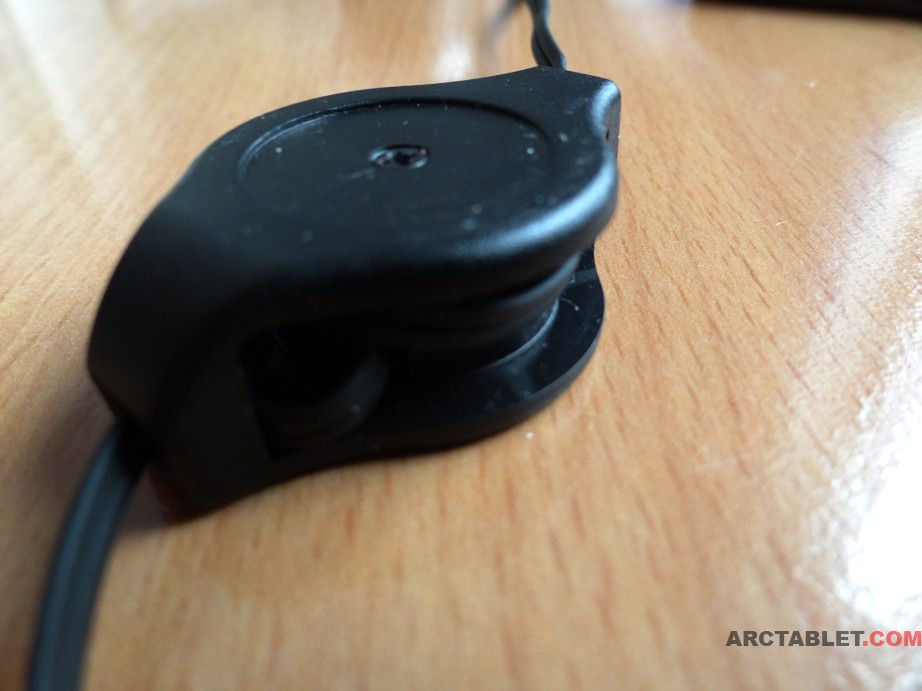 Though the cables look and feel very flimsy, they do things which they are intended for. The only real downside on with them is that the cable lenght between the two speakers is only ~40cm. That should be enough for a smallish laptop, but some users can experience inconvenience with that. The speakers themselves feel really well built and with their matte finish they really look nice. The blue and red LEDs look very nice too, especially at night.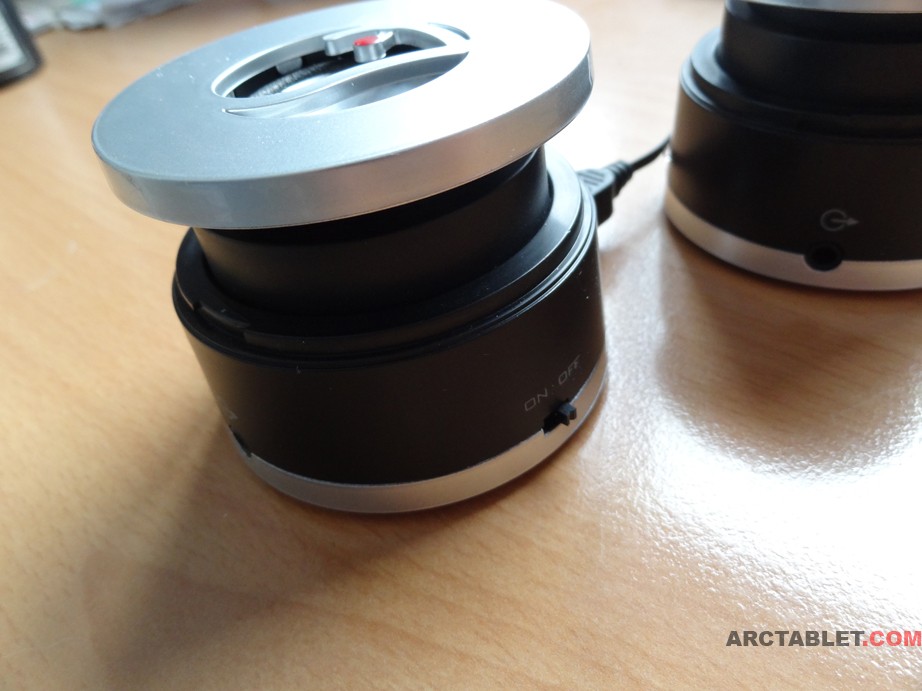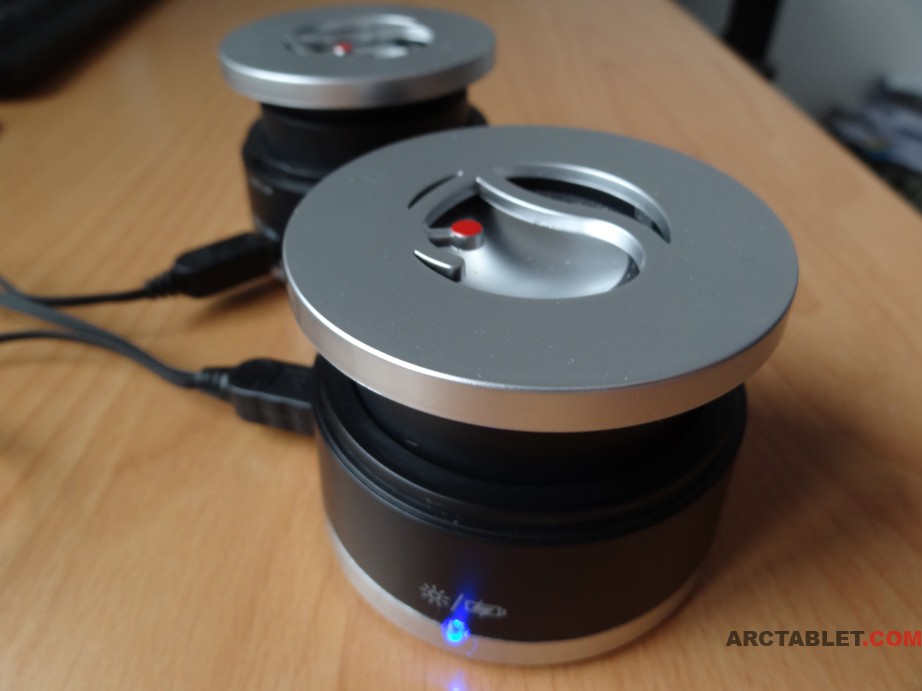 The magnets to keep the speakers on a surface work – I was able to attach them to my window… Will you ever do it? I don't know, to me these magnet things are completely useless.
Sound quality.
What would you expect from Chinese speakers? Good bass and no highs, right? Actually, with these ones it's all way around. It offers amazing highs, but there is nearly no bass, even not when in "extra bass" mode.  I have to say, while there are no basses, the sound is actually quite 3D Surround. You can really hear these are stereo speakers. And yes, Bose Speakers are better, but you can't compare these to them. While I can't tell more about the sound, what about listening to it yourself?  It is not the best recording quality, but the sound itself sounds to me quite "real", though it also depends on which speakers you use.
Yes, 80Hz is not the best "starting" frequency you can get, but in my opinion, the sound quality is really good for this pricepoint. I have to say, when connected to computer, they give slightly better sound, but because these are for mobile use, I compared the sound quality when connected to my 43IT.
Sound output is 1.5W x 2… Is that enough? Well, when connected to a portable device with volume limitation(like an 43IT) you won't wake your neighbours at night. Still, for a few people listening to music during a small party it should be enough. When connected to a computer or a laptop, sound can go loud enough. And don't forget that you can couple up to 1024 of them. 512 sets will cost you a fortune, but you have the freedom to do it. 🙂
Battery Life.
Charging over USB should take about 45 minutes, but with my computer it took nearly 2 hours! Chinese companies are really strange when it comes to that. However, what about the battery life itself? With volume slighly above the 50% on my 43IT(slightly lower than in the video), the speakers lasted for more than 11 hours. On the box they list 4-5 hours, but like you can see, I was able to get more than twice the listed capacity. I think that such results for portable speakers of this size are more than acceptable and actually just amazing.
OTG.
While you get a free host cable if you buy the Archos Round Speakers, you don't get one if you buy the Woxter ones. Luckily, on DX I was able to find a pair of them for 2.19$ incl. shipping. Not a big deal. And they work great.
Pricing.

The Woxter Microbeat 21 speakers are the alternatives for the Round stereo speakers from Archos. Archos Speakers can now be found for around 20EUR, while Microbeat 21 are 37EUR on Amazon. Luckily I could grab one for 16EUR. Don't bother, that ibood offer is already over. Unfortunately, two weeks ago the price at Amazon was just 22EUR. Now, for that price, you can only buy one of the two new(returned?) products. You can also go with 10EUR Microbeat 20 (Woxter Microbeat 20 Double 2.0 Mini Lautsprecher 1,5 Watt schwarz
).  They should be the same, only differences that I could find are that the Microbeat 20 have a black, glossy finish and a volume rocker(not sure on that, though).
Conclusion.
Compared to the Archos Round speakers, these ones offer a nicer matte design, built-in battery and much better audio quality. The concept of being able to connect up to 1024 units is also very nice. Are there also downsides? Yes. You don't get a micro-usb OTG cable, but you can get one on DX for slightly more that 2$. The build quality, while not being the best available on the market, is good enough for this pricepoint. Sure, you can't compare these to 100EUR costing Sony or 200EUR costing Bose speakers, but for slightly under 25EUR it can't get better. Unfortunately, the price for Microbeat 21 on Amazon just went up, but you can go for 10EUR Woxter Microbeat 20. Or wait a little bit, I am sure prices will eventually go down.