Thanks to AndrewDB developer, Mini PCs devices such as the UG802 or MK808 are not limited to Android anymore, and a Linux system such as Ubuntu 12.10 Quantal can be run on the device. The installation requires a specific kernel setup thru a recovery image. It is still an early preview, but we can already see Linux booting, get the necessary USB support for keyboard, mouse and storage, networking with some USB Ethernet and WiFI dongles and run an XFCE desktop. AndrewDB rootfs package actually contains the compiler and kernel source, so you can actually recompile a kernel right from the device 🙂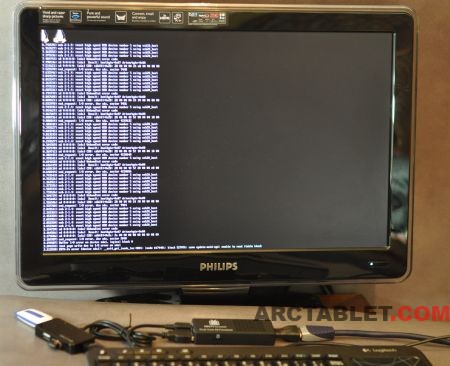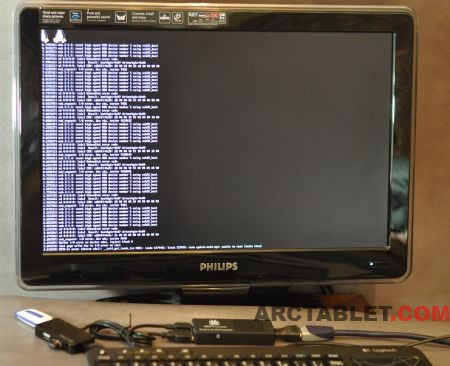 Please check our PicUntu page for updated information on Linux support for RK3066 Mini PCs.
Ubuntu on RK3066 feature list for pre-Alpha 0.2 release
From
AndrewDB on slatedroid.com forum
Ubuntu 12.10 Quantal armhf based.
Easy to install and dual-boot (does not erase your Android installation).
HDMI 1920×1080 60Hz aka 1080p.
XFCE desktop.
Linux framebuffer consoles.
HDMI sound support. USB sound support.
Full array of cpufreq governors (I suggest the interactive governor).
USB mouse, keyboard and USB storage tested. Webcam tested by Alok.
Kernel source code and full compiler toolchain suite included (gcc-4.7.2), so the RK3066 device becomes an autonomous mini development system.
nbench benchmark included (source code and binary) so you can check the real clock speed / performance of your Android stick.
OpenSSH server included and installed so you can use the Android stick headless.
Internal WiFi is not functional yet. You'll need a $4 Realtek or Ralink USB Wifi dongle or a $5 USB 2.0 10/100 ASIX or SR9700 Ethernet dongle to connect to your network.
Ubuntu boot on MK808 quick demo video
Ubuntu on RK3066 (MK808, UG802) downloads and installation instructions
Installation instructions are available on
slatedroid.com
. We have also built an easier package in the form of an
update.img
to flash with
Rockchip Batch Tool
.
Update.img that includes kernel setup to run Linux on MK808 Mini PC:
Download: RK3066_ubuntu_prealpha02_update_img.zip
AndrewDB Ubuntu 12.10 Quantal root file system built for ArmHardFloatPort machines.
The rootfs archive needs to restored on a Flash memory (either Micro SD card or USB Flash memory dongle) formatted in ext4 fs that will be installed on the Mini PC.
Download: linuxroot.tar.gz
Our mirror: rk3066_ubuntu_prealpha02_linux_root.tgz
For Windows users, aloksinha2001 also provided a rootfs image that can be restored to a flash USB stick (4 Gb or more) with Win32DiskImager.
linuxroot-0.2a-4gb.img.gz
Thanks to AndrewDB and other great developers from armtvtech.com and slatedroid.com