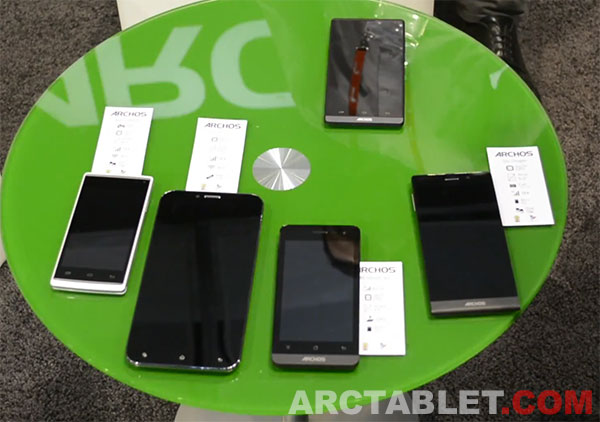 Archos showed quite many new products at MWC 2014. The 40b Titanium, 50c Oxygen, 64 Xenon and 80 Helium were shown for the first time, along with the 50b Oxygen. The connected objects were in the spotlights with the E-ink touchscreen SmartWatch being revealed. This video shows the overview on the Archos stand.
40b Titanium
Introduced at MWC 2014 and revealed by Arctablet a few weeks before the event, Archos 40b Titanium has just started shipping from Archos online store. The 40b Titanium features an 4″ IPS screen, Dual-core CPU from Mediatek, Android 4.2 and dual front speakers for better audio quality. It is aimed at the younger generation and if you live in the EU, you you can now get one for yourself at Archos Store. Archos 40b Titanium doesn't sound like a bad product to us. The phone has a nice sleek design with a matte finishing and for a phone which is on sale for about 130€, it is very acceptable. If we judge by the available reviews, the screen is fine and the operating system is pretty snappy. Specifications wise, we have found two downsides – the lack of KitKat and just 512MB of RAM, which is a low in terms of 2014 hardware, even for 129€. Other than that, it sounds like a great product to us. And of course, Charbax had his hands on this little phone:
What is interesting to see is that Geoffrey is talking about 110€, while it is now selling for 119€ in France and 129€ in other European countries. Also it is shame that Archos didn't put any music on the sample, or were they afraid of the loudspeakers quality?
50b Oxygen
While it was not mentioned in the official PR and it is not yet online on the Archos website, the 50b Oxygen was also present. We already revealed its specfications a few weeks ago, so nothing new for us. Actually, not much interesting to see anyways. The 50b Oxygen will feature a quad-core Cortex A7 processor running at 1.3Ghz, an 5″ 1280 x 720 IPS screen, 8MP Camera and run on Android 4.2. It should be available within weeks for 199€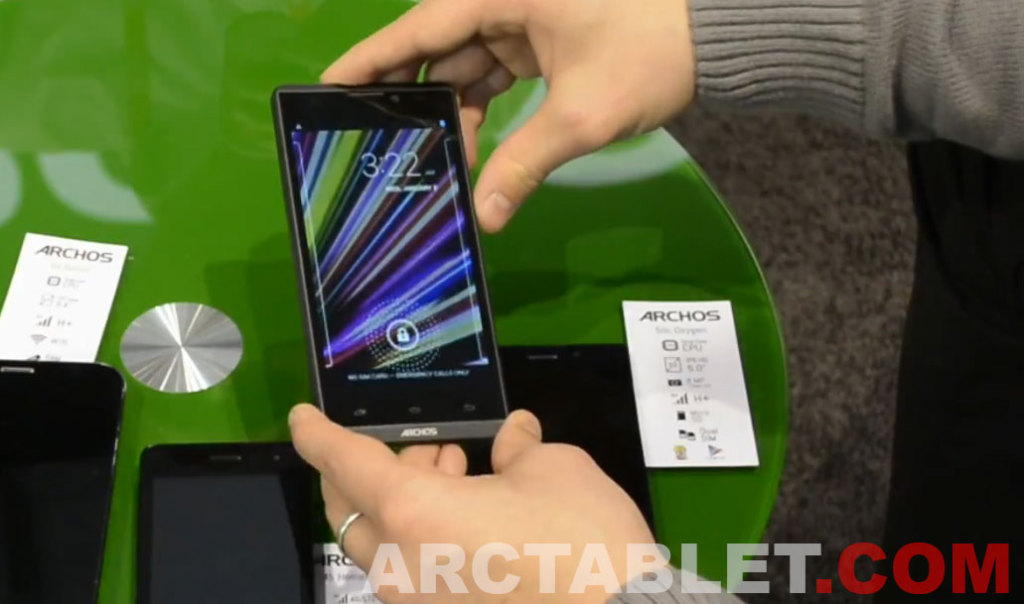 Here is the Italian hands-on video featuring 50b Oxygen:

50c Oxygen
Engineered by K-Touch, the octa-core Smartphone was definitely the Archos flagship at the event, while it is still a mid-range device. It is a Dual SIM device running Android 4.3 "Jelly Bean" with 1GB of RAM, 8GB of storage, 8MPx camera on the back and 2000 mAh battery. Arctablet had a quick hands-on on a prototype a few weeks ago. For a budget offering, it is incredibly thin with only 7.64mm of thickness and we liked the deep black design. However, we really think it is a shame that Archos didn't go for the Full HD screen which was there on the prototype we had our hands on and that their flagship smartphone device will be selling under 230€ because it is not really high-end. With the KitKat update(if Archos releases it), it should be quite a cool product.
Geoffrey is talking about 199€, but it would be strange from Archos to sell it for the same price as the 50b Oxygen, so expect it to be slightly more expensive. Also, our sources mentioned May as release date, so don't count on having one in your hands in six weeks from now. Expert Reviews UK wrote quite a detailed hands-on on the 50c Oxygen.
64 Xenon
Stepping up, there was the 64 Xenon we also mentioned weeks before the MWC.
With its 6.4-inch HD IPS screen (1280 x 720), the ARCHOS 64 Xenon gives users the screen real estate they need for their applications, videos and games in comfort while on the go. The 64 Xenon uses a MTK Quad-Core CPU@1.3Ghz, has 1GB of RAM with 4GB of storage(it is strange Geoffrey somehow thinks it has 8GB

) and will be available for under £200/€200. While we don't find it a bad product, we think that the screen is a little bit too grainy and the specifications are not really high-end either. You get what you pay for.
80 Helium
On the tablets front, only one tablet from Archos was announced at MWC what we find strange. It seems there were no working samples available, so most journalists were just passing by the 80 Helium. Still, we found a video of Benedicte Ernoult, marketing director of Archos showing the tablet to the French website Frandroid.
Does she explain why it was so difficult to put the damn front camera in the middle of the tablet? No. Well, we can not give an explanation either. 😉
E-Ink Touchscreen SmartWatch
Engineered by Sonostar, Archos E-Ink Touchscreen SmartWatch was shown to the public for the first time. It should arrive this summer for slightly more than 129$.
Next to the new products, the 101 XS 2, the GamePad 2 and other products from Archos were presented. Because those products were already shown at CES2014, we don't think it is worth mentioning them again in our overview article. Despite the fact that Archos showed a number of their new products, there are a few things we didn't see:
– Archos 101b XS2
– Archos 70b Cobalt
– Archos 80b Cobalt
– Archos 80b Xenon
– Archos 79 Neon
– Archos 50 Neon
– Archos 50b Platinum
– Archos 45b Platinum
– Archos 35 Titanium
Because they were not shown at MWC 2014, we expect Archos to announce them in the coming months. Did we mis something in our overview? Let us know in the comments section!