Quechua first sold some samples of their 5″ outdoor phone to a few customers to gather feedback from amateur hikers testing the product. Few weeks later, the Quechua Phone 5′ phone is presented to the press and is now available at a larger scale in Decathlon stores. This article will cover the product presentation and will given some insights on the this new "Mountain proof" smartphone.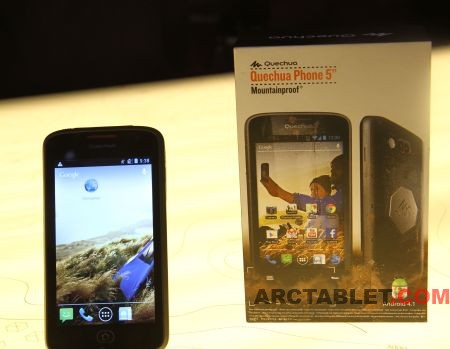 The Quechua Phone 5″ genesis
The original product idea was to design a hike App then it appears that something was missing to host this App: a device. Ensuing follows a selection process to find the host which corresponded to the requirements: a screen bright enough to allow reading in full sun, a long-life battery, a rugged internal/external design to resist in harsh conditions.
The Quechua team did not find such device on the market and they decided to discard the idea to adapt an existing device by designing a device from scratch. They also mentioned that 25% of Quechua budget is dedicated to Research and Development. The Quechua design team wanted to equip their smartphone with special items:
An Alti/baro (altimeter and barometer)
A seal to enhance the case water resistance.
An internal steel plate (1mm thick) in charge of phone stiffness.
A rubber to absorb shocks and to improve gripping ability.
A MicroSD card slot to counterbalance the lower level of internal memory (1Go RAM and 4Go flash)
And more usual ones:
a 5" screen (840×480) with a brightness of 350cd/m² and anti-reflective treatment. It is not a Gorilla Glass (GFF?) but it could be thicker which shall be of sufficient strength.
A Qualcomm S4 MSM8225Q at 1.2 GHz.
A long life battery (3500mAh)
According to Quechua this smartphone can support up to 3 days in a "normal" use… The objective is to allow the hikers to use it for an entire week-end. On this specific point, real conditions trials are required to provide valid results.
WIFI (2.4 GHz b/h/g), 3G and Bluetooth 4.
The device ships with a native Android 4.1.2 (OS release dating from July 2012) with a bunch of outdoor oriented Apps. No OS major upgrade is planned. If you expect to "taste" Android 4.4 KitKat then go your way. This device is designed to stand out on other fields: outdoor. Minor upgrade could be planned but the device will remain in 4.1.2. You can deduce that the Bluetooth 4 chip could not be used in BLE (Bluetooth low energy). Android 4.1.2 do not support it, unless some serious device tinkering make it happen.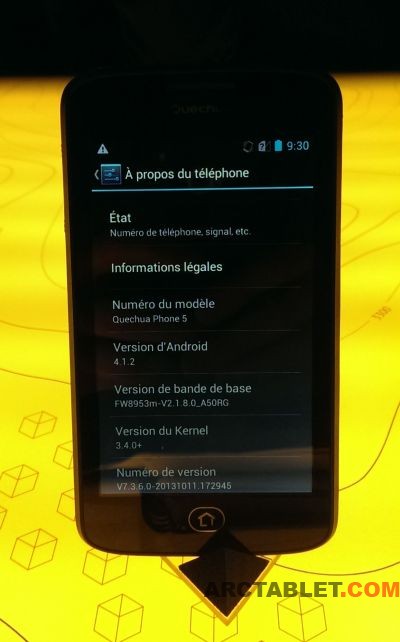 Quechua Phone 5″ Hands on
At the first look it looks like we have a solid smartphone. Despite its dimensions and heavy weight the rubber case gives it easy to handle. ARCHOS, chosen as sub-contractor to realize the Quechua's requirements is discreet, you won't notice any reference or logo on the device.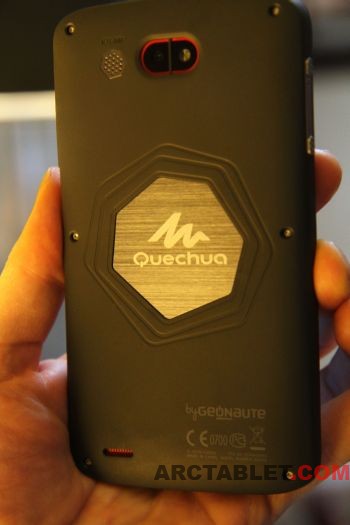 The device is rated IP54 which indicate the ability to resist any water splashing from any direction. Be aware to properly close any openings (SIM, SdCard & MicroUSB) to ensure this protection.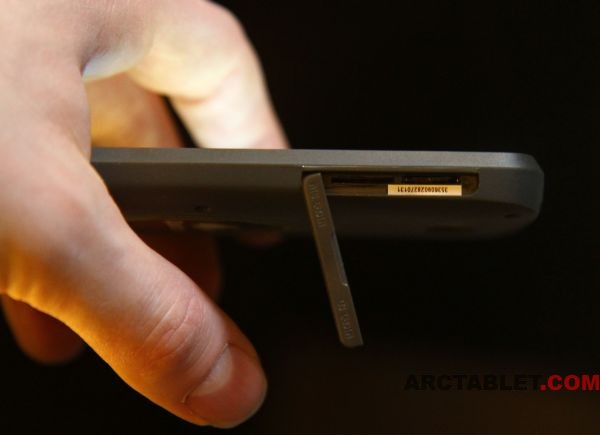 Distribution
At this time the Quechua phone 5" is available exclusively via their Decathlon distribution network (about 270 stores in Europe) and will expand in major steps:
Phase 1: Europe (France, Spain, Portugal)
Phase 2: Russia, India, South America…and maybe China.
There is yet no clear sign of the product to be distributed in the USA.
Currently product availability is focused on Decathlon online stores, but It could evolve quickly. The phone is listed at €229.90 or £199.99 (that is ~$310) in the following countries: France, UK, Germany, Spain, Italy, Belgium, Netherlands, Portugal,
During the product presentation, Quechua also mentioned plans of a dedicated after sale service that would offer an easy way to contact a dedicated staff by chat or mail to help you setting up the device.
It is a good surprise to notice a multilingual paper version of the box and user manual, which is rare enough for this range of products to be worth noting.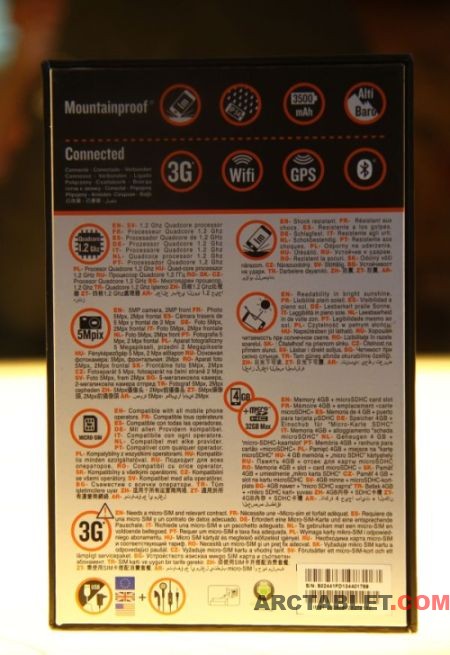 Quechua Phone 5″ specifications
Apart from the rugged features, the phone specifications are pretty similar to the ARCHOS 50 Platinum (check our review) with a few goodies for outdoor operation:
Operating system
Android 4.1 Jellybean Operating System
Processor
Qualcomm 8225Q, quadcore 1.2GHz processor
Screen
5-inch touch screen, 840*480 resolution, 83° view, improved backlight (350 Cd/m2 min.) for excellent readability in full sunlight
Memory
RAM : 1GB
Flash memory: 4GB internal memory + optional extension via micro SD card up to 32 GB extra memory.
Connectivity / GPS
3G, Wifi (2.4 GHz b/g/n), Bluetooth and GPS with Assisted GPS: obtains signal more quickly thanks to Wifi-3G assistance
Operator compatibility
operates with Micro-SIM, unlocked for use, compatible with all operators.
Battery
Li-Polymer 3500mAh, 3.7V ultra long life battery.
Talk time: 10 hours (Decathlon UK web site mentions 10 hours talk time while the French website writes 22 hours "Autonomie en conversation : 22h"))
Resistance
Shock resistance, withstands falls of 1m on all sides
shock-absorbing outer material, stiffened internal construction, toughened and thicker glass for touch screen
Water and moisture resistant: Rain, dust mud and snow resistant: adheres to standard IP54. (this product is not designed for under-water use)
Sensors
Barometric altimeter enabling greater precision for mountain applications that use it (altitude, gradient curve, cumulative altitude gain, speed of ascent)
Electronic compass, Light and proximity sensor for optimized display brightness
DAS
0.39 W/kg
Photo/Video
Rear 5 MPix camera, autofocus, LED flash, panoramic setting
Front camera 2Mpix, 720p/30fps video camera
Dimensions
82mmx151mmx12mm
weight 250g
Accessories included
Hands-free kit mains with pick up/end call function
international mains charger (full charge in approximately 5 hours), micro-USB cable
Applications
Google Apps and Outdoors pack: weather, tourism, botany
Sports pack: My geonaute, Quechua guides Premium, Decat rando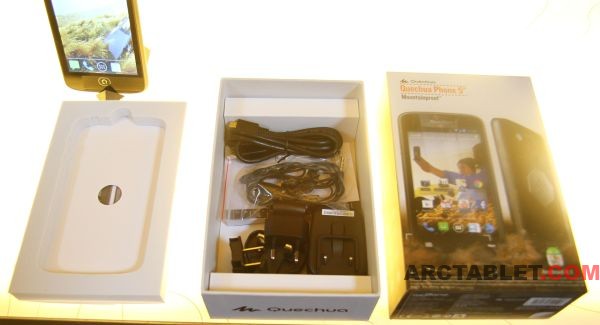 Rugged phones market
While the Quechua Phone seems to be interesting for this market segment, our experience with the ARCHOS 50 Platinum and the specifications of the Quechua device raise a few questions:
– does it take nice pictures and videos ?
the camera on the ARCHOS 50 Platinum
gave mild results
– no details were given on the 3G network support and data-rate, let's hope for something better than te
50 Platinum which offered limited data performance
(HSDPA 7,2 Mbits/s – HSUPA 5,76 Mbit/s)
– the applications haven't been yet evaluated in situation so we can't comment about their added value
– the phone battery does not seem to be easily removable/replaceable
Sure there are higher-end models such as the Samsung Galaxy S4 Active or Sony Xperia Z/Z1 offering a more stylish design, better specs: screen with higher resolution, faster processors and protection (IP57 on Sony Xperia Z or IP 67 on the Samsung Galaxy S4 Active) but these cost about twice the price of the Quechua.
Other interesting option could be cheap models such as the Lenovo S750 selling at $215/£130/€160
giving similar hardware specs to the Quechua with some added goodies (IP67 protection, Gorilla Glass, faster MTK processor,…) and the inconvenience of being a Chinese phone not optimized for our markets.
Prospective
A tablet?
The answer is YES!
It's still in progress and some fellow tablet addicts have proclaimed to have seen an advanced prototype. This HD Tablet version seems real but we currently have no information about the launch date.
For anyone interested in the Quechua experience with their "normal" smartphones, remember that the Apps are planned to be available on the Android Market & App Store. Almost any smartphone will be able to run it but don't forget that the Alti/Baro sensor available on some devices (Galaxy Nexus, Galaxy Notes II) do not equip most of the devices but it is not mandatory to enjoy it.


Photos by Eugene Gorsky