A few months ago, Rockchip presented the RK3288, their latest processor announced to be based on ARM Cortex-A17 architecture. The first devices using the chip came out in July and the processor production should now be fully up to speed with more and more Chinese tablets and MiniPC released with RK3288. While most companies selling RK3288 devices today still indicate their product being ARM Cortex-A17 based, this does not seem to be completely accurate, as several proofs are showing that the processor is based on ARM Cortex-A12. Let's have a closer look !

Why do we think Rockchip RK3288 is ARM Cortex-A12 based ?
The first indicator is related to ARM LTD schedule which initially announced the Cortex-A17 for early 2015.
It seems quite unlikely that Rockchip is offering RK3288 processors based on ARM Cortex-A17 processors since July 2014. Still, there are a few companies offering A17 based devices with the MediateK MTK6595 and the products are starting to hit the market as pre-sales for an availability in few weeks from now (for example Meizu MX4 smartphone).
Rockchip RK3288 technical documentation and discussions
Rockchip datasheet
According to Rockchip Technical reference manual (rev 1.0) the RK3288 is clearly listed as quad-core Cortex-A12.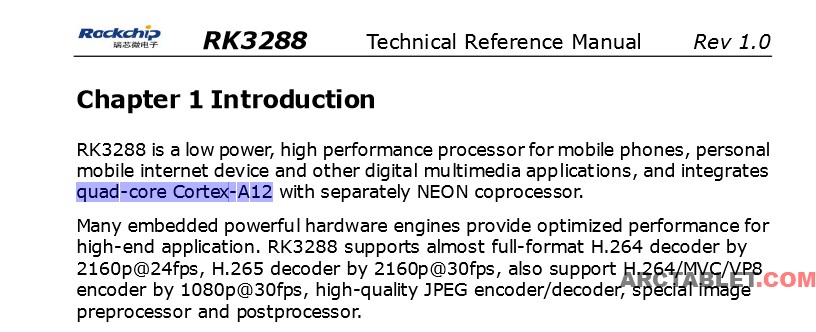 You can find Rockchip technical reference document here:  Rockchip RK3288 datasheet V1.0.pdf
(also mirrored here: Rockchip_RK3288_datasheet_V1.0.pdf)
Linux kernel discussions
Other hints about the RK3288 being an ARM Cortex-A12 appear in discussions between ARM technical persons and Rockchip employees in Linux kernel groups: [PATCH] ARM: errata: Workaround for Cortex-A12 erratum 818325
Will Deacon                                                                                                                                   Aug 26

On Mon, Aug 18, 2014 at 10:58:09AM +0100, Kever Yang wrote:

> From: Huang Tao <

huan…@rock-chips.com

>

>

>

On Cortex-A12 (r0p0..r0p1-00lac0-rc11)

, when a CPU executes a sequence of

> two conditional store instructions with opposite condition code and

> updating the same register, the system might enter a deadlock if the

> second conditional instruction is an UNPREDICTABLE STR or STM

> instruction. This workaround setting bit[12] of the Feature Register

> prevents the erratum. This bit disables an optimisation applied to a

> sequence of 2 instructions that use opposing condition codes.

>

> Signed-off-by: Huang Tao <

huan…@rock-chips.com

>

> —

The Rk3288 I have advertises itself as an r0p1 Cortex-A12 CPU, so isn't
affected by this issue.  […]
Using CPUcheck Android application to verify your CPU architecture.
Finally, we have built a small Android application that helps to identify the processor architecture with the values reported by the Linux kernel and the system. This application is available (free) on Google Play: CPUcheck.
You can find a quick video below testing CPUcheck application with a PiPO P4 tablet, an ARCHOS GamePad2 and a Google Nexus 10.

Test results on a PiPO P4 tablet equipped with a Rockchip RK3288 SoC gave the following: quad-core ARM Cortex-A12 at 1.8 GHz
How does the ARM Cortex A-12 compares to ARM Cortex-A17 ?
Earlier this year, anandtech.com provided an analysis of the ARM Cortex-A17 architecture.
In summary, anandtech.com mentions that the A17 appears to be an evolution of the Cortex-A12, the A17 design should be roughly 60% faster than a Cortex A9r4 at a given frequency/process/memory interface while the Cortex A12 is 40% faster than A9r4 under the same conditions.
Also, the ARM Cortex-A17 supports ARM's big.LITTLE technology (coupling the fast cores with slower, low-power processor cores like the ARM Cortex-A7 ) while the Cortex-A12 does not support it (at least in its first version).
Does it really matter to the end-user ?
Rockchip RK3288 cannot be considered as high-end processor, but it will surely do the job with mid-range tablets as it offers a reasonable CPU power and a decent graphical performance with a graphical processor from the Mali-T760 family . If priced as mid-range budget tablets ($150 to $250) the RK3288 seems to be a reasonable choice if the software is stable, something which took months to reach on Rockchip earlier RK3188 platform…
Thanks to OMA / Crew RKTablets for his contribution to this article and and sclstore.fr for supplying a test PiPO P4 device.