While we already knew a lot of details for the Rockchip RK3288 processor, some website probably set up by Rockchip now reveals a lot more information. Rockchip RK3288 SoC is the first SoC to be based on a quad core Cortex A17 processor with a Mali-T76X GPU and should arrive as late as 2015. Rockchip also advertises it as the first SoC with real 4Kx2K video decoder. While we can not verify the source, it doesn't look like somebody will set up a whole website with fake data.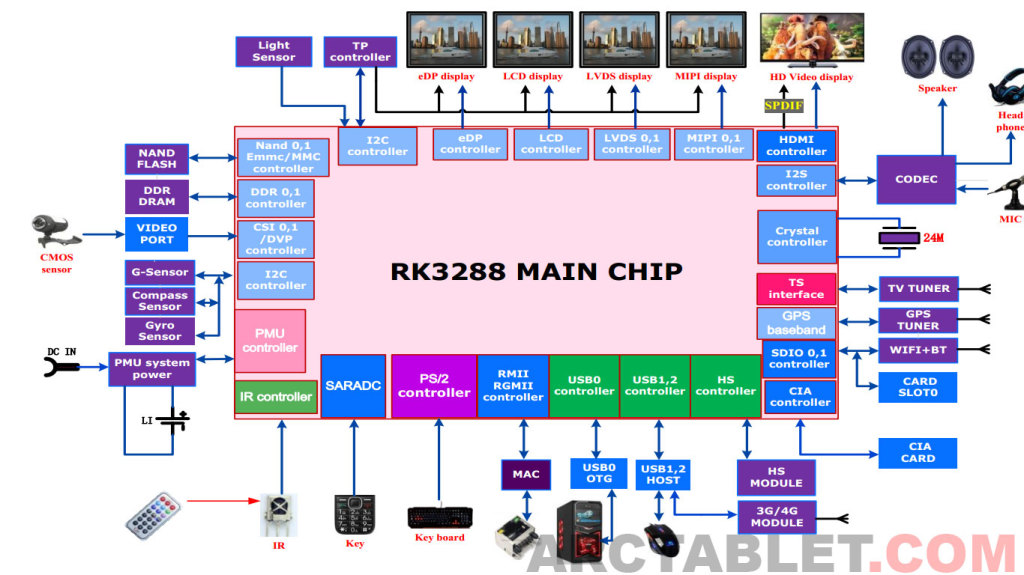 Here are all the technical details:
CPU:
Quad-Core Cortex-A17
Separately Integrated Neon and FPU per CPU
32KB/32KB L1 ICache/DCache per CPU
Unified 1MB L2 Cache
LPAE (Large Physical Address Extensions) , Support up to 8GB address
space Virtualization Extensions Support
DVFS support
3D GPU:
Quad-Core Mali-T7 series, latest powerful graphics processor
Architected for GPU computing
Support OpenGL ES1.1/2.0/3.0, OpenVG1.1, OpenCL1.1 and Renderscript, Directx11
DVFS support
2D GPU
Multi-Core architecture
Up to 8Kx8K input and 4Kx4K
Output High-quality image scale
Up/down Dither operation
Image rotation with 90/180/270 degree or x/y-
mirror BitBLT, Alpha Blending,Raster Operation
VPU
Video Decoder
Support MPEG-2, MPEG-4, AVS, VC-1, VP8, MVC with up to 1080p@60fps (cnxsoft: It does not look correct or complete, as Rockchip showed slides with 4K2K H.265 decoder at CES 2014).
Support multi-format video decoder with up to 4Kx2K
High-quality deinterleave
Video Encoder
Support muti-format video encoder with up to 1080p@30fps
Video Interface
Video Input
Dual-channel input for front and rear camera
Dual-channel MIPI-CSI2 interface with 4-lane per channel
8/10/12 bits standard DVP interface
Maximum 5MP for front camera
Maximum 13MP for rear camera with high-performance ISP
Video Display
Dual-panel display with 2 separately interface
Maximum resolution is 4Kx2K
CABC support to decrease interface power
Dual channel 8/10bits LVDS
Dual channel MIPI-DSI
HDMI 2.0 to support maximum 4Kx2K display
Optional eDP1.1 interface
Memory Interface
Nand Flash Interface
Dual-channel , 8bits per channel
Compatible with all of SLC/MLC/TLC Nand Flash, including DDR Nand
Embedded 60-bit hardware ECC
8 chip selects to support more device
eMMC Interface
compatible with eMMC4.5 standard 8-bit data width
Support DDR-50, SDR-100
DDR interface
Dual channel 64bits interface
Support DDR3/DDR3L/LPDDR2/LPDDR3
Peripherals and I/Os
3 SD/MMC/SDIO interfaces, compatible with SD3.0, SDIO3.0 and MMC4.5
One 8-channels I2S/PCM interface, One 8-channels SPDIF interface
One USB 2.0 OTG , Two USB 2.0 Host
100M/1000M RMII/RGMII Ethernet interface
Dual channel TS stream interface, descramble and demux support
Smart Card interface
GPS baseband interface
PS/2 master interface5 UART, 3 SPI (master or slave), 6 I2C(up to 4Mbps), 5 PWM
Others
Standalone crypto and decrypto, compatible with AES 128bits/DES/3DES/SHA-1/SHA-256/MD5/160bits PRNG
Full security solution to support HDCP2.x,secure boot, secure debug and DRM
Temperature Sensor to support better temperature controll inside chip
ARM Cortex A17
Cortex A17 can be seen as an evolution from the Cortex A12.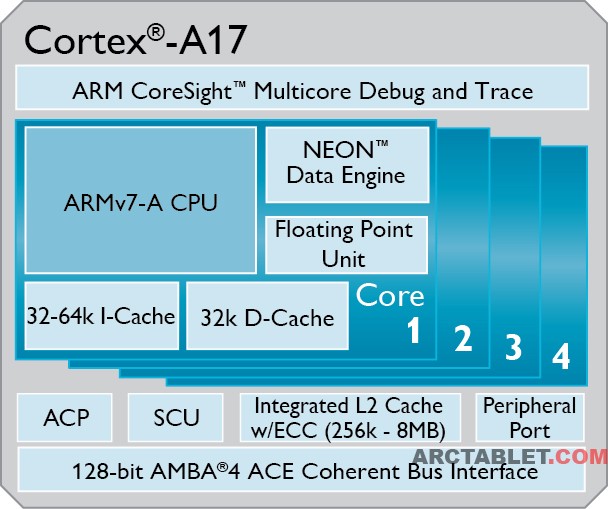 Cycle for cycle the Cortex-A17 processor offers over 60% performance uplift over the Cortex-A9 processor, the current leader in mid-range mobile market. This high performance is delivered while improving the efficiency – performance per milliwatt and per mm
2
. The Cortex-A17 processor is based on the popular 32bit ARMv7-A architecture, today's most successful architecture in the mobile market. With over 1M apps supporting the ARMv7-A architecture, the Cortex-A17 processor is primed to bring the high-end performance levels of 2014 to next generation mid-range devices in 2015 delivering a better user experience at a reduced cost.
The Cortex-A17 processor is scalable up to 4 cores, each containing a fully out-of-order pipeline delivering peak performance of today's premium mobile devices. A fully integrated, low-latency L2 cache controller, accelerator interfaces to target specific use cases, and high-throughput AMBA
®
4 ACE Coherent Bus Interface enable the Cortex-A17 processor to be tailored for the right task. Its modern design is best complemented with the latest advanced IP like ARM Mali-T720 GPU, ARM Mali-DP500 DPU, and ARM Mali-V500 VPU and
CoreLink™ CCI-400
, but is also fully backwards compatible to existing 
AMBA3 and AMBA4 AXI based systems
based on ARM Mali-450 GPU and CoreLink NIC-400 to ease integration and time-to-market.