All current tablets and MiniPC using a Rockchip RK3188 quad-core CPU are currently limited to 1.6 GHz frequency. The CPU was initially marketed to run at 1.8 GHz, it's not clear if current limitation comes from the hardware on the first processors production batches or if it's a choice by the manufacturer's to limit the speed for better stability and battery life (in case of tablets)
Luckily, RK3188 kernel source release a few days ago opened some tinkering possibilities to modify CPU and memory frequency. Let's have a look at the results.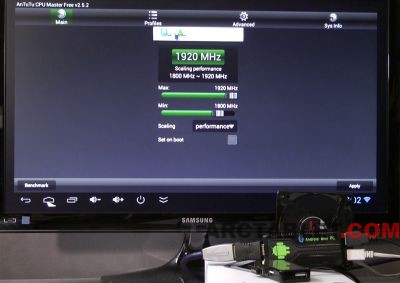 Overclock test on the UGOOS UG007b MiniPC (Rikomagic MK802IV compatible)
We used a
UGOOS UG8007 MiniPC
, a rather cheap and reliable quad-core powered RK3188 MiniPC
available at €55 / $74 / £47
to test overclocking. As these kind of devices are typically quite limited in term of cooling, we installed a small
80 mm Enermax case fan
blowing air on the side of the MiniPC, the device was purely stock, with no special heat sink.
To achieve overclocking, we have built a special firmware using our custom Rikomagic MK802IV Android 4.2.2 firmware (2013/06/03) and sam321 720p 1920 MHz overclocked kernel. Hardware wise, to perform this test we used a stable 2A power adapter to provide clean and sufficient power supply to the device.
RK3188 quad-core CPU overclocking results
We obtained a relatively stable overclocking and encouraging results on an stock device. On the stock kernel running at
1.6 GHz using Interactive governor
, Linpack benchmark which measures the system floating point computing power top scored at
145.027 MFLOPS
and AnTuTu benchmark gave
15147 points
. Using the overclocked kernel at
1.92 GHz with Performance governor
, Linpack score topped at
202.724 (that is a ~39% increase)
and AnTuTU score bumped to
18916 points, ~25% increase
.
1.6 GHz
1.92 GHz
Linpack v1.2.8 (MFLOPS)
Higher is better
145.027
202.724
AnTuTu benchmark v3.3.1
higher is better
15147
18916
We will shortly publish this new custom firmware on our RK3188 MiniPC forum, for those who may want to try overclocking their device, please check back soon !
A word of warning: Please note that overclocking, uses the processor at a faster speed than the manufacturer's recommendation, it may cause overheat, which may lead to lower your processor life or completely fry it if you're not careful. We recommend that you provide proper cooling (heat sink and or fan) for your processor and memory for smoother operations. You are overclocking at your own risk, we cannot be held responsible if you damage your hardware.
UGOOS UG007B MiniPC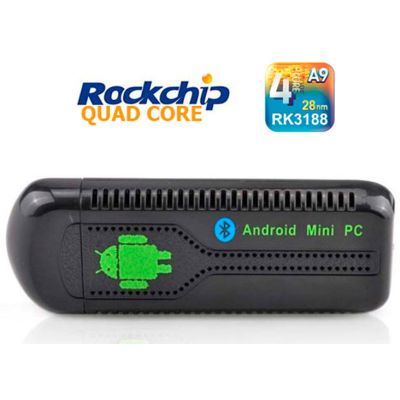 Rockchip 3188 CPU, Mali 400 GPU, 2 GB RAM, WIFI 802.11 b/g/n, Bluetooth
$74


Thanks nomadestore.fr for the MiniPC device.