Our friend Charbax posted on his blog that Rockchip RK3066 CPU is now Google Certified.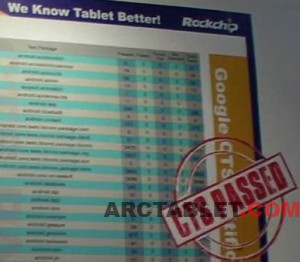 While this has been already pointed ealier at HKTDC fair, it now seems to be more concrete, but we haven't yet found any official statement from Rockchip, we surely will update this article as it happens.
Google Android Compatibility Test Suite certification
Google Android Compatibility Test Suite
certification (CTS) is a collection of thousands of tests that can be performed on any Android device and provide exhaustive testing coverage of the device hardware (graphics, camera, WiFI, touchscreen, accelerometer…) Passing the CTS is a necessary step to be able to use the Android logo on a device and is one of the conditions to access Google Play / Android Market.
The certification of Rockchip RK3066 is good news for future Archos/Arnova devices that may use this platform and should finally be able to offer Google Play.
Other supported features:
– Google Widevine DRM are supported
– OTA (over-the-air) update Supported
Source: armdevices.net