Rikomagic is the Chinese MiniPC manufacturer who made one of first and best seller device PC-on-a-stick/HDMI dongle MK802 based on Allwiner A10 architecture two years ago.
Released at the end of 2013, the Rikomagic MK902 is a compact MiniPC box that you let you run Android applications and games on your big TV screen.  The device is based on a Rockchip RK3188 processor which currently offers decent performance for daily use and casual gaming. Compared to the ARCHOS TV Connect, the MK902 brings and updated system (Android 4.2), a better camera and slightly better performance for an attractive price (around $103 / ₤61 / €75).
The MK902 does not ship with a remote control, you will have to use an USB/Bluetooth computer keyboard/mouse or take a small air mouse combo such as the Rikomagic MK706 that we will use later in this review.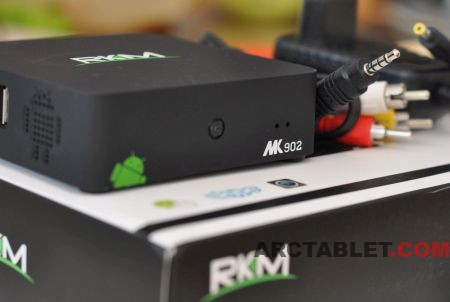 MK902 MiniPC specifications
Operating System
Android 4.2.2 Jelly Bean
Latest firmware build JDQ39 dated 20140308Android 4.4 Kitkat upgrade may ship in the coming weeks.
CPU
Rockchip RK3188 quad-core CPU, ARM Cortex A9 running up to 1.6GHz
GPU: GPU Mali-400, supports OpenGL ES2.0 and OpenVG 1.1
Flash Storage Memory
8 GB or 16 GB capacity (depending on model)
System Memory
2 GB DDR3

Display
Up to 1080p (TV resolution dependent, up-scaled from 720p)
Bluetooth
Yes (does not seem to be Bluetooth 4.0 / BLE compliant)
Wi-FI
802.11 b/g/n
LAN
Ethernet RJ45 connector (10/100M LAN support)
Camera
Integrated 5 Million Pixels camera with microphone
Picture resolution: 2592×1944, video: 640×480
HDMI
HDMI full size connector
Interfaces
microUSB port
full size USB Host port
Additional storage from MicroSD slot (supporting up to 32 GB cards)
Integrated Microphone
External 3G USB Dongle support
Battery life
Not applicable as the MK902 has no battery, AC powered only.
Google Play Store / Android Market
Yes
Dimensions
97x97x28 mm
Weight
132g

Official Product page
rikomagic.com and Rikomagic store
Rikomagic MK902 MiniPC with 5Mpix camera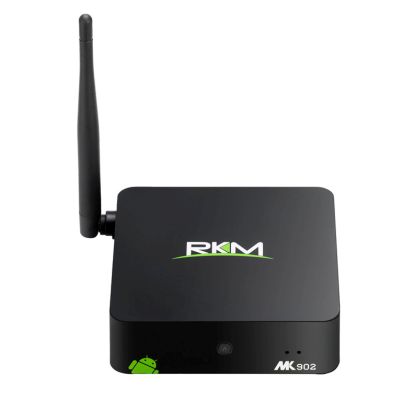 Rikomagic RKM MK902 quad-core Android 4.2 RK3188 CPU, 2GB DDR3, 8 GB storage, Bluetooth, 5 Mpix Camera & Microphone
$103 / ₤61 / €75
MK902 packaging, what's in the box ?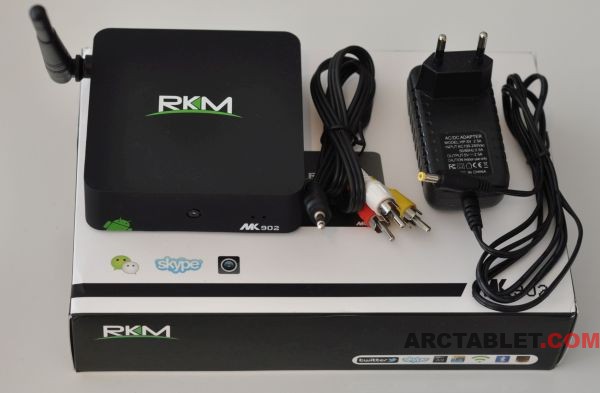 a Rikomagic RKM MK902 MiniPC
a power charger it outputs 5 V, 2.5 A, European or US socket
A/V cable for analog connection to a TV (RCA Plugs for composite video and stereo audio)
MK902 user manual, a 29 pages booklet covering basic Android user interface and firmware flashing topics.
The package we received did not contain HDMI cable. Newer boxes should now include an HDMI cable to connect to the TV and an USB cable (full size, male to male connectors) to hook the MK902 to a PC (used mainly for firmware flashing)
MK902 form factor
The Rikomagic MK902 is a very compact square design made from plastic material with a rubber coating. The small size of the MK902 MiniPC is quite noticeable when compared to other devices; the Minix Neo X7 which offers similar connectivity and features (but no camera) is about 25% bigger. As you can see on the picture below, devices like MiniPC dongles are really smaller but they don't offer a camera and extra connectivity (multiple USB ports, AV output, optical audio and LAN)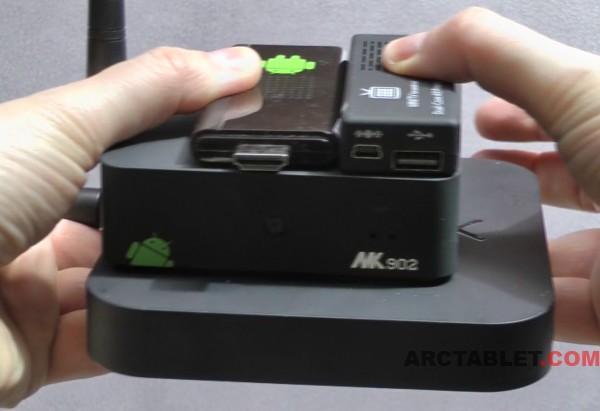 Top to bottom, left to right: Tronsmart T428, MK808, Rikomagic MK902, Minix Neo X7.
MK902 device connectors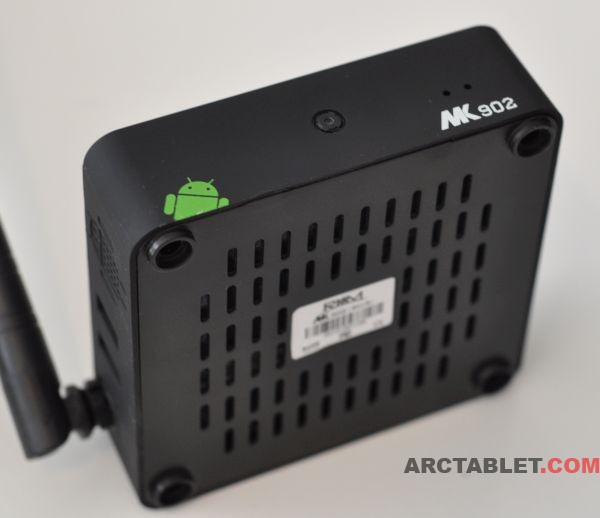 Front 5 Mpix camera and microphone holes. Holes in the bottom of the case for device cooling.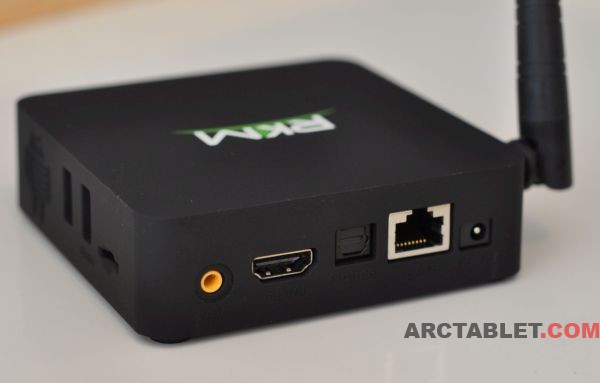 Back side connectors from left to right: AV, HDMI, optical (audio), LAN, power.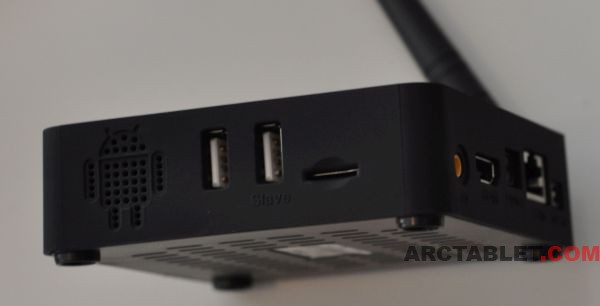 Right side: microSD card socket and USB Host ports (the socket marked "Slave" is dedicated to computer data transfer/ firmware flashing)
It seems possible to power the MK902 thru a full size USB connector in the Slave port rather than using the Power socket. Still this is not a recommended option unless you supply stable power with similar specs to the device charger output (at least 2.5 A)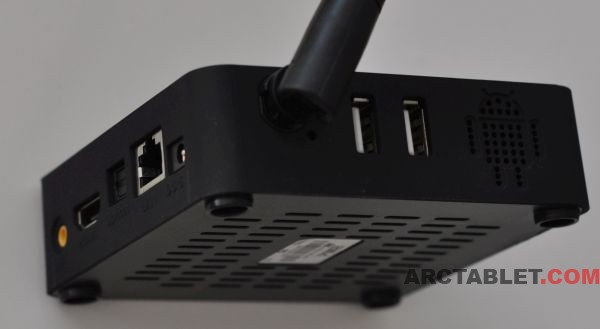 Left side: 2 more full size USB connectors and reset pinhole button.
Optional remote control
We used a Rikomagic MK706 Air Mouse and mini QWERTY keyboard combo to control the MK902. It connects to a computer or MiniPC thru a a supplied 2.4 GHz wireless dongle receiver for plug and play operation.
The MK706 will be presented in another article, the device is available at rikomagic online store for $21 / ₤12.5 / €15.3.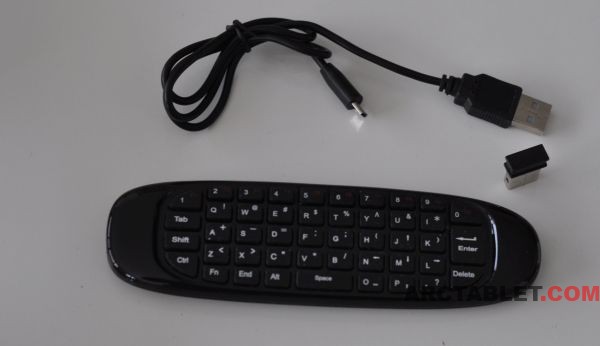 Rikomagic MK706 remote control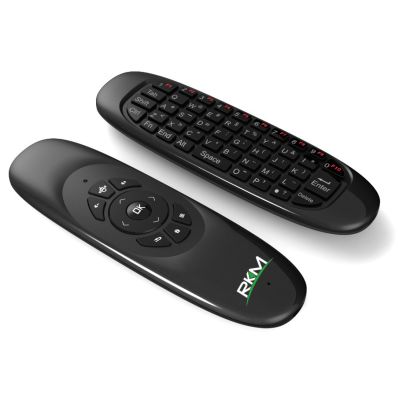 Rikomagic MK706 Fly Mouse & wireless mini keyboard
$21 / ₤12.5 / €15.3
Come back soon for the next parts of our MK902 review that will cover device performance/stability, software and a camera test.
Don't forget to check our forum for latest custom root firmwares for Rikomagic MK902 (and other RK3188 based MiniPC)