Rikomagic has recently updated the firmware for their MK802III Mini PC. According the the manufacturer revision history, this last release (2012/11/29) brings better compatibility with Hubs, and USB LAN adapters, it also adds new features to the MK802III, such as WiFI hotspot and a new Remote Control. While the stock firmware update comes rooted, we have brought some improvements such as latest SuperSU free version (0.99) to control the root access and extended storage space for applications with 2 Gb instead of the 500 Mb on the stock firmware.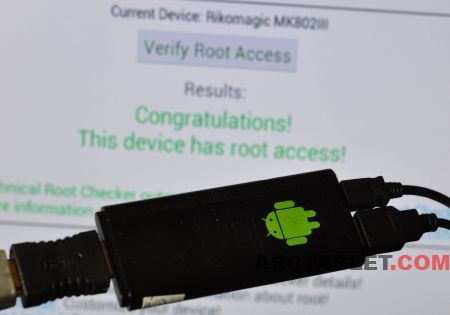 Remote Control feature
This firmware is one of the first to offer a
Remote Control
feature for Rockchip RK3066 based devices. This function allows to control the MK802III Mini PC remotely from an Android device such as a Phone or a Tablet. This is done thru an Android application to run on the controlling device. There is nothing to configure on the controlled device (MiniPC).
The Remote Control application can be downloaded here: MK802_III_Remote.apk (2.2 MB)
(MK802 III Remote application version 1.1.0)
The following video demonstrates an MK802III Mini PC controlled from a Nexus 10 tablet.

Rikomagic MK802III rooted firmware feature list
Android 4.1.1 Jelly Bean based on latest manufacturer's update (2012/11/29)
rooted Android system with latest SuperSU 0.99 by ChainFire (free version)
/system partition fully writable
extended space for applications (/data) up to 2 GB
MK802III rooted firmware download
Custom rooted firmware for MK802III Mini PC (release 20121129)
kasty-rikomagic-mk802iii-41-20121129-rooted-2G.zip
This firmware is specific to the MK802III MiniPC and should not be installed on other devices.
WE WILL NOT BE HELD RESPONSIBLE FOR ANY DAMAGE TO YOUR DEVICE.
THIS FIRMWARE UPDATE IS USED AT YOUR OWN RISK.
WE RECOMMEND TO FLASH THIS FIRMWARE ONLY IF YOU ARE ABLE TO RESCUE A BRICKED DEVICE USING ROCKCHIP FLASHING TOOLS.
Let us know how it works for you in our Rikomagic MK802III forum.