The OMAP 4470 system on chip (SoC) is the latest production from Texas Instruments (TI) 4th generation of OMAP processors. First presented at Computex 2011, the TI OMAP 4470 features four CPU cores:
– a dual core ARM Cortex-A9 running at a maximum of 1.8GHz (20% faster clock than the OMAP 4460 at 1.5 GHz)
– assisted by two Cortex-M3 cores running at 266MHz to handle less computationally intensive tasks (2D animations, touch interaction) and increase power efficiency.
The graphic processor is a PowerVR SGX544 GPU running at 384MHz, up 25% from the 304MHz of the SGX540. (Apple A5 CPU in the iPAD 2 uses a dual core version of the SGX543 GPU).
Like in older OMAP 4 processors, the DRAM memory controller offers a dual 32-bit DRAM channel, but it has been optimized on the 4470 to support LPDDR2-466 memory, which is 15% faster than in the 4460 and gives a memory bandwidth up to 7.5 GB/s.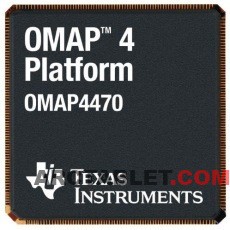 While Archos G9 tablets were using latest upgrade OMAP 4430 and 4460, there is good chance that the new Archos G10 tablets run on the OMAP 4470 (see GLBenchmark leak) and would be one of the first products to use latest TI processor.

Update 2012/09/06: The Kindle Fire HD announced today will be powered by a TI OMAP 4470 CPU on the 8.9″ tablet while the 7″ model should use a TI OMAP 4460.
The 7″ Kindle Fire HD should ship starting mid September ($199)
Kindle Fire HD 7"
7" HD Display, Dolby Audio, Dual-Band Dual-Antenna Wi-Fi, 16GB or 32GB
AMAZON USA
$ 5.25
AMAZON UK
£ 173.33
AMAZON DE
205.26 EUR
AMAZON FR
468.74 EUR
TI OMAP 4470 specifications
TI product page
is giving some details on the OMAP 4470 specifications:
Dual-core ARM® Cortex™-A9 MPCore™ with Symmetric Multiprocessing (SMP), operates at up to 1.8 GHz
Integrated POWERVR™ SGX544 graphics accelerator drives 3D gaming and user interfaces (UIs), and supports DirectX with maximum hardware acceleration
Dedicated 2D graphics core to accelerate UI composition in the lowest power envelope
Supports multiple screens
Can support up to QXGA (2048×1536) resolution with UIs composed of multiple blended layers
Dual-channel LPDDR2 memory makes for easier, faster memory access and overall system efficiency
Built in 45nm manufacturing process like other OMAP4 processors, pin compatible with the OMAP 4460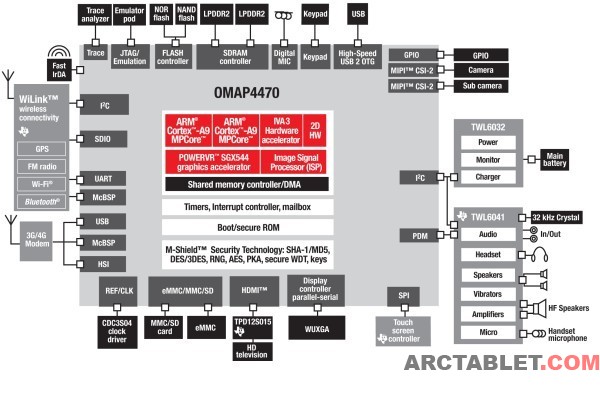 Composition Graphics Processing Unit (CGPU) improvements
The TI OMAP 4470 includes a
Vivante GC320 CGPU
. Vivante describes the CGPU as a
"task specific, multi-faceted processing core that not only accelerates and benefits composition. It is used to lower power (up to 10X), reduce bandwidth (over 50%), increase pixel processing performance (up to 4X), filter, scale, rotate, and dynamically adjust screen content."
Mobile devices use cases shows that most of the time (75%) is spent on User Interface / composition, where 15% is spent on basic 3D apps and 3D composition and the remaining 10% goes to 3D Apps & Games.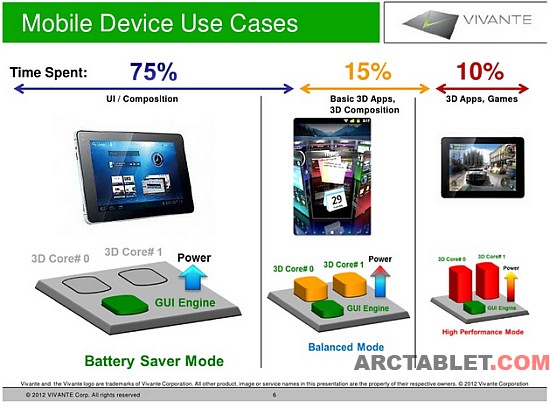 The CGPU innovates in helping with the multi-surface composition, reducing the memory bandwith, graphic operations and increasing the battery life.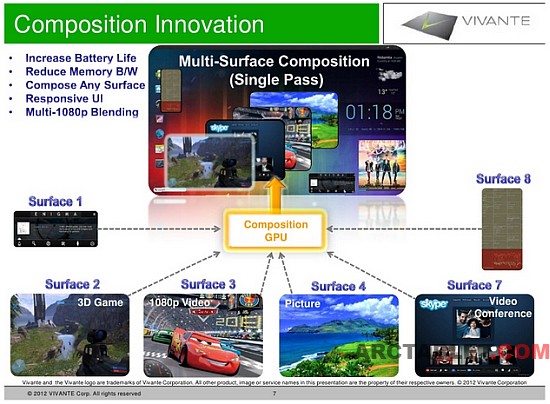 On some graphic operations, it can achieve up to 4x speed up at 1/10th of the power consumption.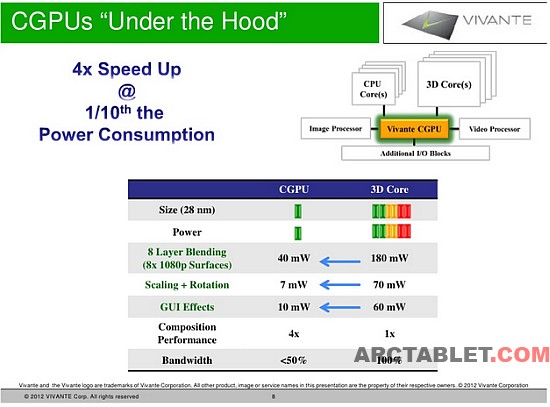 The Vivante GC320 CGPU supports the following features:
BitBLT and StretchBLT
Blending with alpha channel (per-pixel) and global alpha simultaneously
YUV-to-RGB color space conversion
High-quality image and video scaling
32 K x 32 K coordinate system
Pictures from "Composition Graphics Processor" presentation by Benson Tao, VIVANTE Corp.

TI OMAP 4470 and Windows RT
anandtech.com
has shown a demo of
Windows RT
running on an OMAP4470 development tablet.
Benchmarks
There is currently no retail device running the OMAP 4470 available on the market and it's hard to find some benchmarks about this processor.
slashgear.com
reported an ~50% increase over TI OMAP 4460 on a test device at CES this year (benchmark was running at about 24 frames per seconds on a TI 4460 while it gave a solid 42 on a 4470).
Update 2012/08/28
: We have now have some benchmarks for the OMAP 4470 available with our
Archos 101 XS performance review
comparing TI OMAP 4470 vs TI OMAP 4460, both running at 1.5 GHz.
Next OMAP processors, OMAP 5…
The TI OMAP 4470 can be seen as a transition processor to the next OMAP 5 generation, the recently announced OMAP 543x, should offer dual Cortex-A15 CPUs running at 2.0GHz and a dual-core SGX544 GPU.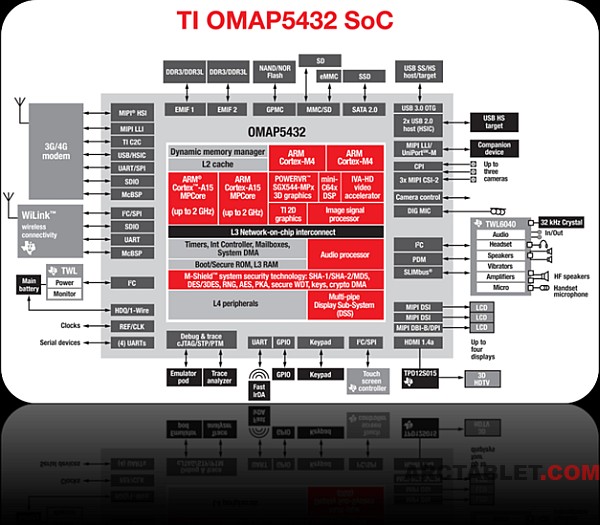 Kindle Fire HD 7"
7" HD Display, Dolby Audio, Dual-Band Dual-Antenna Wi-Fi, 16GB or 32GB
AMAZON USA
$ 5.25
AMAZON UK
£ 173.33
AMAZON DE
205.26 EUR
AMAZON FR
468.74 EUR
References:
Texas Instruments OMAP 4470 white paper
linleygroup.com
"OMAP 4470 Improves CPU, Graphics"
OMAP 4470 Technical Reference Manual
OMAP4470_ES1.0_PUBLIC_TRM_vE.zip
(30 MB PDF, 5626 pages)
Vivante.com
Texas Instruments OMAP4470/543xCGPU Information
Wikipedia
TI OMAP
page.