Computing is evolving with devices always becoming more powerful and efficient but also smaller. The idea of having a complete computer on a size of a memory stick emerged few years ago with small devices running on Linux. With the newest Mini PC, you can just plug a stick in the HDMI port of your TV and convert it to Google Android Internet connected device. We'll have a quick look at the history of these mini computers, their limitations and see specifications for three current models priced under $80: MK802II, UG802, MK808.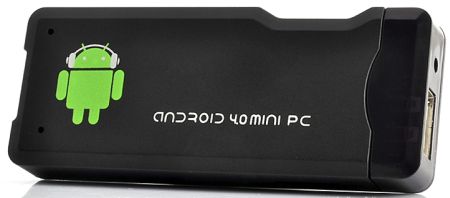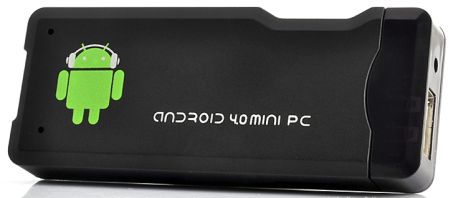 Short Mini PC history
The idea of making very small computers isn't new. Back in 2004,
gumstix.com
worked on small Linux computer-on-modules based on ARM processors. The name Gumstix actually refers to the first computer being approximately the size of a stick of gum. It was intially running OpenEmbedded Linux system on an Intel/Marvell XScale PXA255 ARMv5 processor. Gumstix later updated the platform using Texas Instruments OMAP and newer XScale CPUs.
More recently, with the success of the Android platform on phones and tablet devices, manufacturers have started to build MiniPC on this architecture. Cotton Candy from Norwegian company FXI Tech uses a Samsung Exynos 4210 processor (ARM Cortex A9 running at 1.2GHz with Quadcore Mali 400 GPU) to run Google Android 4.0 Ice Cream Sandwich or Ubuntu operating systems. Their system is oriented for Cloud and virtualisation use, FXI Tech describe it as follows:
The Cotton Candy is a USB stick sized compute device allows users a single, secure point of access to all personal cloud services and apps through their favorite operating system, while delivering a consistent experience on any screen. The device will serve as a companion to smartphones, tablets, and notebook PC and Macs, as well add smart capabilities to existing displays, TVs, set top boxes and other media that supports USB mass storage.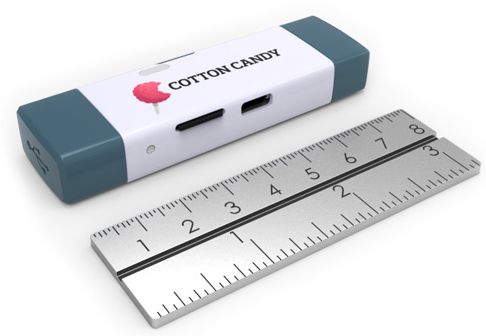 Always Innovating HDMI Dongle
Last year, Always Innovating announced a new product in the form of a portable dongle sized HDMI set-top box. This HDMI Dongle is a device of the size of a USB stick that can be plugged into any HDMI port to transform a dumb TV into a smart Internet-connected screen. The HDMI Dongle runs on at a speed up to 1.5 GHz on an ARM Cortex A9 TI OMAP 4 processor and enables Internet browsing, movie watching and games.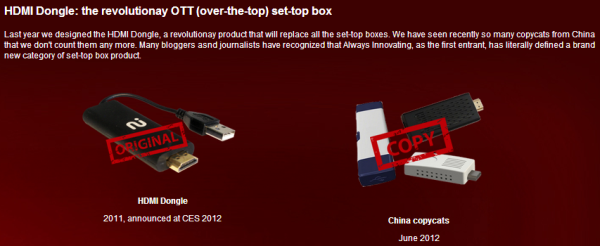 Both Always Innovating HDMI Dongle and FXI Tech Cotton Candy seem to have inspired other companies and there are now dozens of similar dongles produced by Chinese manufacturers for prices under $100. You will find a comparison of the specifications for 3 models at the end of this article.
Others initiatives such as the Raspberry Pi can also be mentioned as Mini PC, offering a credit card sized computer starting at $25. These are still slightly bigger products than the USB Sticks Mini PC, they come as a circuit board without a case and the device is less user friendly being mainly oriented for developers and education sectors.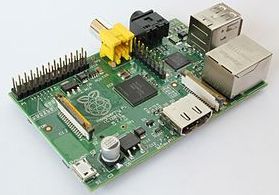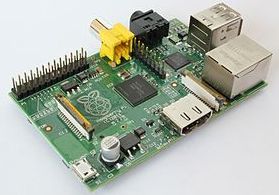 Usage and limitations
The main usage for these devices is a set-top-box to play music, videos or images on your TV, using local files on the device or from the Cloud. Most of the Android based devices come with Google Play Store giving access to Google Apps and thousands of applications.


Picture from aliexpress.com (Sun May's store)
Mini PCs offers just a basic central unit computer, unlike a tablet, they don't have a battery, camera, screen or any form of input device. Mini PCs are usually powered thru the supplied mini USB cable, you will also need to connect a keyboard/mouse thru an USB port (an USB hub is recommended) or use a wireless keyboard/mouse combination such as the Logitech K400.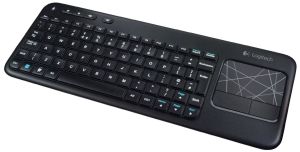 Onboard storage space is usually limited to 4 or 8 Gb of flash memory, on which almost 2 Gb are reserved for Android system, data and default applications, so you can end up with very limited storage space for your audio, video media files and use of a microSDcard is recommended.
Audio or Video Chat functions aren't always available, due to the lack of microphone and video camera on most devices. This can sometimes be added later as we will later see in another article.
You can also be limited with sound output if you are connecting the MiniPC to a DVI monitor, as DVI cables does carry only the video data and no sound, so you would loose the audio when converting from HDMI to DVI. Some future device should offer a simple jack audio output to solve the problem.
Finally, it's worth noting these platforms aren't specifically designed for gaming, as there are a lot of Android games that rely on a touch screen which isn't present on Mini PC setup. So you'll end up using a mouse/keyboard combination or an USB joystick to enjoy your games, if they supports it. In the future, the option of USB Bluetooth controllers such as the WII Remote should be possible.
HDMI Stick / Mini PC specifications comparing MK802II/UG802/MK808
We are closing this article with a 3 Mini PC specifications for devices that are currently available at very cheap prices from $45 to $75.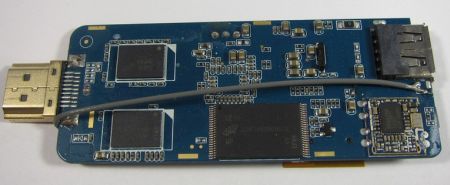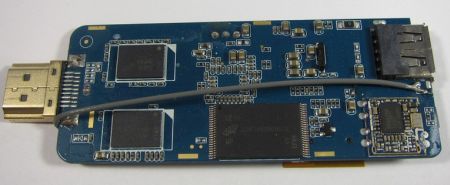 Device
Rikomagic MK802II
UG802
MK808
Operating System
Android 4.0 (Ice Cream Sandwich)
Android 4.0 (Ice Cream Sandwich)
Android 4.1 (Jelly Bean)
CPU
ARM Cortex A8 Boxchip Allwinner A10 1 GHz
GPU: AMD Z430+AMD Z160
ARM Cortex A9 Rockchip RK3066 Dual Core 1.2 GHz
GPU: Quad Core Mali 400
ARM Cortex A9 Rockchip RK3066 Dual Core 1.2 GHz
(Sometimes listed as 1.6 GHz, to be confirmed)
GPU: Quad Core Mali 400
System Memory
1 Gb
1 Gb
1 Gb
Flash Storage Memory
4 GB
4 GB
8 GB
Additional storage
Micro SD slot (SDHC compatible)
Micro SD slot (SDHC compatible)
Micro SD slot (SDHC compatible)
Bluetooth
No
No
No
Wi-FI
Wi-FI 802.11 b/g/n
(RAlink8188 chipset)
Wi-FI 802.11 b/g/n
Wi-FI 802.11 b/g/n
Gravity Sensor
???
???
???
Camera
No
No
No
Microphone
???
No
???
HDMI
Yes 1080p
Yes 1080p
Yes 1080p
Interfaces
MicroUSB *2 (1 for power)
USB 2.0 Host
MICROSD up to 32 Gb
MicroUSB 2.0 port
USB 2.0 Host
MICROSD
MicroUSB 2.0 port
USB 2.0 Host
MICROSD
Android Market / Google Play
Yes
Yes
Yes
Dimensions
97 mm*28 mm*12 mm
89 mm*33 mm*16 mm
87 mm*30 mm*14 mm
Weight
25 g
38 g
38 g

Come back soon for more Mini PC reviews and tips.