Prestigio, a Cyprus-based electronics company with Russian roots which has been working together with Archos for more than a year now, just introduced a new member to the MultiPad family, the budget priced Prestigio MultiPad 7.0 Ultra (PMP3370B). The model is based on Android 4.0 Ice Cream Sandwich OS and features Cortex-A8 CPU with 1GHz frequency, offering enough capacity for simple, every day tasks. 7″ wide screen with 800×480 resolution and capacitive touch should provide good quality for watching movies and videos or reading magazines.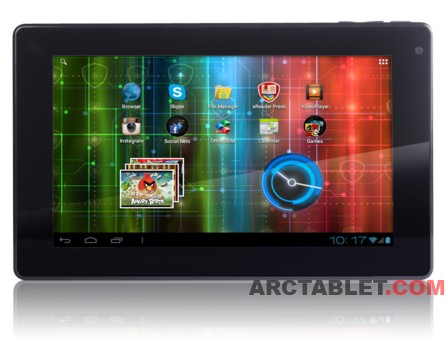 Inside the slim and rather minimalistic casing, MultiPad 7.0 Ultra is packed with 512MB RAM, 4GB internal storage and up to 32GB expandable storage with a microSD card. As for other specs, the device features a front camera, 802.11 b/g/n high-speed WiFi, USB 2.0 interface and 3,000mAh battery. Starting from July, Prestigio MultiPad 7.0 Ultra (PMP3370B) is available throughout Prestigio partners and retailers with a RRP of 99 EUR (125 USD).
Looking at the specifications and design, the Arnova 7f G3 and Nextbook Premium 7SE seem to be quite simillar. Considering the fact Arnova 7f G3 got 1GB of RAM and should cost the same, it seems to be a better choice. The plus point of the Prestigio MultiPad PMP3370B is the standard support for Google Play, but for the Arnova 7f G3, there is a custom firmware with root and Google Apps available in Arctools.