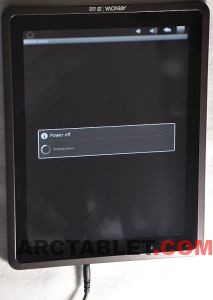 While working on our Arnova 9 G2 tablet review, we quickly encountered a power/battery issue that prevented us to continue our tests.
After leaving a full night of charge and removing the power plug, the device did not start and the power LED did not light anymore when pressing the power button. When plugging in the charger, the power LED did light again and the device started to boot: showing the Arnova logo, then Android system booted to quickly show to the message pictured above, displaying the Power off message and initiating a shut down.
There are also similar reports from other users, gavthomas29 commented on Archosfans.com forum, Fri Dec 30, 2011:
JUST GOT THE NEW 9G2 AND STRAIGHT AWAY HAD TO CHANGE IT.WHEN THE BATTERY WENT FLAT IT WOULDNT RECHARGE,IT WOULD RECHARGE WHILE IT WAS STILL ON BUT NOT WHEN COMPLETELY DRAINED. THE REPLACEMENT I GOT HAS SAME FAULT,SEEMS FROM PC WORLD TECH TEAM ITS QUITE COMMONLY REPORTED,THANKS A BUNCH ARCHOS WHAT GOOD IS THAT AND WHY ARE PC WORLD STILL SELLING THEM IF THEY KNOW THEYRE NOT RIGHT?
Our test device was bought in a shop early January 2012, the firmware information is the following:
Android Version: 2.3.1
Kernel Version: 2.6.32.27
Build-Number: GINGERBREAD.eng.20111118.101706
This problem seems to be an issue specific to a very local batch of devices, as the majority of Arnova 9G2 owner does not seem to be affected. We would like to have more feedback about this issue, see if it's an hardware or software problem. If you have an Arnova 9 G2, please let us know in our forum if you have noticed a similar failure.