AndrewDB, Alok Sinha and their developer team are bringing a nice Ubuntu package for RK3066 based devices. This is basically a Pico sized (under 200 megabytes) Ubuntu Qantal 12.10 distribution for pico sized hardware, hence the name, PicUntu.
The first 0.9 RC 2 version has just been released, supporting some Rockchip RK3066 based MiniPCs such as the MK808 and UG802.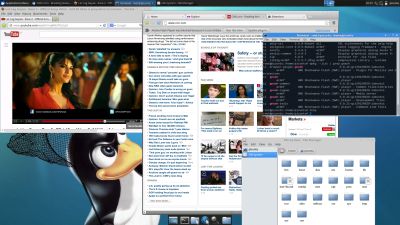 Supported hardware
The first big 0.9 release is oriented to support most common RK3066 based MiniPC such as
MK808
and
UG802
models. On both models, networking works with either the default internal WiFI or thru the use of an external USB Ethernet dongle. Support for other MiniPCs based on the RK3066 architecture such as the iMito MX1 / MX2 is in the works, we may even see PicUntu on some tablets as well in the future 🙂
PicUntu system and data files are stored outside the RK3066 device internal storage, you can use a microSD card, an USB external storage such as a Flash drive or hard disk. 4 GB storage space should be enough to store PicUntu and provide enough space for extra packages and a few users files. If you are using a SDCard, we recommend using a fast model (class 6 or better).
Download PicUntu
PicUntu files are available from Google Code
rk3066-linux
pages.
Another download site is available on a server actually running PicUntu, check
ubuntu.g8.net
We also provide 2 mirrors for the files:
mirror 1
(Europe),
mirror 2
(US, rest of the world)
You need:
– ug802recovkernl.img : a recovery image to flash on your RK3066 device, this image provides the Linux kernel to boot PicUntu from. Being installed as a recovery image, it can cohabit with an existing kernel that still let you run Android on your device.
– pre-picuntu.sh: pre-installation script that runs from an existing Linux: it takes care of the rootfs download, network configuration and installation to the removable storage
– picuntu-linuxroot-.09-RC2.1.tgz: this is the actual rootfs, in case you want to install on your own without using the pre-installation script. That will require partitioning the removable storage and manual setup for the network configuration.
The installation procedure is detailed on PicUntu website.
Here is short video of PicUntu 0.9-RC2.2 pre-installation on a MK808 RK3066 based Mini PC using a 4 GB Storage micro SD card (on /dev/sdb) The installation procedure is executed on Ubuntu 12.10, running in VMWare player / Windows 7 x64.

Installation from Android with PicuntuInstaller.apk (root required)
There also an Android application in the works to take care of PicUntu installation process, that is, download the package files, flash the recovery image on the RK3066 device and reboot to Linux. This is application is still in alpha stage, we'll post updates when it reach a stable level.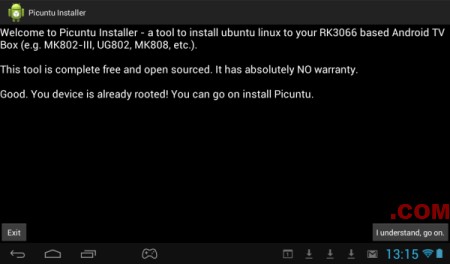 Using PicUntu as a small Linux computer
When the PicUntu system installation has completed, Ubuntu packages can be added to extend the usage possibilities:
Media server
small web or mail server
Windows / SMB network file server
web browser, desktop tools such as LibreOffice
PicUntu distribution also comes with a full source code for the Linux kernel, so you can even rebuild one from the device itself (requires compiler tools installation).
Here is a quick demo of an early version of the package, a few weeks ago before it was named PicUntu.

Please visit us again, we'll soon post updated videos.
Main PicUntu web site, discuss on armtvtech.com forum
PicUntu desktop picture by aloksinha2001
Via liliputing.com