JustinTime4Tea on slatedroid.com has built a nice package based on PicUntu updated with latest drivers and offering a complete Linux system pre-installed for multi usage with tons of gaming, development, office, Internet and multimedia applications ready to use. The Mali400 GPU integrated on the RK3066 processor is partially supported, offering GLES/EGL hardware acceleration on some games and applications. PicUntu Home://io edition is currently supported mainly on the MK808 MiniPC (available for ~ $42 / €35) it should work on other RK3066 devices equipped with the same hardware, specifically WIFI drivers (RK901 / Broadcom BCM40181 – 4329 chipset). Original PicUntu package and Home://io edition are both works in progress, wider support for more Rockchip RK3066 (maybe RK3188 as well) based devices is expected in the future.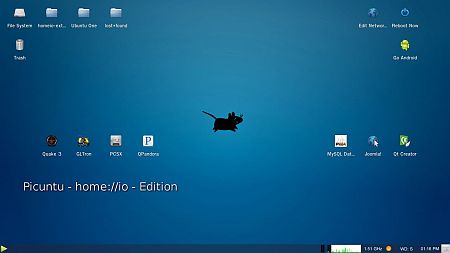 Main screen showing Ubuntu, with some icons grouped by theme (System, Gaming, Development)
Starting with bringing Linux desktop environment for the TV with PicUntu Home://io edition, Justin is thinking on deploying this system as appliances for a broader ranger of uses such as home or car surveillance systems, Internet server (files/ web/ chat/ media), router/firewall, and many more…
MK808 MiniPC

Rockchip RK3066 CPU, Mali 400 GPU, 1 GB RAM, HDMI output, WIFI b/g/n
From $ 42
Download PicUntu Home://io edition
The rootfs installation package (
picuntu_home-io_rootfs.tar.gz
) is available for download on these mirrors:
[EU server]
[USA server ]
[USA2 server ]
[ASIA server]
MD5-SUM:
 ac33a344a6ca8d9443eebd3bbbdb4a88
Installation procedure is detailed on slatedroid.com
PicUntu Home://io edition running – live screenshots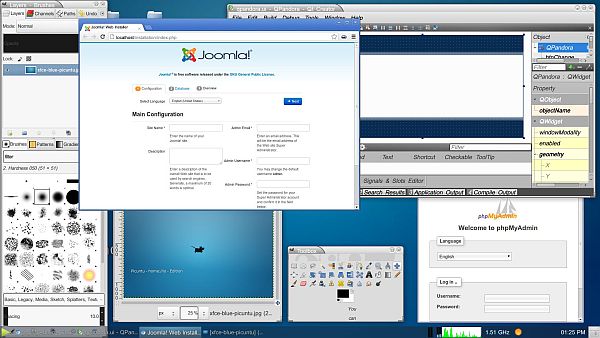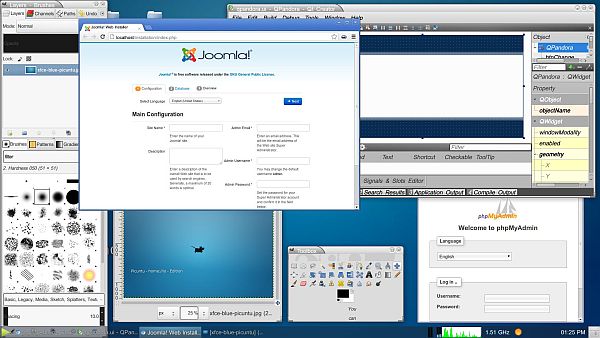 Internet/Development setup with apache webserver, mysql database system, Joomla CMS, and GIMP Image editor on the left.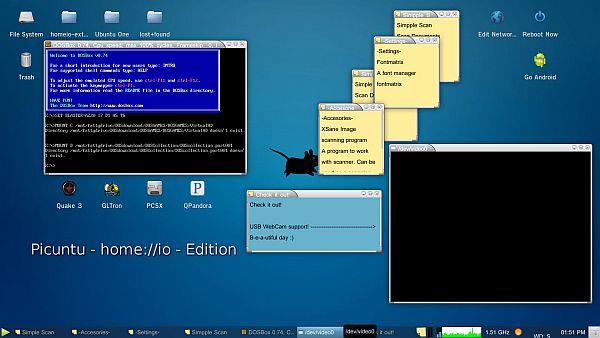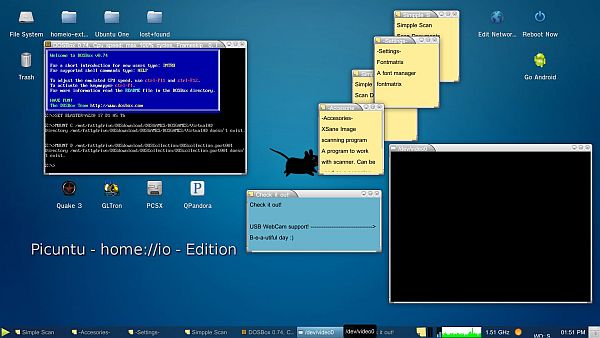 DOSBox emulator and webcam test (the webcam normally works, but the picture doesn't show in the screenshot)
Thanks to PicUntu team and JustinTime4Tea for their great work
Source: slatedroid.com