Allwinner A31 based tablets (such as the Onda V812 or V972) currently offer great processing power and value for the price. These devices are still young products which receive frequent firmware updates, that are usually delivered thru incremental OTA (Other The Air) packages, downloaded thru WiFI on the "Update" application. Another update path that is specially useful for a Factory reset and full firmware image flash using Allwinner PhoenixSuit custom Windows application. This tutorial will explain the different steps to successfully flash a tablet based on Allwinner A31 processor.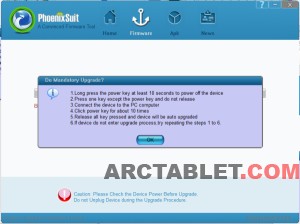 Step 1. Download and install PhoenixSuit
PhoenixSuit Windows program is usually included with your tablet's firmware archive.
For convenience, we are including a copy for download here:
Install PhoenixSuit by running the installer program PhoenixSuitPacket_v1.0.5.msi (the file name may vary depending on the program version) on your computer. The installer is in Chinese, but it's quite straightforward pushing next button (situated on the right side) until the installation completes. Have a look on our video below to see the installation process in details.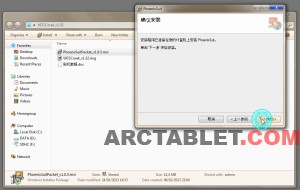 Step 2. Download firmware image for your tablet and load it in PhoenixSuit
You need to download the firmware for your device. Manufacturers usually provide firmwares on their website. We also hold copies to latest firmwares on our forum. See at the end of this article for references.
Once PhoenixSuit is installed, you can load your tablet firmware. Click on the Firmware button then Image button and locate the .img file on your hard drive corresponding to the firmware you wish to flash.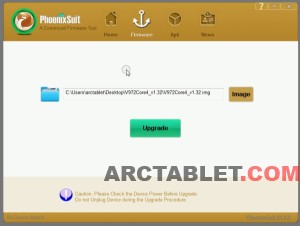 Step 3. Put the tablet in flash mode
This step may appear a bit tricky as it requires playing with the hardware button on the tablet. Allwinner describes the procedure in the screen below: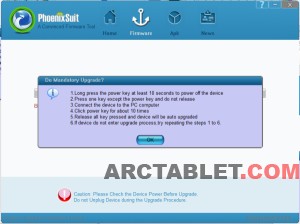 Basically you need to do the following:

Disconnect the microUSB cable from your tablet
Shutdown the tablet, either from Android shutdown menu, or by pressing the Power button for about 10 seconds. The tablet screen should be black when the tablet is off.
Press the Home button on the tablet, plug in the micro USB cable on the tablet, while keeping the home button pressed.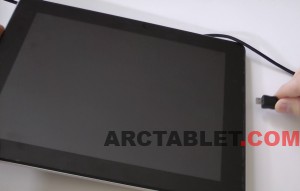 While keeping the Home button pressed, make short presses (about half a second duration each) on the Power button for about 10 times or until you see the dialog below on the Windows machine.

Once the tablet has entered in flash mode, you should see the dialog below.

Please click Yes button to allow Format mode.
ONDA V972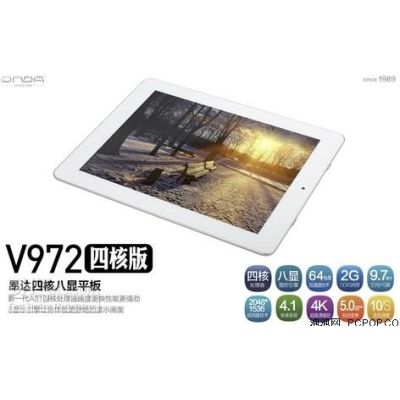 9.7 inches IPS retina like display 2048x1536 pixels, Allwinner A31 quad-core CPU,2 GB RAM, Android 4.1, Dual camera
Ships out within 3 days
$ 220
Step 4. Flashing the tablet
Step 5. Restart the tablet
Your tablet may start configured in Chinese, please check our video (at position ) on how to set it in English.
The video below goes thru all the steps of this flashing tutorial.