Just in time for a cold Christmas, we have found a nice Bluetooth Beanie to keep your ears warm while listening to music or talking on your phone hands free.
There are currently a few versions now selling on the market, ARCHOS has their own Music Beany model but it looks like we were not lucky enough to have one for review, so we have been looking for alternatives.
The device we are checking here is particularly interesting as there is a promotion for a limited time with an amazing price: it currently sells for just 10€ / £8 / $12 shipping included, while most competing products are more in the €25€ to €50 range. Please check at the end of the article for a great deals selection.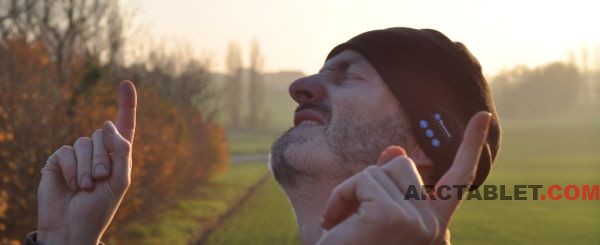 Bluetooth Beanie hat (black)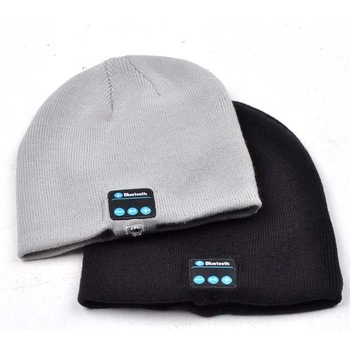 Smart Talking Keep Warm Music Beanie Hat w/ Built-in Wireless Bluetooth Stereo Earphones - Black EPATH-354700
9.71€ / £7.67 / $11.99
Bluetooth Beanie hat manufacturer specifications
| | |
| --- | --- |
| Bluetooth support | Version: V3.0+EDR |
| Frequency | 2.4026GHz-2.480GHz |
| Transmission distance | about 10 meters (30ft) |
| Microphone transmission distance | 1 meter (3 ft) |
| Battery | Li-ion 3.7V / 120mA |
| Charging time | 2.5 hours |
| Stand- by time | about 60 hours |
| Continuous working time | about 5 hours |
Beanie design, fabric
The hat is made of a dual layer fabric to keep, this is obviously not cotton or wool for that price but probably acrylic fiber. The hat is offered in a single "one size fits all". It should be big enough to host big heads, at least it was fine with our testers 🙂
The fabric and build quality is OK, quite clean and soft touch. The socket for the micro-USB charger is accessible thru a hole in the fabric, this is not the nicest and most robust design but it does the job.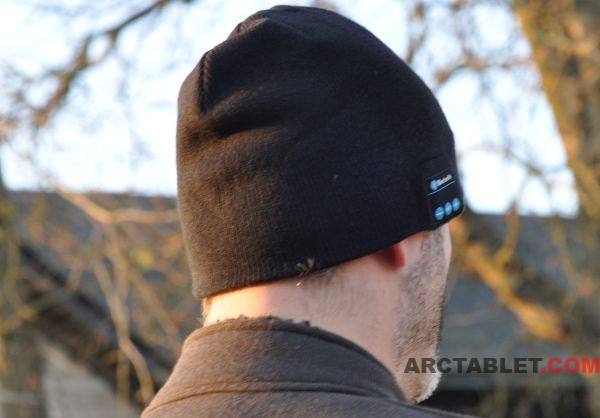 When properly installed, the Bluetooth panel should be located next to the right user hear. It is a little prominent but does not hurt much.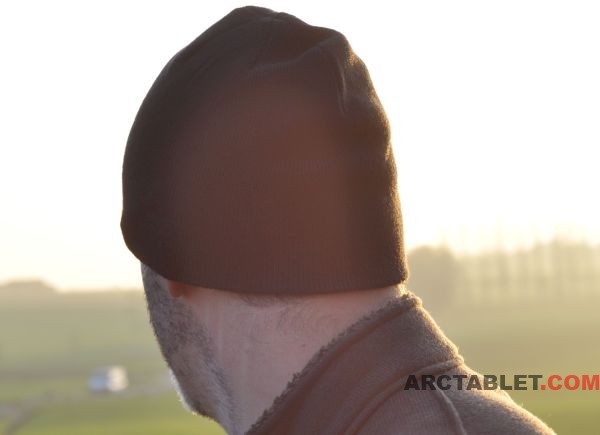 Beanie Colors
The Bluetooth hat is available in multiple colors: red, blue, black, grey, pink, purple, brown. Some stores are just listing black and grey models.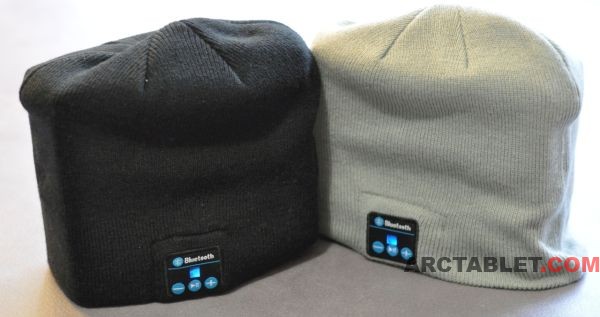 Bluetooth Beanie package contents
The box contains the hat wrapped in the plastic bag and a micro USB connector. The back of packaging details the main product specs and shows the certifications logos: CE, ROHS and FCC.
Usual caution has to be taken regarding the specifications for products coming from the Chinese markets.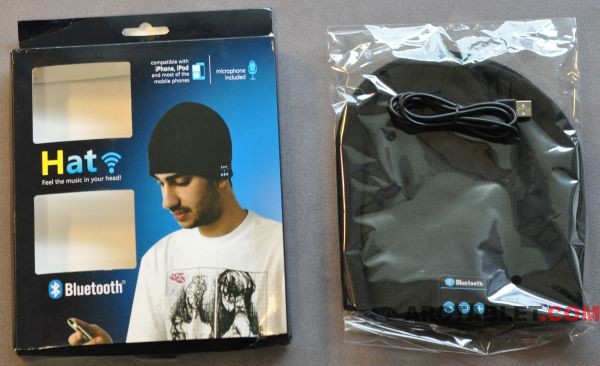 Connection and buttons operations
The connection to the hat is very simple. First start the hat, then look for it on your Bluetooth devices (Android, Apple, Windows …), you should quickly see a device named "BT-03S", you should then pair with it, then you are ready to send music. We have successfully tested connections with a Windows notebook computer, a few Android smartphones and an Apple iPad tablet: in all cases it just took no more than 30 seconds to connect and start playing music !
To save battery, after the Beanie has been powered up, it will auto power off after a five minutes if no connection with a remote Bluetooth device has been established.
The small control panel on the hat has only 3 buttons but offers all the basic features you may need, each button having multiple functions: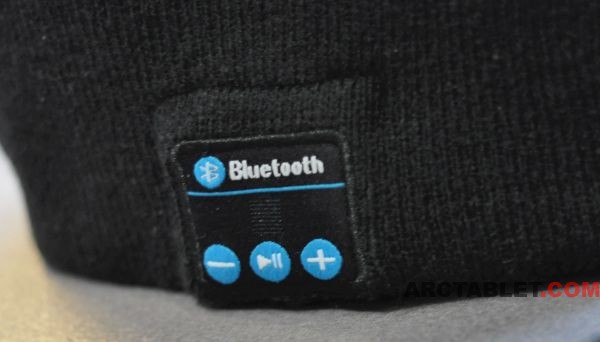 Play button: Hold on the middle Play/Pause button to Power On/off the device. While playing music, a short press on the Play button can pause current track.
The same short press on this button is used to answer/hangup a phone communication. As an alternative, you can also use your smartphone to accept or hangup a communication.
Left and Right buttons (- and +): these are used to change music track (previous and next) when the button is pushed shortly, will decrease or increase the sound volume.
The Bluetooth panel also holds 2 LEDs located just above the buttons, the blue LED shows the device is powered On while the red LED shows the device is charging (the red LED won't show after the charge is complete)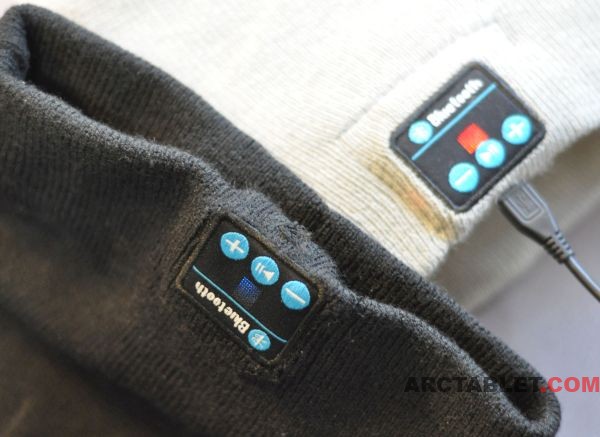 Battery life
As usual, the manufacturer's specs are a bit optimistic, we have made our own measurements.
Expect a charging time of about 50-60 minutes to recharge a fully with a regular USB port (500 ma output)
From a fully charged device, we established a Bluetooth connection to a smartphone located 1 meter next to the hat and let it play music (volume set at ~75%) until the battery got empty. We measured a continuous music play time of about 2 hours 40 minutes before the sound started to drop, before that we had no disconnection.
Sound quality and calling features
You surely shouldn't expect audiophile quality with a sub $20 audio device, but we found the sound quite enjoyable. Maximum volume doesn't go very high, the sound is bit flat and does not show bass boost.
As far as stereo sound is concerned, the hat should be worn with the Bluetooth buttons panel on the right hear side.
While the audio quality is fine, we are more reserved on the microphone value. The recording system in the hat seems to be a small microphone located on the bottom of the Bluetooth panel, it is relatively sensitive but it is not located ideally to catch your words while you wear the Beany. Still the audio sound of the other party during a phone call is good, so overall it appears as an acceptable solution for hands free use.
Our opinion: pretty decent product – cheap price
We liked

We did not like


great features for the price
audio sound quality is fine
decent hat fabric quality, hat design and size are fine
battery life is enough for a long walk/running session or during daily commute

does not seem to be weather/water proof
microphone/recording quality could be better
headphones and Bluetooth modules are not fully secured and can move inside the Beanie
Overall it's a great product for the price, we recommend it !
Great deals on the Bluetooth Beanie hat
Bluetooth Beanie hat (grey)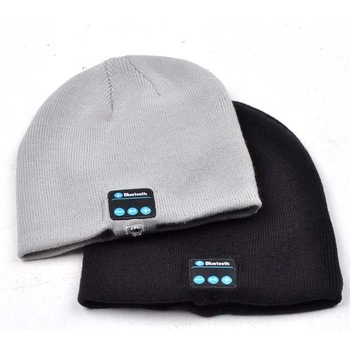 Smart Talking Keep Warm Music Beanie Hat w/ Built-in Wireless Bluetooth Stereo Headphones - Grey EPATH-352380
9.71€ / £7.67 / $11.99
Bluetooth Beanie hat (black)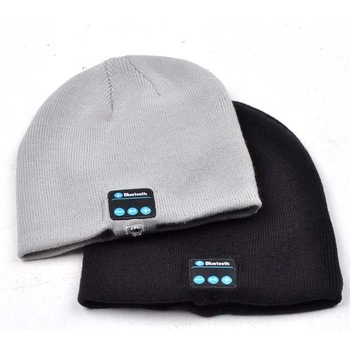 Smart Talking Keep Warm Music Beanie Hat w/ Built-in Wireless Bluetooth Stereo Earphones - Black EPATH-354700
9.71€ / £7.67 / $11.99
Bluetooth Beanie hat (pink)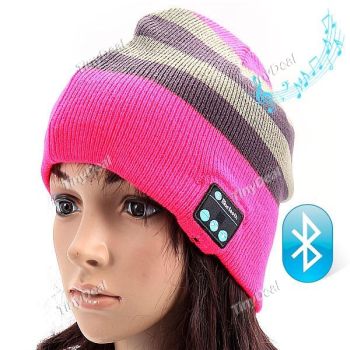 Smart Talking Keep Warm Music Beanie Hat w/ Built-in Wireless Bluetooth Stereo Headphones PINK! EPATH-360799
10.21€ / £8.06 / $12.61
Questions and answers
Q: Can I wash the hat ?
There are no particular instructions in the box, we recommend that you shouldn't leave the electronics inside the hat before putting it in the washing machine. You'll find a small hole to extract the Bluetooth system inside the hat, don't forget to take away both headphone modules. Then you can probably put the hat in the washing machine in a 30 or 40 degrees synthetic program:)
Q: Cant I connect multiple devices to the hat ?
You can connect multiple devices Bluetooth devices (Android, Windows, Apple, …) to the hat but you can connect only one at a time. Any connection made will "block" further connection to be established, so you will need to disconnect one device to allow a connection from another.
If you have other questions, please post them in the comments section below.