Parrot company, the manufacturer of great Bluetooth phone hands-free kits, high-end audio products (speakers and headphones) and entertainment products such as AR Drone quadri-copter is coming with a new "eco-geek" product. Unveiled 10 months ago at CES 2013 in Vegas, the Flower Power is a little device helping you take care of your plants by monitoring their light, temperature, water (soil moisture) and fertilizer parameters.
It acts as a sensor and will connect to your phone or tablet to sending real time alerts. The connection is made using Bluetooth Smart (also know as Bluetooth 4.0 Low Energy / BLE) to supported devices, currently iOS only (iPhone 4S, iPhone 5, iPad 3, iPad mini and iPod touch 5th generation models). There's currently no word about an Android version, but it may be later available for Android 4.3 and above devices that support Bluetooth Smart.
The Parrot Flower Power will be available next month for $59.99 / €49.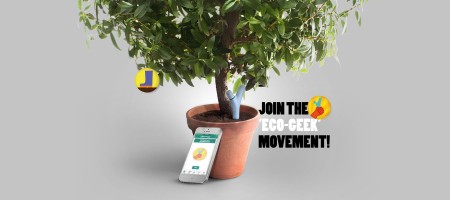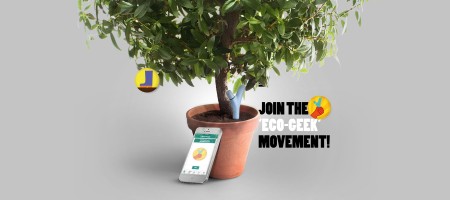 How it works
By placing the Flower Power device into the soil of a plant (indoor or outdoor) the sensors built into its base can read most of the parameters (light, temperature, soil moisture and fertilizer) that make a plant healthy. To keep the readings accurate, the sensor needs to be placed at 10 centimeters around the plant to be monitored, if you have multiple plants under the same light/water/soil fertilizer condition you can use a single Flower Power to watch them all. It is also possible to use multiple Flower Power to monitor different plants.
The sensor on the Power Flower makes measurements every 15 minutes and store the readings. Connecting it to supported devices with Bluetooth Smart running Parrot free application will provide additional information and advice for each plant monitored thru the sensor. Wireless coverage from the Power Flower device to the smartphone/tablet goes from next to the plant up to 82 feet.
Free application
The brain behind the sensors comes from the application, currently for Apple iPhone and iPad. It provides a large inventory of recommendations for 6000 plants, trees and vegetables among 2000 species gathered by botanists from prestigious universities and laboratories. Provided you know the name of your plants (if you don't, you can use apps such as
leafsnap
to help identify species from photographs) the application will give you some details in plant's fact sheet: origin, photos, plant needs and additional advice.
The Flower Power also sends the sensor readings to the Cloud, so it helps improving the algorithm and give better recommendation.
Here are a few rendered pictures of the application, extracted from Parrot official video:
Plant need water: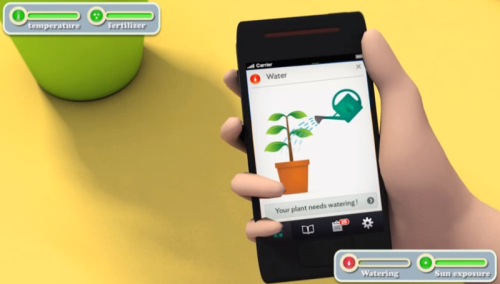 Plant need more sunlight:

The short video below illustrate the main Parrot Flower Power features.

Don't forget the Power Flow is just a sensor, you will need to act based on the application recommendations to adjust water, light, temperature, fertilizer for the plants you monitor.
Parrot Flower Power design
The Flower Power body is built with ultrasonic welding of plastic parts and use of Macromelt® and polyurethane gaskets. It features a dust and water resistant design (IPX5 and IPX7), functioning under a large temperature range (from -10 ° C / 14°F to 55 ° C / 131°F)
The Flower Power is powered by a AAA battery (included in the package) According to Parrot, it gives a battery life of 6 months for a constantly turned on device.
Device dimensions: 3.5x7x19.5 cm, weight: 1.6 oz
A light sensor is situated on the top of the device, while an air temperature is in the body and the "root" of the device planted in the soil check for water in the ground (soil moisture) and fertilizer quantity (most likely it should look for nitrogen (N), phosphorus (P) and potassium (K) macronutrients ratios)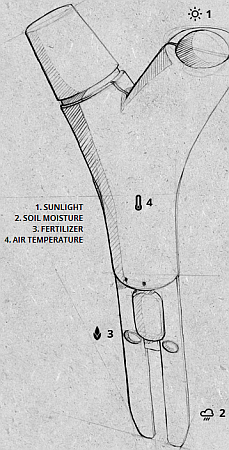 The device is available in different colors: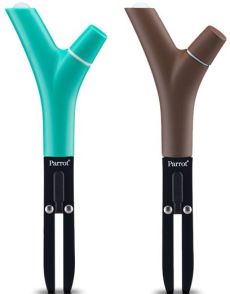 Flower Power page at parrot.com
Pictures from: parrot.com