NVIDIA has just announced Project SHIELD portable game console at the CES 2013 in Las Vegas. The device offers a 5″ 1,280 x 720 resolution display that folds up from the controls, NVIDIA4 Quad-core ARM Cortex-A15 with custom 72-cores NVIDIA GeForce® GPU, and wireless support with WiFI 802.11n 2×2 MIMO. The console controller offers all gamers needed features: D-pad, 2 sticks, ABXY buttons, left/right bumpers, left/right analog triggers, in addition to Start/Back/Home/Volume buttons and a multi-function NVIDIA/Power button. Project SHIELD console runs latest version of Google Android Jelly Bean. It will be available in "Q2/2013", no price has been given at the moment.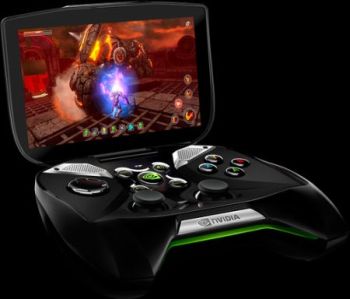 A nice feature of the SHIELD is the device can be a wireless client to a NVIDIA GeForce GTX PC, the computer renders the scene and streams a video to the portable console that is in charge of the controls. This is done with thru a fast low latency WiFI 802.11n 2×2 MIMO connection.
NVIDIA Project SHIELD Press conference, thanks to Charbax.

NVIDIA Project SHIELD Demo Trailer at CES 2013

Project SHIELD product page at nvidia.com,
http://www.geforce.com/whats-new/articles/nvidia-project-shield
Picture by NVIDIA