It looks like ARCHOS is adjusting their tablet prices to better follow the Google Nexus (8 Gb model at $199, 159 UKP, 199 euros) and more recently the Amazon Kindle Fire HD.
The good news came today from ARCHOS CEO and founder Henri Crohas, who has just announced to L'Expansion french magazine that the ARCHOS 101 XS tablet first presented at 379 euros with the keyboard cover, is worth 279 euros without the cover and a smaller 8 inches model (80 XS as we understand it) should be offered under 200 euros without coverboard and less than 250 euros with it.

Quote from Crohas (in french):
C'est pourquoi notre prochaine génération 101XS va être commercialisée à 379 euros avec le clavier le plus fin du marché à ce jour de 5 millimètres d'épaisseur. Sans ce périphérique, cette tablette 10 pouces vaut 279 euros. Un autre produit plus petit, de 8 pouces, sera proposé à moins de 200 euros sans clavier et à moins de 250 euros avec.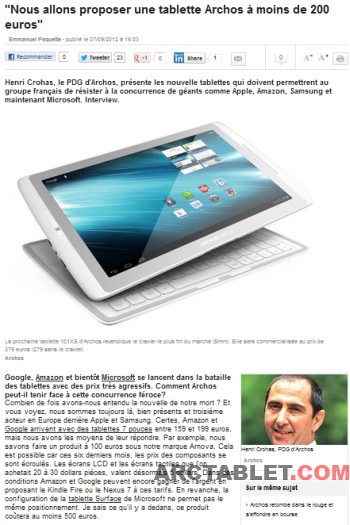 Source: http://lexpansion.lexpress.fr/high-tech/nous-allons-proposer-une-tablette-archos-a-moins-de-200-euros_332560.html