Earlier today, we've seen Archos releasing their Video application to allow movie playback on most Android 4.0 tablets. Archos chosed, probably for licence cost reasons, to distribute separately a plugin to enable MPEG-2 support at a cost of €5.00.
A free "Archos Video All Codecs Plugin" application has appeared on Google Play Store this afternoon, seems to offer same functionality. While the legal status of this application is quite questionable, we thought it would be of interest to report about it. We do not support or promote piracy.
Update
A quick disassembly of the application shows it does not seem to do much more than checking the device CPU ABI (Application binary interface) and copying the appropriate libraries to com.archos.mediacenter.video/files/plugins/ directory.
Application Permissions
Looking at the permissions does not reveal fishy access or trojan type application.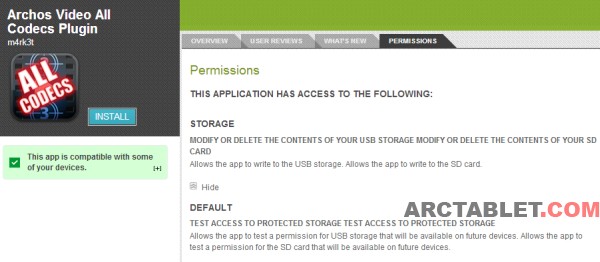 Application editor
Old times Archos Gen8 owners may remember
gapps4archos-apk
, a Android Market (now Google Play Store) enabler from the same? "m4rk3t" user