The
MPMan MID74c
tablet is powered by the
Boxchip Allwinner A10 CPU running at 1 GHz
assisted by an
ARM Mali 400 GPU
. Let's see how these compare with another ARM Cortex A8 based tablet in the same price range, the
Arnova 7 G2, equipped with a Rockchip RK2918 CPU (including a Vivante GC800 GPU)
.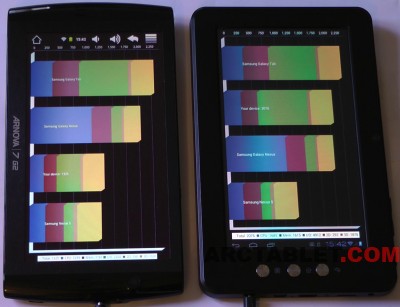 MPMan MID74c vs Arnova 7 G2 benchmarks results
Test conditions:
– both devices were using latest firmware from the manufacturer
– all benchmarks were executed after all tasks have been killed
– test were run multiple times to check for consistent behaviour, the results shown here correspond to average values
MPMan MID74c vs Arnova 7 G2: benchmarks results
Arnova 7 G2
MPMan MID74c
CPU / CPU speed

GPU
Memory
Rockchip RK2918 at 1 GHz

Vivante Corporation GC800
512 Mb
Boxchip Allwinner A10 at
1 GHz (up to 1.25 GHz)
ARM Mali 400 GPU
512 Mb
Test setup
Firmware version
Arnova 2.3 Gingerbread, firmware Android 2.3.1
Build 1.1.1.GINGERBREAD.eng.root.20111213.114505
Android 4.0.3 – Kernel version 3.0.8+
Build number: 97F2-D1-H1-M01-1561.20120302
AnTuTu Benchmark v2.7.2
higher is faster
Total score: 2433
RAM: 310
CPU integer: 561
CPU float-point: 142
2D graphics: 298
3D graphics: 726
Database IO: 200
SD card write: 79 (7.9 MB/s)
SD card read: 117 (11.7 MB/s)
Total score: 2847
RAM: 383
CPU integer: 611
CPU float-point: 153
2D graphics: 149
3D graphics: 1087
Database IO: 240
SD card write: 73 (7.3 MB/s)
SD card read: 151 (15.1 MB/s)
ArcTools v 0.65i
higher is faster
Read: 28 152 Kb/s
Write: 4 419 Kb/s
Read: 18 970 Kb/s
Write: 4 929 Kb/s
CF-Bench Pro v1.1
higher is faster
Native score: 3578
Java Score: 1291
Overall Score: 2205
Native score: 3738
Java Score: 1389
Overall Score: 2328
GPUBench v 1.0.0
higher is faster
Absolute: 37 822
Relative: 35 594
Absolute: 38 478
Relative: 37 128
Nenamark 2 v2.2
higher is faster
31.5 FPS
31.7 FPS
Neocore v 1.9.35
higher is faster
51.2 FPS
57.1 FPS
Linpack Pro v 1.2.9
higher is faster
14.35 MFLOPS
15.58 MFLOPS
Quadrant Advanced v2.0
higher is faster
Total: 1287
CPU: 1233
Mem: 1176
I/O: 2301
2D: 182
3D: 1544
Total: 1723
CPU: 1401
Mem: 1501
I/O: 3684
2D: 271
3D: 1760
Smartbench 2012 v2.0
higher is faster
Prod. index: 428
Games Index: 1397
Prod. index: 491
Games Index: 1991
Vellamo v 1.0.6
higher is faster
491
745
Benchmark results interpretation
Raw numbers from these benchmarks show a
clear advantage
(from 5% to 30% depending on the tests) to the Boxchip Allwinner A10 CPU over the Rockchip RK2918 when both processors run at the same 1 GHz frequency. CF-Bench shows relatively similar results for both tablets in term of CPU pure processing power, the difference on the general benchmarks probably comes from other subsystems such as the memory speed and graphical processor (GPU). The single core
ARM Mali 400 GPU
seems to be more efficient than the
Vivante GC800
integrated in the Rockchip RK2918 SOC. A quad core version of the Mali 400 GPU is included in some higher end devices such as Samsung Galaxy SII phone (Samsung Exynos 4210) and more recent Rockchip 3066 CPU.
Comparing two platforms with different versions of the operating system (Android 2.3 vs Android 4.0) isn't an easy thing, we'll try to update the benchmarks with the new Arnova G3 based on RK2918 running on Android 4.0 ICS.
Overclock the MPMan MID74c, Allwinner A10 CPU at 1.2 GHz
You can see at the end of the first video, the Boxchip CPU supports well overclocking to 1.2 GHz and we can see a proportional improvement of the performance for CPU related tasks, while it has almost no impact on the GPU performance.
When clocked at 1.2 GHz the Boxchip CPU really surpass the RK2918
with over a 50% increase on the Total Index on Quadrant benchmark.
MPMan MID74c (at 1.2 GHz & 1 GHz) vs Arnova 7 G2: benchmarks results
Arnova 7 G2
MPMan MID74c 1 GHz
MPMan MID74c 1.2 GHz
Quadrant Advanced v2.0
higher is faster
Total: 1325
CPU: 1299
Mem: 1181
I/O: 2264
2D: 198
3D: 1681
Total: 1723
CPU: 1401
Mem: 1501
I/O: 3684
2D: 271
3D: 1760
Total: 2076
CPU: 1685
Mem: 1615
I/O: 4912
2D: 292
3D: 1876
Neocore v 1.9.35
higher is faster
51.4 FPS
57.1 FPS
57.6 FPS

We've also made a specific video to see the performance on Linpack application as the CPU frequency increases from 1 GHz to 1.1 GHz, 1.2 GHz and 1.25 GHz. The system is stable up to 1.25 GHz but it freezes at higher frequencies.

Please use our MPMan MID74c forum if you have any question on the tablet and visit us soon for more articles and reviews on the MPMan MID74C: multimedia capabilities, battery life tests and applications reviews.