The MPMan MID74c offers interesting video playing capabilities, thanks to its The Boxchip Allwinner A10 processor. This article will review the HD content playing performance on this tablet.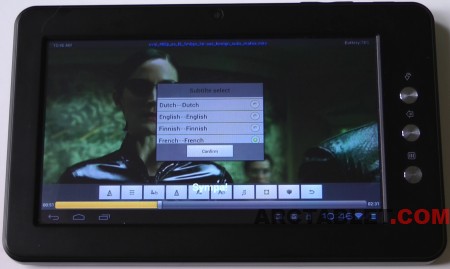 The MPMan MID74c comes with a video player called Super-HD Player which seems to be specific to Boxchip Allwinner A10 devices. The video player supports the following features:
– file selector to choose the video file to play
– volume controls: – / +
– video controls: pause/play, change position in video

– subtitles: changing subtitle color, subtitles fonts, charset
– change audio track
– change video aspect ratio: full screen video ratio, full screen screen ratio, original size, 4/3, 16/9
– some 3D rendering effects rendering (multiple modes)

According to the MPMan MID74c manual, the following multimedia formats are supported:
| | |
| --- | --- |
| Video formats | AVI, RM/ RMVB, FLV, MPG4 – 1, MPEG – 2 etc |
| Audio formats | MP3, WMA, AAC, WAV etc. |
| Photo formats | JPEG, BMP, GIF, PNG, TIFF |
We've filled the 4 Gb storage on the device with test movies of all kinds, including HD 1080p High Profile content. They all played fine, including the complex "Birds scene" from Earth movie (1080p High Profile video at 40 Mbps). The only failure we found was on "The Melancholy of Haruhi Suzumiya" .MKV movie that stopped after a few seconds play.
HDMI output
The tablet supports
HDMI output
thru a mini HDMI connector (type C). The tablet screen is mirrored and appears both on the tablet and the device connected to the HDMI port. During video play using HDMI output, the video displays only on the HDMI output, while controls are visible on both tablet and HDMI screens.
Testing HDMI output on an Optoma PK201 pico video projector.
HD test videos details
Here are the specification details of each test video that played successfully on the MPMan MID74c.
Avatar – Trailer_h264_1080p.mkv
General
Format : Matroska, Format version : Version 2
File size : 194 MiB
Duration : 2mn 25s
Overall bit rate : 11.2 Mbps
Video
Format : AVC
Format/Info : Advanced Video Codec
Format profile : High@L4.1
Format settings, CABAC : Yes
Codec ID : V_MPEG4/ISO/AVC
Bit rate : 9 488 Kbps
Width : 1 920 pixels
Height : 1 080 pixels
Display aspect ratio : 16:9
Frame rate : 23.976 fps
Audio
Format : DTS
Format/Info : Digital Theater Systems
Codec ID : A_DTS
Bit rate mode : Constant
Bit rate : 1 510 Kbps
Channel(s) : 6 channels
Channel positions : Front: L C R, Side: L R, LFE
Sampling rate : 48.0 KHz
Bit depth : 24 bits
Compression mode : Lossy
Delay relative to video : 11ms
Stream size : 26.2 MiB (13%)
Title : English DTS 1509kbps
Language : English
h264_1080p_hp_4.1_10mbps_dts_unstyled_subs_monsters.mkv
General
Format : Matroska (Version 2)
File size : 81.0 MiB
Duration : 1mn 0s
Overall bit rate : 11.3 Mbps
Video
Video
ID : 1
Format : AVC (Advanced Video Codec)
Format profile : High@L4.1
Format settings, CABAC : Yes
Bit rate : 9 569 Kbps
Width : 1 920 pixels
Height : 1 080 pixels
Display aspect ratio : 16:9
Frame rate : 23.976 fps
Audio
Format : DTS
Format/Info : Digital Theater Systems
Format profile : ES
Codec ID : A_DTS
Duration : 1mn 0s
Bit rate mode : Constant
Bit rate : 1 510 Kbps
Channel(s) : 6 channels
Channel positions : Front: L C R, Side: L R, LFE
Sampling rate : 48.0 KHz
Bit depth : 24 bits
Compression mode : Lossy
Delay relative to video : 7ms
Stream size : 10.8 MiB (13%)
Language : English
h264_1080p_hp_4.1_40mbps_birds.mkv
(Birds scene from Planete Earth Movie)
General
Format : Matroska Version 1
File size : 110 MiB
Duration : 23s 65ms
Overall bit rate : 39.9 Mbps
Video
Format : AVC (Advanced Video Codec)
Format profile : High@L4.1
Format settings, CABAC : Yes
Format settings, ReFrames : 4 frames
Codec ID : V_MPEG4/ISO/AVC
Bit rate : 39.1 Mbps
Nominal bit rate : 42.0 Mbps
Width : 1 920 pixels
Height : 1 072 pixels
Audio
None
h264_720p_hp_3.1_600kbps_aac_mp3_dual_audio_harry_potter.mkv
General
Format : Matroska Version 2
File size : 4.21 MiB
Duration : 57s 605ms
Overall bit rate : 614 Kbps
Video
Format : AVC (Advanced Video Codec)
Format profile : High@L3.1
Format settings, CABAC : Yes
Codec ID : V_MPEG4/ISO/AVC
Width : 1 280 pixels
Height : 528 pixels
Display aspect ratio : 2.40:1
Frame rate : 25.000 fps
Audio
Audio #1
Format : AAC (Advanced Audio Codec)
Format profile : HE-AAC / LC
Codec ID : A_AAC
Channel(s) : 2 channels
Channel positions : Front: L R
Sampling rate : 48.0 KHz / 24.0 KHz
Compression mode : Lossy
Delay relative to video : 26ms
Title : -=[champ_is_here]=-
Language : English

Audio #2
Format : MPEG Audio – Version 1
Format profile : Layer 3
Mode : Joint stereo
Codec ID : A_MPEG/L3
Codec ID/Hint : MP3
Bit rate mode : Constant
Bit rate : 160 Kbps
Channel(s) : 2 channels
Sampling rate : 48.0 KHz
Compression mode : Lossy
Delay relative to video : 15ms
Stream size : 1.10 MiB (26%)
Title : -=[champ_is_here]=-
Language : Hindi
h264_720p_hp_5.1_6mbps_ac3_planet.mp4
General
General
Format : MPEG-4
Format profile : Base Media
Codec ID : isom
File size : 94.9 MiB
Duration : 1mn 52s
Overall bit rate : 7 052 Kbps
Video
Format : AVC (Advanced Video Codec)
Format profile : High@L5.1
Format settings, CABAC : Yes
Format settings, ReFrames : 9 frames
Format settings, GOP : N=1
Codec ID : avc1
Codec ID/Info : Advanced Video Coding
Bit rate : 6 603 Kbps
Nominal bit rate : 5 660 Kbps
Maximum bit rate : 21.4 Mbps
Width : 1 280 pixels
Height : 720 pixels
Display aspect ratio : 16:9
Frame rate mode : Constant
Frame rate : 23.976 fps
Audio
Format : AC-3 (Audio Coding 3)
Mode extension : CM (complete main)
Codec ID : ac-3
Bit rate mode : Constant
Bit rate : 448 Kbps
Channel(s) : 6 channels
Channel positions : Front: L C R, Side: L R, LFE
Sampling rate : 48.0 KHz
Bit depth : 16 bits
Compression mode : Lossy
Stream size : 6.03 MiB (6%)
h264_720p_hp_5.1_6mbps_ac3_unstyled_subs_planet.mkv
General
Format : Matroska (Version 2)
File size : 95.0 MiB
Duration : 1mn 52s
Overall bit rate : 7 066 Kbps
Video
Format : AVC (Advanced Video Codec)
Format profile : High@L5.1
Format settings, CABAC : Yes
Format settings, ReFrames : 9 frames
Format settings, GOP : N=1
Codec ID : V_MPEG4/ISO/AVC
Bit rate : 6 478 Kbps
Nominal bit rate : 5 660 Kbps
Width : 1 280 pixels
Height : 720 pixels
Display aspect ratio : 16:9
Frame rate : 23.976 fps
Audio
Format : AC-3 (Audio Coding 3)
Mode extension : CM (complete main)
Codec ID : A_AC3
Bit rate mode : Constant
Bit rate : 448 Kbps
Channel(s) : 6 channels
Channel positions : Front: L C R, Side: L R, LFE
Sampling rate : 48.0 KHz
Bit depth : 16 bits
Compression mode : Lossy
Stream size : 6.03 MiB (6%)
Title : AC3 5.1
Language : English
Limitless – Trailer_h264_1080p.mp4
General
Format : MPEG-4
Format profile : Base Media / Version 2
Codec ID : mp42
File size : 154 MiB
Overall bit rate mode : Variable
Overall bit rate : 8 696 Kbps
Movie name : Limitless – Theatrical Trailer
Video
Format : AVC (Advanced Video Codec)
Format profile : Main@L4.0
Format settings, CABAC : Yes
Format settings, ReFrames : 4 frames
Codec ID : avc1
Codec ID/Info : Advanced Video Coding
Bit rate mode : Variable
Bit rate : 8 550 Kbps
Width : 1 920 pixels
Height : 1 080 pixels
Display aspect ratio : 16:9
Frame rate mode : Variable
Frame rate : 23.976 fps
Audio
Format : AAC (Advanced Audio Codec)
Format profile : LC
Codec ID : 40
Bit rate mode : Variable
Bit rate : 144 Kbps
Maximum bit rate : 175 Kbps
Channel(s) : 2 channels
Channel positions : Front: L R
Sampling rate : 44.1 KHz
Compression mode : Lossy
Delay relative to video : -83ms
Stream size : 2.53 MiB (2%)
Language : English

vc1_1080p_ap_l3_18mbps_ac3_hddvd.mkv
General
Format : Matroska (Version 1)
File size : 278 MiB
Duration : 2mn 1s
Overall bit rate : 19.2 Mbps
Video
Format : VC-1
Format profile : Advanced@L3
Codec ID : WVC1
Codec ID/Hint : Microsoft
Bit rate : 17.5 Mbps
Width : 1 920 pixels
Height : 1 080 pixels
Display aspect ratio : 16:9
Frame rate mode : Variable
Frame rate : 29.970 fps
Audio
Audio #1
Format : AC-3
Format/Info : Audio Coding 3
Mode extension : CM (complete main)
Codec ID : A_AC3
Bit rate mode : Constant
Bit rate : 640 Kbps
Channel(s) : 2 channels
Channel positions : Front: L R
Sampling rate : 48.0 KHz
Bit depth : 16 bits
Compression mode : Lossy
Stream size : 9.30 MiB (3%)
Title : Dolby Digital 2.0 640kbps
Language : English

Audio #2
Format : E-AC-3
Format/Info : Audio Coding 3
Codec ID : A_EAC3
Bit rate mode : Constant
Bit rate : 640 Kbps
Channel(s) : 6 channels
Channel positions : Front: L C R, Side: L R, LFE
Sampling rate : 48.0 KHz
Compression mode : Lossy
Delay relative to video : 33ms
Stream size : 9.30 MiB (3%)
Title : Dolby Digital Plus 5.1 640kbps
Language : English
xvid_480p_as_l5_1mbps_he-aac_foreign_subs_matrix.mkv
General
Format : Matroska Version 2
File size : 21.2 MiB
Duration : 2mn 31s
Overall bit rate : 1 174 Kbps
Video
Format : MPEG-4 Visual
Format profile : Advanced Simple@L5
Format settings, BVOP : Yes
Format settings, QPel : Yes
Format settings, GMC : 3 warppoints
Format settings, Matrix : Custom
Codec ID : XVID
Codec ID/Hint : XviD
Width : 640 pixels
Height : 346 pixels
Display aspect ratio : 1.85:1
Frame rate : 24.000 fps
Audio
Format : AAC (Advanced Audio Codec)
Format profile : HE-AAC / LC
Codec ID : A_AAC
Channel(s) : 2 channels
Channel positions : Front: L R
Sampling rate : 44.1 KHz / 22.05 KHz
Compression mode : Lossy
Title : HE-AAC 50-70
Language : English
Movie that failed to play
The movie below successfully started to play, then failed after a few seconds with the error: "Sorry, this video cannot be played"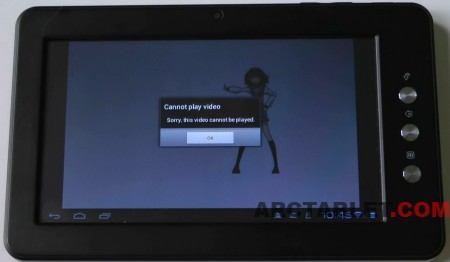 h264_720p_hp_5.1_3mbps_vorbis_styled_and_unstyled_subs_suzumiya.mkv
General
Format : Matroska Version 1
File size : 30.7 MiB
Duration : 1mn 11s
Overall bit rate mode : Variable
Overall bit rate : 3 580 Kbps
Movie name : The Melancholy of Haruhi Suzumiya: Special Ending
Video
Format : AVC (Advanced Video Codec)
Format profile : High@L5.1
Format settings, CABAC : Yes
Format settings, ReFrames : 11 frames
Codec ID : V_MPEG4/ISO/AVC
Bit rate : 3 400 Kbps
Width : 704 pixels
Height : 480 pixels
Display aspect ratio : 16:9
Original display aspect ratio : 3:2
Original frame rate : 29.970 fps
Title : The Melancholy of Haruhi Suzumiya: Special Ending
Audio
Format : Vorbis
Format settings, Floor : 1
Codec ID : A_VORBIS
Duration : 1mn 11s
Bit rate mode : Variable
Bit rate : 160 Kbps
Channel(s) : 2 channels
Sampling rate : 48.0 KHz
Compression mode : Lossy
Stream size : 1.37 MiB (4%)
Title : 2ch Vorbis
Language : Japanese