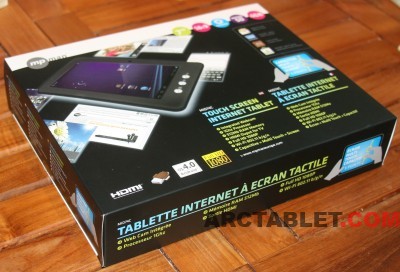 The low-cost tablet market now has many affordable products to offer, some with interesting features such as a capacitive screen, Android 4.0 and HD content playing capabilities. From time to time, we will be reviewing more Android models from different brands that could interest our readers.
The MID74C is an affordable 7 inches Android 4.0 ICS tablet distributed by MPMan, a Seoul (Yeouido) South Korean company. MPMan was better known in the end of the 90s for their music players (MP3) using flash memory. The MID74C is part of the 2012 tablets line (available in 7″, 8″, 9.7″ and 10.1″ screen sizes) based on Android 4.0 Ice Cream Sandwich (ICS) and using the Box Allwinner A10 processor. The MID74C is available in France and some other European territories at a price of 99 euros. Some of the older MPMan Android Tablets are also sold under the Coby Kyros in the USA (same design, same system, different brand). This device is also sold as NATPC Primatab 7″ in the UK.
MPMan MID74C specifications
Operating System
Android 4.0.3 (Ice Cream Sandwich)
Linux Kernel Version: 3.0.8+
CPU
Boxchip Allwinner A10 running at 1 Ghz (Arm Cortex A8)
Integrated GPU: Mali 400
Flash Storage Memory
Capacity 4 GB
Speed: Class 4 range (tested Read 20142 kB/s, Write 4705 kB/s)
System Memory
512 Mb DDR3 RAM
Additional storage
Micro SD slot (SDHC compatible)
Display
TFT LCD 7 inches capacitive 5 points screen
800×480 resolution
(reported 800×444, 120 DPI density by Android System Info application)
Bluetooth
No
Wifi
802.11 b/g/n
Gravity Sensor
Yes Bosch BMA250 triaxis accelerometer
Camera
front facing 0.3Mp (640×480 pixels)
GPS
No
HDMI
Yes (Mini-HDMI type connector)
Interfaces
mini USB OTG connector
MicroSD slot
Battery
3.7V 3500mAh Li-Polymer
Battery life: 4 hours continuous video play

Android Market / Google Play
Yes (on our retail model)
No some other devices are reporting to include GetJar application Marketplace instead
Kickstand
No
Dimensions
124 x 192 x 12.8mm
Weight

320 g / 11.2 oz

Price
99 euros
MPMan MID74C product review video
This video shows the tablet unboxing, checking up Android 4.0 version, setting up WIFI, testing the picture viewer and video player, testing Google Play (formerly Android Market), browsing on Flash
web sites, and finally checking all Android 4.0 setting.
MPMan MID74C Packaging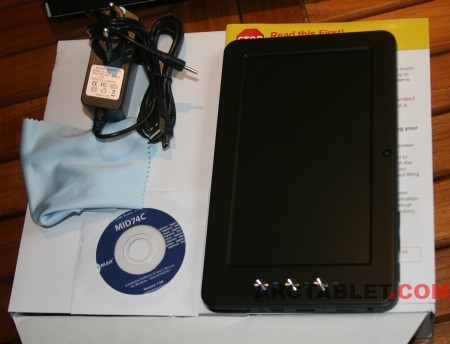 You will find in the box :
– an MPMan MID74c tablet
– a power charger with french socket type (our product was bought in a retail shop in France), DC 5V 2000 Ma
– an USB cable (mini USB format)
– a microfiber screen cleaning cloth
– 4 pages paper: a Read this First document giving details on first tablet use tips
– a mini CD rom contains Acrobat Reader and MPMan MID74c Tablet manual (24 pages) in 7 languages (DE,EN,FR,IT,NL,PT,SLO)
Tablet design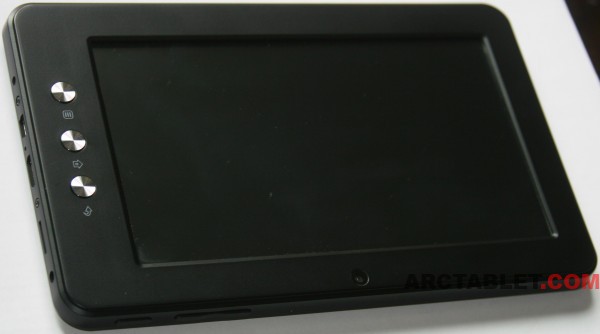 The MPMan MID74c tablet shares its design with the older MID7c, the funny thing is there is no label on the front of the tablet to differentiate the models. With almost 13 mm thickness, the tablet shell is made of plastic parts, the tablet construction feels solid in the hands and the assembling is quite good for a tablet of that price. The back of the tablet has a plastic has a brilliant aspect that easily catches fingerprints.
MPMan MID74C buttons and connectors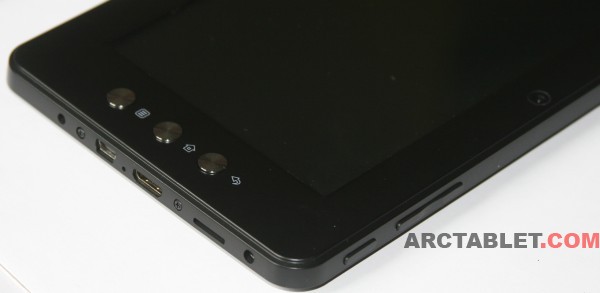 The MID74C offers 3 hardware buttons on the top side of the tablet: Menu, Home and Back buttons.
The upper side of the MID74C gets the Power button and a two position volume switch, where Vol- is curiously located on the right position. The right side the tablet has, from bottom to top: the Power connector, the OTG mini USB connector (which can provide slow charge to the device),a reset button (pinhole), the Mini-HDMI connector, the micro SDcard slot and the stereo ear connector.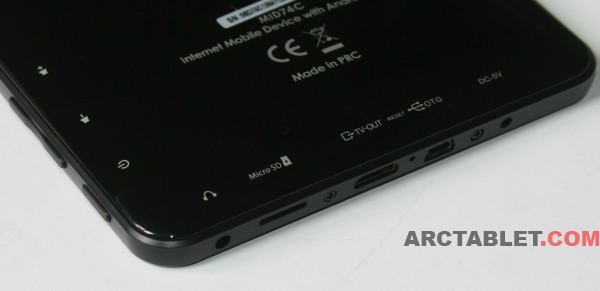 There is no Power LED on the tablet. The speaker is located at the back of the device, it seems to be a single speaker, which does not give a very good channel sound separation.


Single speaker picture
Please use our MPMan MID74c forum if you have any question on the tablet and visit us soon for more articles and reviews on the MPMan MID74C: multimedia capabilities, applications and tablet performance tests.
Product info page on Mpman Europe website