Following the apperance of the Copper range in May, a few other unannounced devices from Archos also showed up on Bluetooth.org certification website.
Archos 59 Titanium is one of the new models on the list and should be an 5.9 inch affordable phablet. It will sport a silly resolution of 854×480 pixels, run on Android 4.4, will feature Bluetooth 4.0 and will probably be powered by a dual-core CPU from MediaTek. Another additions on the list are the 9 inch 90 Copper model and the 80b Xenon tablet we announced back in February. We are expecting all the models on the list to be powered by MediaTek CPUs and run on Android 4.4, though Archos still has to confirm that information.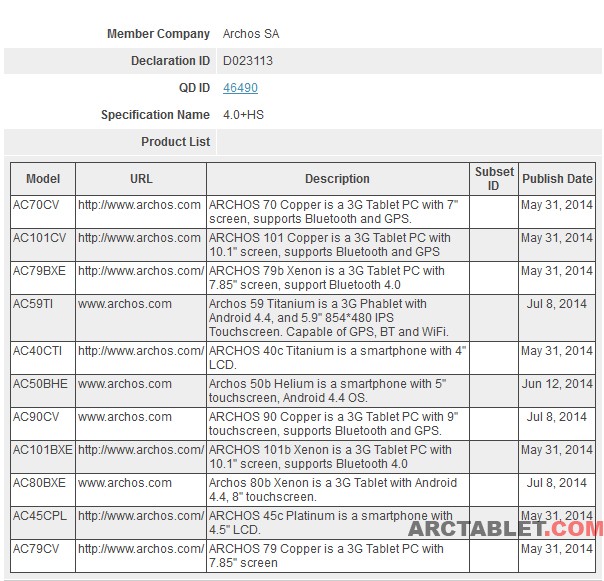 As we announced earlier, that's is not everything what Archos is preparing for the coming months. For example, the Cobalt range will get 70c Cobalt and 80b Cobalt model updates. 50b Platinum and 101b Platinum models will be added to the Platinum range and 70 Neon and 79b Neon models will be added to the Neon range. One of the models to be launched in the coming weeks, is the 101b XS2 model which will be powered by an outdated RK3188 CPU and which will run on aging Android 4.2 Jelly Bean.