The MK808 is currently one of the best RK3066 based Mini PC device when it comes to system hacks and tweaks. Thanks to deadhp1 and the great developers from armtvtech.com, a custom Linux kernel for RK3066 devices has just been built to offer real 1080 display HDMI output on the TV.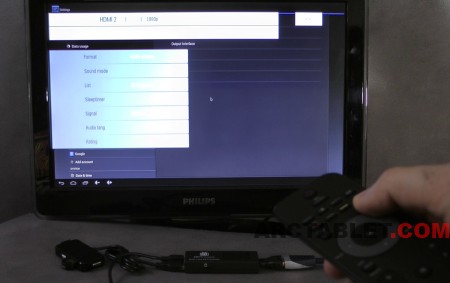 Enabling 1080p output with a modified kernel
While advertised for 1080p resolution, the MK808 Mini PC actually outputs a rescaled display at
720p
on the HDMI port. As
AndrewDB suggested
on armtvtech.com forum, this can actually be modified to
1080p
using the Kernel source code from another RK3066 device and making changes in
drivers/video/rockchip/hdmi/rk30_hdmi.h
file.

#define HDMI_VIDEO_DEFAULT_MODE                 HDMI_1280x720p_60Hz//HDMI_1920x1080p_60Hz
deadhp1 on armtvtech.com has compiled a kernel with this modification and build a firmware that includes the custom custom kernel on latest MK808 rooted firmware.
MK808 rooted firmware download
MK808 rooted custom firmware with 1080p HDMI output support
by deadhp1 / armtvtech.com
updated 2012/11/27
Google drive download
Go to MK808 Firmware folder, then 1080p_test folder and get
mk808_beta4_1080p_test.zip overclocked kernel (up to 1.6 GHz)
there is also a separate custom kernel clocked at 1.4 GHz is available (see kernel_mk808_test6_1416mhz.zip file)
This firmware is specific to the MK808 model and should not be installed on other devices.
WE WILL NOT BE HELD RESPONSIBLE FOR ANY DAMAGE TO YOUR DEVICE.
THIS FIRMWARE UPDATE IS USED AT YOUR OWN RISK.
WE RECOMMEND TO FLASH THIS FIRMWARE ONLY IF YOU ARE ABLE TO RESCUE A BRICKED DEVICE USING ROCKCHIP FLASHING TOOLS.
This firmware is made to be flashed using Rockchip Flashing tool, please follow the Rockchip Flashing tool procedure: that will explain how to download Rockchip flashing tool, unpack the archive, put your device into flashing mode and flash the custom firmware file that you have unpacked in Step 1.
Firmware Limitations
This firmware with custom kernel is quite stable provided you don't push the MK808 too much at 1.6 GHz. Still, it was found that clocking it at 1.4 GHz gives a more stable system. Also, there are some noticeable flickering or blank lines appearing on some occasions, this does not seem to be very frequent and is not very annoying.
Source: armtvtech.com, keep up the good work guys !