Sometimes, we get news that we would like to mention and give attention to, but that are not worth writing a whole blog article. So meet here the minor sunday stuff! A weekly(well, we will skip it sometimes

) collection of some minor announcements, FCC revealings, interesting leak outs and other stuff. Written in the same style as currently not that popular Discussing Archos articles, this could actually eventually replace them and we hope you will like them.
Archos 116xs
When the information about the Archos 116xs was kindly leaked out by IDBOOX, we decided to google for competitors. It turned out that Acer also has an 11.6″ FullHD ultrathin touchscreen device coming soon. It is actually a Windows 8 ultrabook. Here is a video with it in action:
http://www.youtube.com/watch?v=tKT1SMZ06VE
From what we saw on google, this and the 116xs are the only devices to include an 11.6″ FullHD screen. It might be so that the screen on both models will be the same. Unfortunately, the viewing angles don't look too good, so it is probably just an ordinary TN screen. We googled for possible manufacturers of 11.6″ screens and all we could find was from Chi-Mei, a company that produces many screens for Archos. All the offered models had resolution of 1366×768, but after sneaking around a bit, we found the following announcement:
Dual-panel Display with Touch Screen Functionality for Ultrabooks and Tablet PCs
CMI has developed 11.6 inch dual-panel displays with touch screen functionality. The combination of two AAS FHD panels, one on which includes a WIS (Window Integrated Sensor) touch screen module, is ideal for both Ultrabooks and tablet PCs. The display can be used as a laptop PC or separately as a tablet PC. The front and back sides of the display can be activated at the same time, allowing two users to perform different tasks on the display with flexibility.
The announcement should come in the coming week. While Archos doesn't need a Dual-panel display, Chi-Mei stated they have the 11.6″ FHD panels. Mystery solved. 🙂
Archos Speaker Dock
Did you know that the Archos Speaker dock will have a remote coming with it? Surprisingly, you don't get it to see on most press images.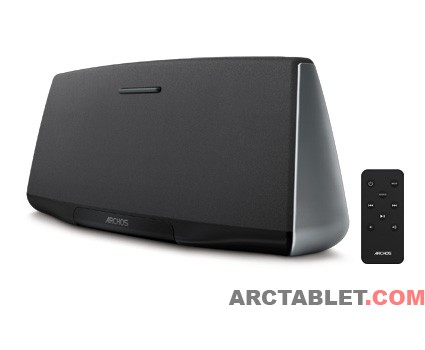 Source
Archos 101xs goes pre-order.
In case you can't wait to get your hands on the new tablet from Archos, you might want to know it is already up for pre-order on amazon.de.
Want one?
Arnova 7G2 get sweeter with ICS.
A few months ago, we mentioned that the 7G2 ICS models were soon to arrive. And now, according to new posts on the forum, these device are being spotted in the stores. Let's hope the Arnova 8G2 will also get such an update.
Archos website.
Archos just renewed its website. One of the things we noticed is that the 97 Carbon is getting quite some accessories:
The keyboard case looks quite simillar to the one for Arnova 9G2/G3(the only difference will probably be just the logo) we reviewed not so long ago. The protective case should also fit the Arnova 9G2/G3 models, so that's good news. 🙂
A little bit less serious now, do you remember Archos promising us a child-sized robot? Here is a trailer video for ROBOPOCALYPSE the movie, featuring a Robot called Archos 😉
(this trailer might be not official, we don't know for sure)
That is nearly all for this sunday, just a small secret "code" for the upcoming news:
A7KTABCWM404
What would it be? 😉