Latest 4.1.0 firmware for the ARCHOS 101 XS (Gen10) tablet integrates a joystick "Mapping Tool" that was originally designed for the ARCHOS GamePad. This great software let you map the buttons and sticks from a remote controller to specific zones on the tablet screen. This helps to get better joystick compatibility for games that were not initially designed for it.
Configuring Sixaxis / DualShock3 controller on the ARCHOS 101 XS
Sony PS3 game controllers (Sixaxis and DualShock 3 are natively supported on the ARCHOS 101 XS with stock firmware, rooting is not necessary. In our test setup shown in this demo, the following hardware is used:
ARCHOS 101 XS tablet
Sony wireless Sixaxis or DualShock 3 game controller
The device pairing needs to be done connecting the game controller to the tablet thru USB. The following are requied:

USB Host/OTG Cable, such as the Nokia
Nokia USB OTG Cable CA 157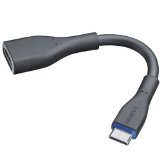 AMAZON USA
$ 7.99
AMAZON UK
Usually dispatched within 1-2 business days
£ 1
AMAZON DE
Gewöhnlich versandfertig in 24 Stunden
4 EUR
AMAZON FR
Expédition sous 1 à 2 jours ouvrés
2.91 EUR
USB cable with USB mini connector end (to the game controller)
Video demonstration:

Video demo with Modern Combat 4
The following video demonstrates stick/button mapping and gameplay of latest Gameloft FPS game "Modern Combat 4" played on the ARCHOS 101 XS with Sony DualShock 3 controller.

Compatible games
See our list for games supported by the mapping application. This list targets GamePad, but most games mapping should also work on the ARCHOS 101 XS and 80 XS as they use the same mapping system.
Thanks Mr. Gorsky for the Sixaxis controller and cajl / jbmm.fr for his help.