With the Archos 97 Titanium HD, a new Elements tablet has just appeared on the manufacturer's website, this time with a 9.7 inches retina like resolution IPS screen (2048×1536) According to the site specifications, it offers dual camera (2 & 5 MPixels), 1 GB of RAM and is powered by a Dual Core ARM Cortex A9 running at 1.6 GHz with a Quadcore Mali 400 GPU (probably a RK3066 SoC).
No price or availability dates have been announced.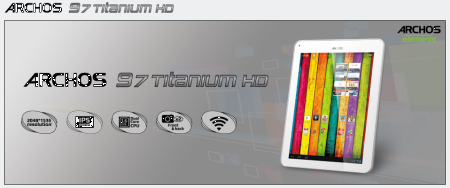 ARCHOS 97 Titanium specifications
Operating System
Android 4.1, "Jelly Bean"
CPU
ARM Cortex A9 dual-core at 1.6GHz
quad-core GPU Mali 400 MP4
Flash Storage Memory
Capacity 8 Gb
System Memory
1024 Mb
Additional storage
Micro SD slot (SDHC compatible)
Display
IPS screen 9.7'', resolution up to 2048 x 1536 pixels
10 points capacitive multitouch
Bluetooth
No
Wifi
802.11
Gravity Sensor
Yes
Camera
2Mp (front facing)
5Mp (back facing, with auto focus)
GPS
No
HDMI
No
Interfaces
Micro USB slave
USB host 2.0: Mass Storage Class (MSC)
MicroSD slot compatible with 64 GB cards
Android Market / Google Play
Yes (the device is Google Certified)
Kickstand
No
Dimensions
240 mm x 184 mm x 9 mm (9.4'' x 7.2'' x 0.35'')
Weight
640g (22.5 oz)
Our opinion about the ARCHOS97 Titanium HD
We are quite hesitant with this kind of setup, having some experience with the
Cube U9GT5 tablet
which offers a similar configuration. Based on our feedback with the Cube and current firmware available on this machine (and other models with identical hardware: Chuwi V99, Visture V4HD, Yuandao N90 FHD) we have the feeling that current processor speed is just too limited to handle the high resolution of the screen. We believe that a Quadcore CPU preferably with ARM Cortex A15 or A7 architecture would be more appropriate.
Here is a quick video showing the HD screen on the Cube U9GT5.