Kobo has just released to the press the final details on their Arc tablet, a content oriented Android 4 Ice Cream Sandwich 7″ tablet to compete with Amazon Kindle Fire HD and Google Nexus 7.
The Kobo Arc tablet packs a TI OMAP 4470 processor at 1.5 GHz (also found on the Archos 101 XS) with 1 Gb of RAM, a 7 inches 1280×800 215-ppi IPS panel, front facing 1.3 MP (720p) camera, 802.11b/g/n Wi-Fi. Tablet dimensions are 189 mm x 120 mm, 12.4 mm thick for a weight of 364 grams. The front facing speakers should deliver rich sound thanks to SRS TruMedia™ technology that promises an immersive clear surround sound experience on both speakers and headphones.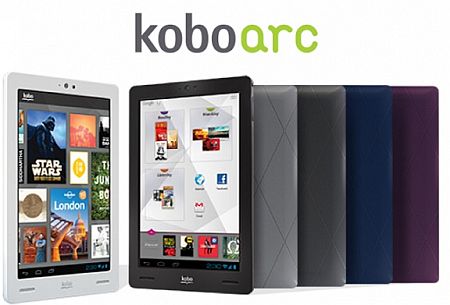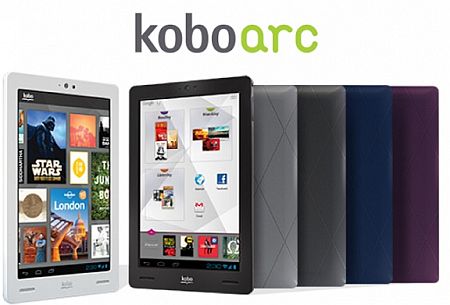 The Arc tablet comes with Android 4.0 ICS soon to be updated to Android 4.1 Jelly Bean update. As a Google certified device, it has includes full access to Google Play and apps. The Android system has been modified with a custom interface called Tapestries, to help manage and organize the user's content.
The Kobo Arc will be available in stores this November for $199.99 / £159.99 (16GB model), $249.99 / £189.99 (32GB) and $299.99 / £229.99 for the 64GB version.
Kobo Arc press release:
Kobo Amps Up Storage on Kobo Arc Tablet Hitting Stores this November
Giving More Choice to Consumers, Kobo Arc Now Ranges from 16GB to 64GB, Starting at the Affordable Low Price of $199.99

September 18, 2012 Sharon Fernandes
TORONTO, Sept. 18, 2012 /CNW/ – Kobo, a global leader in eReading, today announced that the Kobo Arc 7″ Android 4.0 tablet will be hitting stores in November with 16GB, 32GB and 64GB options. Taking a new and innovative approach to tablet design, Kobo designed the Kobo Arc to transform the traditional tablet experience from searching within apps to an immersive content platform with its unique interface Tapestries. People now have more choice in how they explore, save and experience the music, movies, eBooks, and webpages they love with the Kobo Arc – and with more storage available the possibilities are endless.

"We designed the Kobo Arc to let people focus on the music, eBooks, movies, website and applications they love rather than on the hardware they hold in their hand – though that is amazingly designed as well," said Wayne White, General Manager of Devices, Kobo. "We've accomplished this by offering consumers more – more storage, more customization, more choice – all in the powerful, attractive and vivid Android 4.0 Kobo Arc."

Based on the content people "pin" to their Tapestries – from webpages, news articles, eBooks, movies, or pictures – the intelligent recommendations engine suggests additional content in the first-of-its-kind, Discovery Ribbon. The Kobo Arc is the only tablet that learns about the interests of its user, rather than tracking payment and browsing history, to suggest more of the content they love. Beyond the Tapestries interface which is designed to reflect the personal tastes of its user, consumers can also personalize their Kobo Arc experience through more eReading options, selecting from black or white models, as well as colourful SnapBacks in blue and purple.

The highly responsive Kobo Arc is driven by a 1.5GHz OMAP 4470 dual-core processor to deliver more processing power while retaining more than 10 hours of battery life in a single charge, giving consumers a highly responsive and long-lasting multimedia experience. Its 7″ high-definition display with 178 degree viewing angles, 215 pixels/inch and 1280×800 resolution with 16-million colours bring video and pictures to life. In Kobo's laboratory drop-tests, the Kobo Arc's ultra-durable glass proved more resistant to damage than any other tablet currently available in the market. At only 364 grams, the Kobo Arc is also one of the lightest 7″ tablets available and with the new storage configurations, consumers will relish in their ability to store as many songs, movies, eBooks, and pictures as they desire.

Comfortable to hold and optimized for reading outdoors, the Kobo Arc has front-facing stereo speakers with SRS TruMedia® sound to bring music to life as well as a 1.3 MegaPixel front-facing camera, built-in microphone, and 802.11 WiFi to easily connect to the web without an expensive data plan. The fully customizable Android 4.0 (Ice Cream Sandwich) operating system allows consumers to configure and modify the Kobo Arc. The company has already begun its development plans for Android 4.1 (Jelly Bean). The Kobo Arc comes with Google Play to provide hours of entertainment through the Google Play Store's 600,000 apps including Gmail and YouTube in addition to pre-loaded apps like Facebook®, Twitter®, Rdio®, Zinio® and PressReader®.

With the Kobo Arc, Kobo continues to build on its Read Freely philosophy which encourages more people to read anytime, anyplace and on any device they choose. The company's eReading platform automatically syncs people's libraries across devices from the Kobo Arc, to its E Ink eReaders, to the free apps for virtually any desktop, tablet, eReader or smartphone. With more than 10-million users across 190 countries, Kobo offers more choice than ever before with its new Family of eReaders, growing catalogue of more than 3-million eBooks, and content in 60 languages.

The Kobo Arc will be available for $199.99 (16GB), $249.99 (32GB) and $299.99 (64GB). Pre-orders will be available this fall in advance of its in-store availability this November.

PEPCOM
Heading to Pepcom in New York on September 20? Please come visit the Kobo team to see the Kobo Arc and the Kobo Family of eReaders which now includes the Kobo Mini, Kobo Touch and Kobo Glo. Can't make Pepcom? Let us know. We're in New York September 18-21.

About Kobo Inc.
Kobo Inc. is one of the world's fastest-growing eReading services offering nearly 3-million eBooks, magazines and newspapers. Believing that consumers should have the freedom to read any book on any device, Kobo has built an open-standards platform to provide consumers with a choice when reading. Inspired by a "Read Freely" philosophy and a passion for innovation, Kobo has expanded to nearly 190 countries, where millions of consumers have access to localized eBook catalogues and award-winning eReaders, like the Kobo Touch. With top-ranked eReading applications for Apple, BlackBerry, Android, and Windows products, Kobo allows consumers to make eReading social through Facebook Timeline and Reading Life, an industry-first social experience that lets users earn awards for time spent reading and encourage others to join in. Headquartered in Toronto and owned by Tokyo-based Rakuten, Kobo eReaders can be found in major retail chains across the globe.

For more information, visit www.kobo.com.
Via: liliputing.com