The first Android 4.0 ICS tablets running on the latest Rockchip RK3066 CPU and IPS 9.7″ (4/3 screen ratio) or 10.1 inches (16/10 screen ratio) screens are about to hit the market. The devices mainly come from Chinese vendors offering models from Window, Yuandao, Aoson and the famous Cube manufacturer. Most currently selling models ship directly from the manufacturer or reseller in China.
JMI Tech company is offering the JMI Tab T970 at 269 €, a nice tablet expected to ship late June in France, Belgium and Luxembourg. The processor clocked at 1.6 Ghz and manufacturer's reports great performance with 7 671 points on Antutu and 4 018 points on Quadrant benchmarks.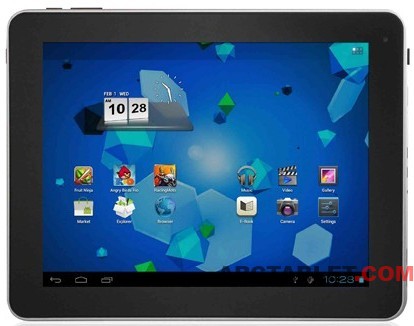 The tablet has a nice Ipad-ish look with an aluminium back, a reasonably thin case (9.8 mm), great connectivity (Wifi 802.11 b/g/n, Bluetooth, micro HDMI output) and comes with Google Play support. It is equipped with a high capacity 8000 mA battery that is announced to power the device for 10 hours and it can be charged by power adapter or thru the USB port.

JMI Tab T970 specifications
Operating System
Android 4.0.3 (Ice Cream Sandwich)
CPU
Dual core Arm Cortex A9 Rockchip 3066 CPU running at 1.6 Ghz max.
Integrated GPU: Quad Core MALI 400 MP
Flash Storage Memory
Capacity 16 GB
System Memory
1 Gb LP-DDR2 RAM
Additional storage
Micro SD slot (SDHC compatible, up to 32 Gb)
Display
1024×768 IPS 9.7 inches screen (4/3 ratio)
Viewing angle 170°
capacitive multitouch 10 points
Bluetooth
Yes
Wifi
802.11 b/g/n
Gravity Sensor
Yes
Camera
Dual camera: Front 2 Mpixels camera and back 2 Mpixels camera
GPS
No
HDMI
Yes (Micro HDMI connector)
Interfaces
1 Micro USB Host port
1 Micro USB OTG port
MicroSD slot
Battery
8000mA Li-Po battery
Announced up to 10 hours battery life
Android Market / Google Play
Yes
Kickstand
No
Dimensions
243mm x 190mm x 9,8mm
Weight
660g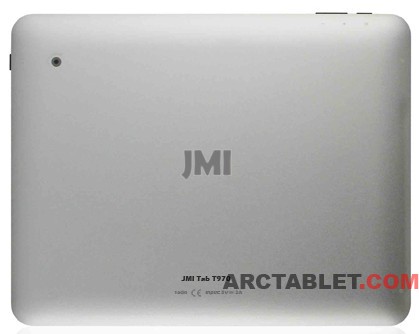 The JMI Tab T970 is currently in pre-order at 269,00 € and should be available in the coming weeks in France, Belgium and Luxembourg.

Via: Site and pictures from: http://www.jmitech.fr/index.php (in french) and 01net.com (in french)