Here is an easy way to install Google Play Store (formerly Android Market) on your Arnova 8b G2 DT (resistive Dual Touch) tablet.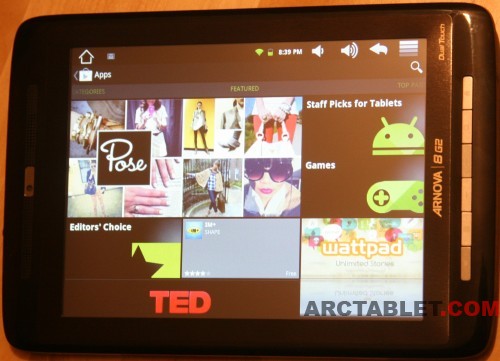 This custom firmware is based on Arnova's latest official where we have added Google Play / Android Market and root. With our Kasty EZ firmware, to get you a working Android Market and root on your Arnova 8b G2 DT Tablet in less than 10 minutes just from your tablet, without any drivers or computer needed.
Install procedure
Before starting, please make sure you backup all your existing apps, data and files that are on your tablet as they will be erased during the flash process. Also make sure your device is connected to the power.
Step 1. Flashing the firmware

Run Appslib that can be found in the applications on your tablet. While in Appslib, search for "Arctools" application, you should get "ArcTools (Market Apps installer & Disk tester)" in the list, download, install and run the application.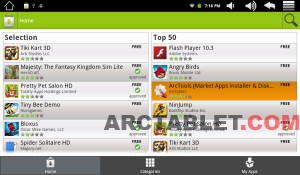 In Arctools, go to Firmware tab, select "Arnova 8b G2 DT EZ custom firmware 1.12" (or more recent than 1.12 if there is one)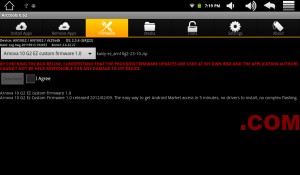 Read the disclaimer in the application and press the checkbox if you agree with the conditions, then press the Download button.
It should take about two minutes to complete the new firmware download.
Restart the tablet when the program is inviting you to.
For Step 1, instead of using Appslib, you can also choose to manually download and install the firmware, we are providing a link for you, together with the official Arnova Flashing procedure

Kasty EZ custom firmware download (version 1.12)
kasty-ez_arn8bg2dt-23-112.zip
This firmware is specific to the Arnova 8b G2 (resistive Dual Touch model) and should not be installed on other devices.
WE WILL NOT BE HELD RESPONSIBLE FOR ANY DAMAGE TO YOUR DEVICE.
THIS FIRMWARE UPDATE IS USED AT YOUR OWN RISK.
WE RECOMMEND TO FLASH THIS FIRMWARE ONLY IF YOU ARE ABLE TO RESCUE A BRICKED DEVICE USING ROCKCHIP FLASHING TOOLS.
Step 2. Reconfigure your device on the newly installed firmware
After the device has restarted following the firmware flash, follow the Arnova wizard to configure the tablet again, then setup the WIFI.
Step 3. Android Market setup
Start Android Market and configure your Google Account
Step 4. Optional Market fix
In case the Android Market offers very few applications and a lot of them are missing, you can use the Market fix procedure, then restart the Market application. This step is optional if no application are missing in the Market.
You will find the 4 easy steps of the installation procedure in the following video (here on an Arnova 7b G2 DT), see how to get Android Market and root in less than 10 minutes.

Support the project!
If our web site and applications helped you, thanks for supporting us by donating using the Paypal form below or visiting our Donations page. Donations will be used to pay the bills for our server hosting costs, tools and purchase new tablets to support.
Root access
Root access on the tablet is limited in the sense the system is still read only (
CRAMFS
), so you won't be able to make changes in the system files.
Here is Root Explorer application, requesting SuperUser access.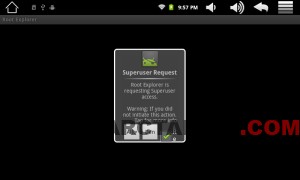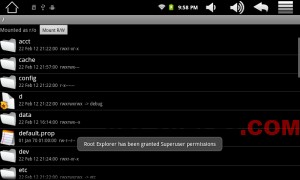 Limitations
This firmware is based on a dump from
latest Arnova firmware
, where we have pre-installed root access (if you need it) and Android Market. Being a very standard firmware, it has a
limitation of offering about 200 Mb free for your Android applications to install
. Most applications are using just a few megabytes, so that should let you install dozens of them.
Let us know how it works for you in our Arnova 8 G2 forum.
---
Great thanks to
cajl/jbmm.fr
for lending me and giving me the chance to revive his tablet 😉
Thanks to Arctablet forum members (vmuela, Aumhur, Hotzenwalder, ikkehier and ijsjuh) for testing an early version of this firmware.