Google Ears is a new music search feature part of the new Android 4.1 Jelly Bean improvements announced at Google I/O 2012 event last week. Google Ears is available in form an Android widget, it uses the tablet microphone to listen to music and try to identify it. Services like Shazam and SoundHound offers the same service with more functionnality (song tagging, sharing, history)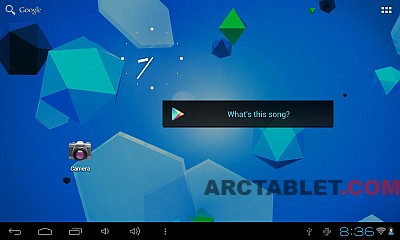 Thanks to asdfzz xda-developers.com forum member the necessary files have been extracted from Jelly Bean firmware and are now installable on any Android 4.0 ICS or later systems, you need root and a writable access to /system.
Here is a quick demo on an Arnova 7 G3.

File downloads:
http://www.mediafire.com/?ccjh14ydtuiad

GoogleEars.apk goes to /system/app
libvorbisencoder.so goes to /system/lib
You may need to remount your /system partition to copy these two files:
On the Arnova 7 G3:
mount -o remount,rw /dev/block/nandd
Source: xda-developers.com