Google have accidentally confirmed the new update of Android 4.1 aka "Jelly Bean"
According to Google Play the first phone to be shipped with this OS is the Galaxy Nexus,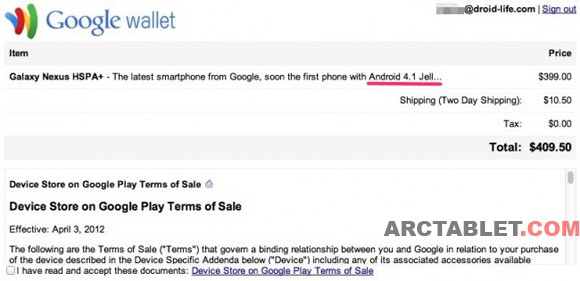 Android 4.1 was already presumed the next release however this image from droid-life.com shows proof that this is infact the case. No word yet about the new features of this OS, however speculation suggests possible features could include; Chrome to replace the stock browser, Minor UI tweaks, Gmail pinch to zoom, possibly file sharing in Google talk and a native Google wallet 2.0.
All there is to do now is wait patiently to find out!

This is a pixelated image of the new galaxy nexus phone taken from an enlarged icon, hence the quality.
The image was released by Google to show off the widget in the newly launched Google I/O could 4.1 Be announced at next weeks I/O? Stay tuned to find out…
The first major change from ICS 4.0 is the search bar, instead of being a dull grey colour Google have decided a transparent lighter shade is more appealing, while also incorporating a newer 'mic' icon. There is also a chrome icon in the bottom right which would suggest it is bye bye  to the existing browser. And finally we come to the time, now in no expert but I'm pretty sure that there isn't 26 hours in a day, so could this be the date? 25th October perhaps, a release date?
Leave your comments and speculation below! We would love to hear from you!
Cheers,
Alex
From droid-life.com, XDA-Developers