The Parrot AR.Drone 2.0 was one of the first quadricopter available to the general public and currently one of best selling model. It is designed to be controlled by a phone or tablet running iOS or Android acting as a remote command. While it's quite easy to run on such devices, the piloting experience is not optimal using the accelerometer or touch screen, having control sticks like older radio controlled models makes it really easier.
Actually, we have used a JXD S7800b Android game console to control the Drone and it does job beautifully for less than $140.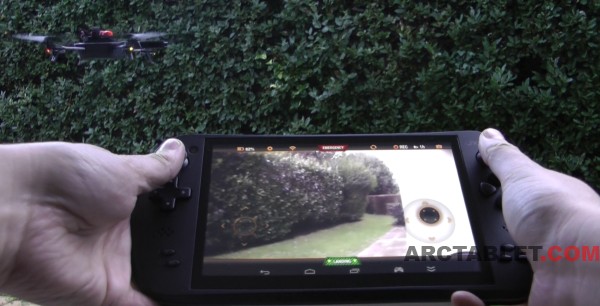 The JXD 7800b Android console tablet offers many control options for all gaming needs:
– four shoulder buttons (L1 and L2 on the left, R1 and R2 on the right)
– two analog sticks (left and right)
– one direction pad
– A/B/C/D buttons
– buttons: Select, Start, a Mapping Mode toggle button
– some more classic keys for an Android device: Vol -/+, Reset, Power, Home, Back, Menu
The JXD S7800b tablet comes with a great joystick mapping software that you affect touch area on the screen to positions of the controller/buttons.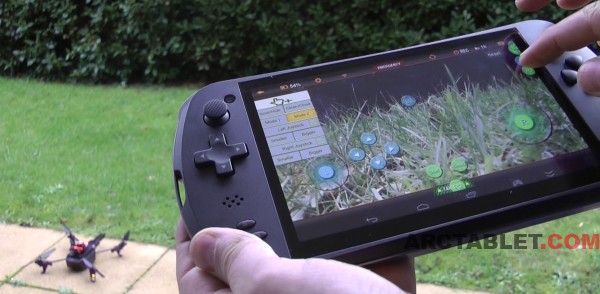 We used AR.FreeFlight application from Parrot on the JXD tablet, the whole setup just took a few minutes, it basically required to configure the piloting app to Joypad mode and map the controls to their respective zones: We choose the following:
– right analog stick controls to pivot to the right/left (yaw) and control motors speed to climb/descend (gaz)
– left analog stick controls to move forwards / backwards (pitch) and on the left and right sides (roll)
– right shoulder button: controls the takeoff and landing
– left shoulder button: flip 🙂
The video below shows the whole buttons mapping process and a short flight experiment, enjoy !