The Archos 70b Internet Tablet (IT), a product refresh of the Archos 70 IT was demoed at the CES  2012 and is now hitting the market. It is available on Archos Store and should selling at major retailers in the coming days. The Archos 70b IT has a TI OMAP 3 processor is clocked at 1.2 GHz, 512 MB RAM, a 7 inches capacitive screen offering 1024×600 pixels resolution and is updated to run Android 3.1 Honeycomb.
When looking at the tablet casing, there does not seem to be notable difference between the 70 IT and the 70b IT, we just noted the power connector has disparead, the tablet is now being charged thru the USB connector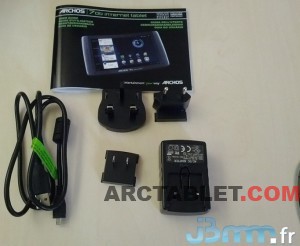 Operating system
Like all the Archos Gen8 devices, the Archos 70b IT was initially released with
Android 2.2 Froyo
.
Thanks to the 512 Mb of RAM, it can also run
Android 3 Honeycomb
.
Archos currently supplies
both firmwares
in Android 2.2 Froyo and Android 3.21 (Honeycomb)
The Froyo firmware does not contain any Android Market, that can still be installed thru ArcTools application.
When Android 3.21 firmware is installed, the device gets access to Android Market.
Performance
Thanks to
Jbmm.fr
we have some benchmark information on the tablet.
Archos 70b Internet Tablet
1.2 GHz

Archos 70 Internet Tablet
1 GHz

Product
G8A70IT2
A70S
CPU
GPU
TI OMAP 3630 es1.2
PowerVR SGX530
1024 x 600 pixels
TI OMAP 3630 es1.1
PowerVR SGX530
800 x 480 pixels
Firmware

3.2.79
2.4.81
CPU Cores
1
RAM

512 Mo
256 Mo
Android
3.2.1
2.2.1
NenaMark2 (fps)
Different screen resolution !

13.3
17.7 (nenamark1)
GPUBench

Absolute 19989
Relative 15246
Absolute 20288
Relative 14498
Quadrant

1119
1254
CF-Bench

Native score: 4065
Java score:  1426
Overall score: 2442
Native score: 2741
Java score: 961
Overall score: 1673
Vellamo

639
348
Antutu
2766
2334
Multipoint

2 Points
Full device specifications
Tech Specs

Capacity
* 8 GB* Flash Memory + Micro SD Slot (SDHC
compatible)
Display characteristics
* High resolution screen,(WSVGA) 1024 x 600
pixel, TFT LCD, 16 million colors
* 7" Capacitive multitouch screen
Application Framework
* Androidâ"¢ 3.2 Honeycomb
Processor
* ARM cortex A8 1.2 GHz
* DSP
* 3D Open GL (ES 2.0)
Video Playback1
* MPEG-42 HD (up to 720p, 30
fps@6Mbps)
* MPEG-42 (ASP@L5 AVI, up to DVD resolution, 30
fps@8Mbps)
* H.264 HD (HP@L3.1 up to 720p, 30 fps@5Mbps)
* M-JPEG (Motion JPEG Video) in VGA resolution

With optional plug-in (downloadable on www.archos.com):
* Cinema: MPEG-2 (up to DVD resolution MP/D1, 30 fps@10 Mbps)/ AC3 for
videos using AC3 audio codec
With the above codecs, the device can play video files with the following
extensions: AVI, MP4, MOV, 3GP, MPG, PS, TS, VOB, MKV, FLV, RM, RMVB,
ASF

Audio Playback1
* MP3 CBR & VBR
* WAV (PCM/ADPCM)
* AAC, AAC+ 5.13
* OGG Vorbis
* FLAC

With optional software plug-in:
* AC3 5.1

Photo viewer4
* JPEG, BMP, PNG, GIF
Subtitles
* srt, .ssa, .smi, .sub formats
supported
Frontcam
Yes
Interfaces
* USB slave 2.0: Mobile Transfer Protocol
(MTP)
* Micro SD (SDHC compatible)
* USB Host: Mass Storage Class (MSC) (adapter micro B/A sold
separately)
* HDMI output5 (Mini HDMI / HDMI cable sold separately)
Communication protocols
* WiFi (802.11 b/g/n)
* Bluetooth 2.1+ EDR
Miscellaneous
* Built-in speakers
* G-sensor
* Built-in leg stand
* Built-in Microphone
Power source
* Internal: Lithium Polymer battery
* External: Power adapter/charger
Scalability6
* Device automatically downloads latest
firmware updates when the WiFi connection is activated
* Updates can also be downloaded at www.archos.com
Dimensions & weight
* 201 mm x 115 mm x 11.5 mm – (7.91" x
4.52" x 0.46")
* 330 g (11.2 oz)
Minimum system requirements
* Microsoft® Windows® 7, Vista, XP, or
higher and Windows Media Player 11
* Mac OS. X with Transfer Files application (not included)
* Linux with android MTP tool (not included)
* USB 2.0 interface
Package includes
* ARCHOS 7

0b internet tablet

,
USB cable, USB Power adapter, Quick Start Guide (QSG), legal and safety
notice.

* 1GB = 1 billion bytes; actual formatted capacity is less.
1/ Certain bitrates, resolutions, and/or file variations may not be
compatible.
2/ MPEG-4 ASP@L5 AVI (MPEG-4: ISO standard by Moving Picture Experts Group;
AVI: audio/video file container by Microsoft) without GMC and Quarter.
3/ Does not read AAC protected files.
4/ Certain resolutions and file sizes may not be compatible.
5/ External video output disabled for Macrovision®-protected contents.
6/ Rechargeable batteries have a limited number of charge cycles and may
eventually need to be replaced. Battery life and number of charge cycles vary
by use and settings. Test run with low backlight.
7/ Fetches data from TMDb.
8/ Available in Android Market, AppsLib and downloadable from
Archos.com.
Pictures Jbmm.fr