With the Archos 97 Carbon, french tablet maker Archos has launched the first tablet of their new Elements products family yesterday. These models are announced as middle range tablets offering the latest mobile technology with a new slim design. The device features a Rockchip RK2918 ARM Cortex A8 CPU running at 1 GHz with 1 Gb of RAM, an 9.7 IPS screen, dual cameras, 1080p HD video output via HDMI, all these combined in a stylish designed case with aluminum finishes. The Archos 97 Carbon will give full Google Play experience with Google certification and should be available this month for a RRP of 249 €/$, £219.99.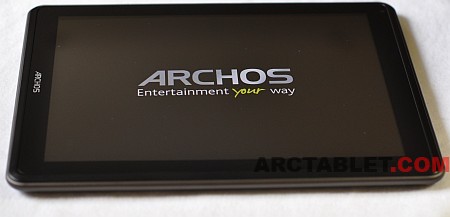 Archos 97 Carbon specifications
Operating System
Android 4.0.3 (Ice Cream Sandwich)
Build fingerprint: 20120602.104656
CPU
single core ARM Cortex A8 Rockchip 2918 CPU running at 1 Ghz
Integrated GPU: Vivante Corporation GC800
Flash Storage Memory
Capacity 16 Gb
Tested speed, on our test device, 4 Gb storage: Read: 19 817 kB/s Write: 3 791 kB/s Class 4 equivalent
System Memory
1024 Mb
Additional storage
Micro SD slot (SDHC compatible)
Display
1024×768 TFT LCD 9.7 inches
capacitive 5 points screen
Bluetooth
No
Wifi
802.11 b/g/n
Gravity Sensor
Yes
Camera
0.3Mp (front facing)
2Mp (back facing)
GPS
No
HDMI
Yes (mini HDMI, aka HDMI type c connector)
Interfaces
Micro USB slave
USB host 2.0: Mass Storage Class (MSC)
MicroSD slot
Battery life
Video playing test: 5 hours 08 mins on our test device.
(no Wi-FI, brightness to 50%, Bick Buck Bunny 720p continuous video play)
Android Market / Google Play
Yes (the device is Google Certified)
Kickstand
No
Dimensions
239 mm x 184 mm x 11.5 mm
Weight
640 g

Archos 97 Carbon tablet design
Comparing to Apple iPad 2
The Archos 97 Carbon adopts the Apple iPad form factor, with a 9.7 inches (250 mm) multitouch IPS display at a resolution of 1024 × 768 pixels (same as first iPad and iPad 2).
There are also some similarities in the tablet look with a metallic back side.

Arnova 9 G3 heritage
Looking at the specifications, the Archos 97 Carbon seems to take its roots from the Arnova 9 G3 Android tablet. While both devices share the most features (IPS 9.7″ screen, Android 4.0 ICS, 1 Gb RAM), the latest Archos tablet adds additional great features with a back camera (2 Mpixels), an HDMI output and a really nicer look and finish.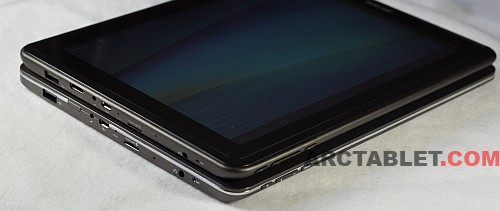 Archos 97 Carbon (top), Arnova 9 G3 (bottom)
Packaging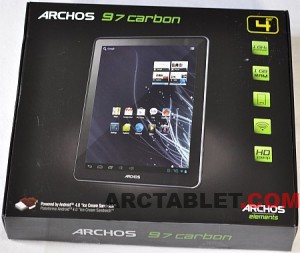 The Archos 97 Carbon packaging is similar to other Archos/Arnova products, the box contains:
– an Archos 97 Carbon tablet
– an USB cable (micro USB format)
– a power charger with three power sockets (UK, EU, US), input 100-240V, outputs 9V 2A
charging the tablet thru the micro/USB connector does not work, as the tablet has higher power requirements
– 3 booklets that include: Archos 97 Carbon User Guide, Legal and Safety Notices and an "any questions?" paper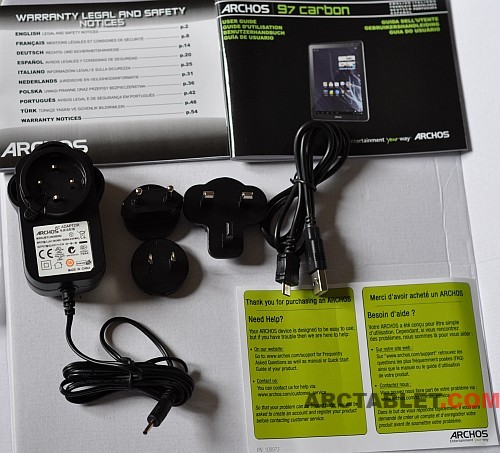 Tablet case, buttons & connectors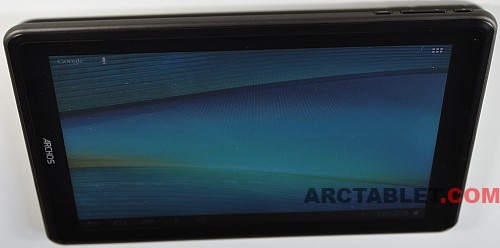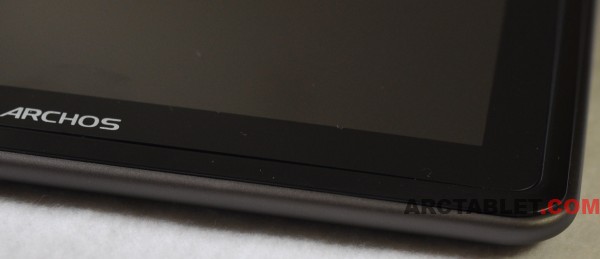 Colored in brown/chocolate, the back of the tablet case is made of metal, this material feels good and it doesn't catch the fingerprints like many older Arnova models. The tablet's shape with round corners remind of the good "old" Nexus One phone from Google.

The top of the tablet offers the 4 hardware buttons – for Power, Home and Volume -/+.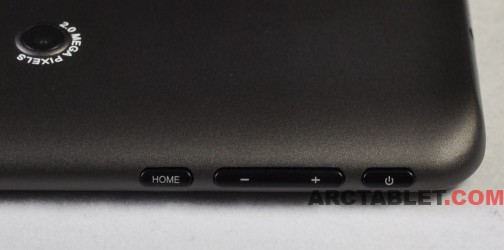 The connectors are located on the left side of the tablet offering the following: full size USB 2 connector, mini HDMI, the power socket, micro USB connector, reset pinhole, micro sdcard slot, earphones connector and a tiny hole for the microphone.


The microSD flash card is easy to insert and extract, when a card is inside, it overlaps the tablet case a little (from half a millimeter or so)


Compared to some other models from Archos and Arnova, the audio performs relatively well on the 97 Carbon, with dual speakers for a full stereo sound. We just regret that the speakers are located at the back of the device, so their sound is attenuated, especially when the tablet rests on its back.

Please check the next part of our Archos 97 Carbon review (components)
Manufacturer product page: Archos 97 Carbon