With the new Cube U30GT2 tablet, the Chinese tablet manufacturer has refreshed their U30GT best seller with latest Rockchip RK3188 quad-core processor, offering one the fastest 10″ tablets currently available on the Chinese market. It features the following: quad-core ARM Cortex A9 RK3188 CPU, 2 GB RAM, 10″ IPS screen (1920×1200 resolution) with 10 Points capacitive multi-touch, 32 GB of storage, WiFI 802.11 b/g/n, Bluetooth, HDMI and a dual camera (front 2.0M, back 5.0M autofocus & LED flash) The tablet is available right now for about $280 USD / €220 / 185 UKP imported from China.
Based on latest Cube U30GT2 firmware 1.03 from the manufacturer, we have built a custom firmware offering root feature, some enhancements in Google Play Store support and unnecessary apps cleanup.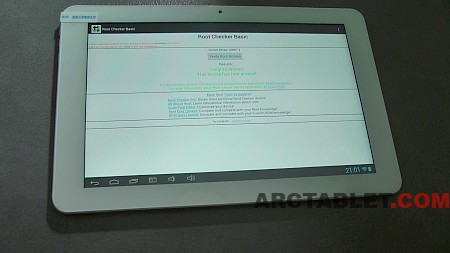 Cube U30GT2 custom rooted english firmware Android 4.1 firmware
We have built a
custom firmware for the Cube U30GT2
model which provides full root with default setup in English. This firmware is based on the
stock U30GT2 firmware 1.03
from Cube.
Cube U30GT2 firmware version 1.03 Build information
Linux Kernel: Linux version 3.0.36+ (cdy@mid-server) (gcc version 4.4.3 (GCC) ) #1734 SMP PREEMPT Wed Mar 20 15:33:36 CST 2013
Android build: rk30sdk/rk30sdk/rk30sdk:4.1.1/JRO03H/20130320.160513:eng/release-keys
RK3188Loader(L)_V1.04.bin
Custom firmware features
root with latest SuperSU version 1.25 (free version)
removed most Chinese and unnecessary applications
Google Play Store fixes so more application are visible/compatible
Cube U30GT2
Rockchip RK3188 quad-core at 1.8GHz, 2 GB RAM, 10.1 IPS screen 1920x1200 resolution,
16 GB Storage, dual camera (2 Mp front & 5 Mp rear), Bluetooth, WiFI 802.11 b/g/n
From $ 280
Firmware download
This firmware is specific to the Cube U30GT2 and should not be installed on other devices.
WE WILL NOT BE HELD RESPONSIBLE FOR ANY DAMAGE TO YOUR DEVICE.
THIS FIRMWARE UPDATE IS USED AT YOUR OWN RISK.
WE RECOMMEND TO FLASH THIS FIRMWARE ONLY IF YOU ARE ABLE TO RESCUE A BRICKED DEVICE USING ROCKCHIP FLASHING TOOL 1.6.
Support the project!
If our web site and applications helped you, thanks for supporting us by donating using the Paypal form below or visiting our Donations page. Donations will be used to pay the bills for our server hosting costs, tools and purchase new tablets to support.

You will need Rockchip flasher 1.6 (for RK3188 tablets) to install the firmware.
Thanks to nomadestore.fr for providing us a test Cube U30GT2 device.