The Cube U30GT based on the Rockchip RK3066 processor is a really cheap and powerful slate, currently one of the best value for the money tablet, available at a mere $210 USD / €170 / 135 UKP easily imported from China. It offers the following features: Dual Core Arm Cortex A9 RK3066 CPU running at 1.6 GHz, 1 Gb RAM, 10″ IPS Capacitive Multi-touch 10 Points (1280×800), Bluetooth, HDMI.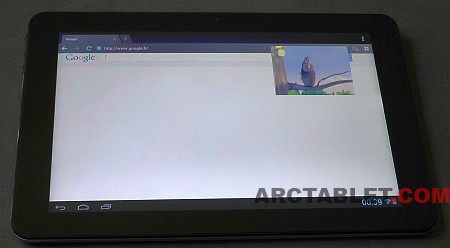 Cube U30GT-H Android 4.1 Jelly Bean with PIP Video Player
The Cube U30GT-H is one of the first tablets based on Rockchip architecture to offer
Android 4.1 Jelly Bean (JB)
, and a great new
Picture in Picture (PIP) feature on the Video Player
that let you put the playing video in a
resizable and movable window
, so you can watch a movie while you continue to use the Android tablet for other things.
Cube U30GT-H custom rooted English firmware Android 4.1 firmware
We have built a
custom firmware for the Cube U30GT-H
model (H only) which provides full root and default language to English rather than Chinese. This firmware is based on the stock firmware 1.06H from Cube.
Firmware download
This firmware is specific to the Cube U30GT-H and should not be installed on other devices.
WE WILL NOT BE HELD RESPONSIBLE FOR ANY DAMAGE TO YOUR DEVICE.
THIS FIRMWARE UPDATE IS USED AT YOUR OWN RISK.
WE RECOMMEND TO FLASH THIS FIRMWARE ONLY IF YOU ARE ABLE TO RESCUE A BRICKED DEVICE USING ROCKCHIP FLASHING TOOL 1.5.
You will need Rockchip flasher 1.5 (for RK3066 tablets) to install the firmware, push Power and Volume Up buttons at the same time to put the Cube tablet in flash mode.
Rooted Metro (Win 8) User Interface for the CUBE U30GT-H
Rooted Metro (Win 8) User Interface for the CUBE U30GT-H:
kasty-cube_u30gt_h-41-103_win8_metro_ui-rooted.zip
Custom firmware release history
Version 0.3 (2012/08/25)
Based on default Cube U30GT-H firmware version 1.06H, default language set to English, added root & SuperSU, removed Chinese and unnecessary apps.
Version 0.2 (2012/08/24)
Based on default Cube U30GT-H firmware version 1.06H, default language set to English, added root & SuperSU
Version 0.1 (2012/08/23)
Based on default Cube U30GT-H firmware version 1.05H, default language set to English, added root & SuperSU