Chinese manufacturers are now offering different Chromecast like dongles to display your phone or tablet screen remotely via WiFI on your big TV. These cheap devices promise compatibility with Miracast, DLNA together with Airplay support for compatibility with Apple Iphone and Ipad devices.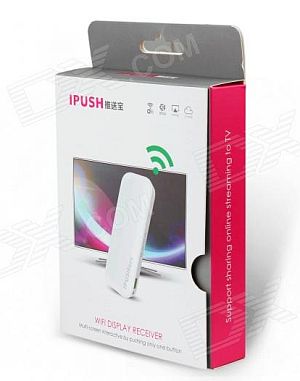 Pricing for these small dongles is very low as these devices are available under $33 / ₤22 / €25. The hardware is actually quite simple, being just a video decoder with WiFI chipset, the processor is usually a Rockchip RK2928 single-core ARM Cortex A9 running at 1 or 1.2 GHz, 256 Mb of RAM and 802.11 b/g/n WiFI, software is usually based on Linux with a 3.0.8 kernel. These sticks don't provide any storage functionality, all the content is pulled from the network or the remote phone/tablet. Miracast or Wi-Fi Display support requires a compatible device such as Android tablets or phones running on version 4.2 or more recent. The dongles usually ship with an HDMI cable to connect to the TV, a microUSB cable and a charger.
Mocreo M1 MCAST01 / iPush
Mocreo M1
MOCREO M1 RK2928 iPush HDMI Wireless Adapter Airplay Miracast Receiver for iPhone / Android Phone
$26 / ₤17 / €20
Miracast dongle MD321
Miracast dongle MD321

Multi small screen to TV Big screen interactive wireless Airplay / DLNA WIFI display dongle Miracast dongle Chromecast MD321
$33 / ₤22 / €25
Please check back soon for a Miracast dongle review.
Via cnx-software.com