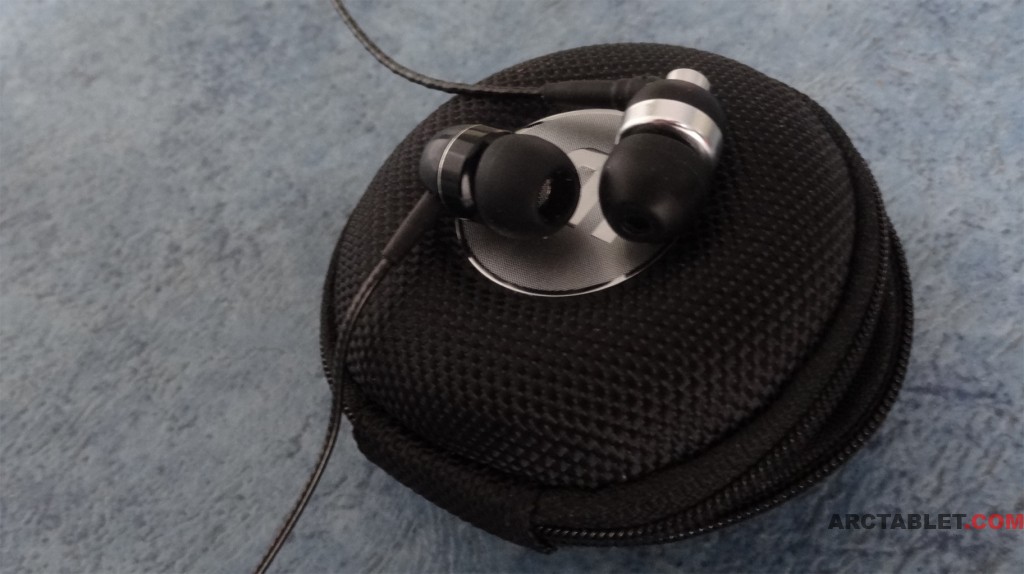 Tech specs
| | | |
| --- | --- | --- |
| |  Brainwavz M2 |  Brainwavz M4 |
|  Rated Impedance |  20 Ohms Closed Dynamic |  16 Ohms Closed Dynamic |
|  Sensitivity |  115dB at 1mW |  101 dB at 1mW |
|  Frequency range |  20 ~ 20000Hz |  20 ~ 20000Hz |
|  Distortion |  < = 0.3% @ 94dB |  < = 0.3% @ 94dB |
|  Channel balance |  < 2dB (at 1000Hz) |  < 3dB (at 1000Hz) |
|  Rated input power |  10mW |  4mW |
|  Maximum input power |  40mW |  20mW |
|  Cable lenght |  1.3 meters (symmetric) |  1.1 meters (symmetric) | 1.25 measured |
|  Warranty |  1 year (depends on reseller) |  1 year (depends on reseller) |
|  Net weight |  10g |  10g |
Packaging
The boxes themselves look simillar, the only difference is the color – the M2s come in blue box, while the M4s come in a read one. Not really much to say about the boxes – nice looking design, but nothing special/innovative if you compare it with Cowon reusable packages.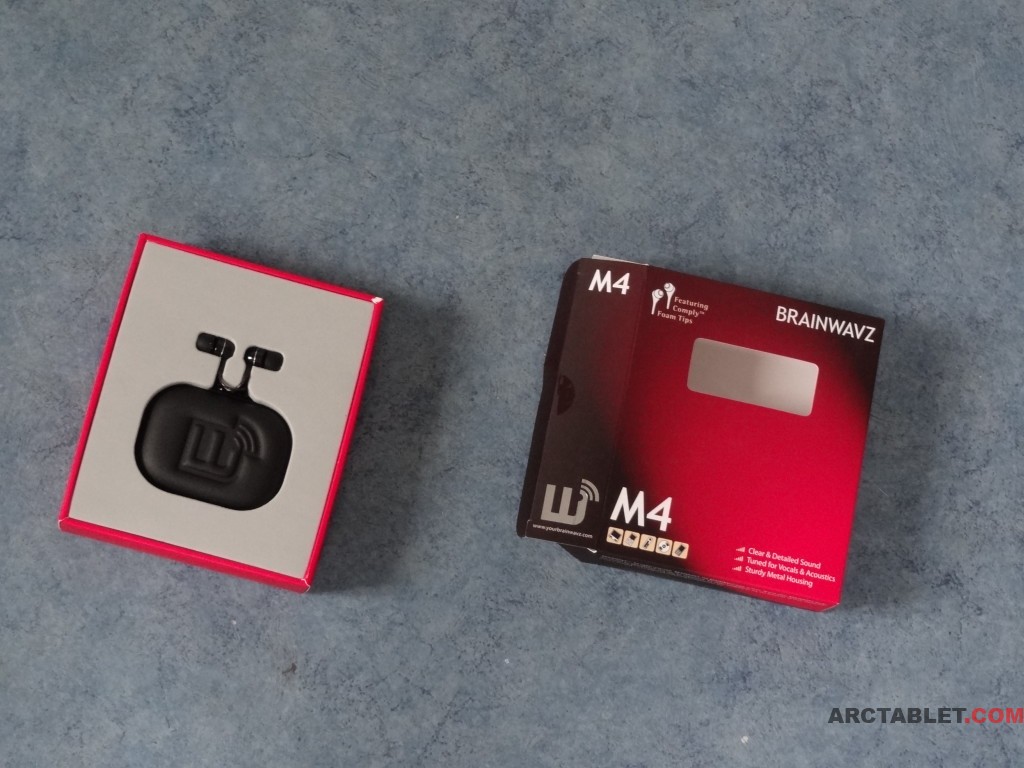 In my opinion, the packaging is much better looking than the ugly anti-steal Sennheiser packages(it takes you hours to open them and you can't keep the plastic box intacct) or Denon which are slightly more user-friendly than the ones from Sennheiser: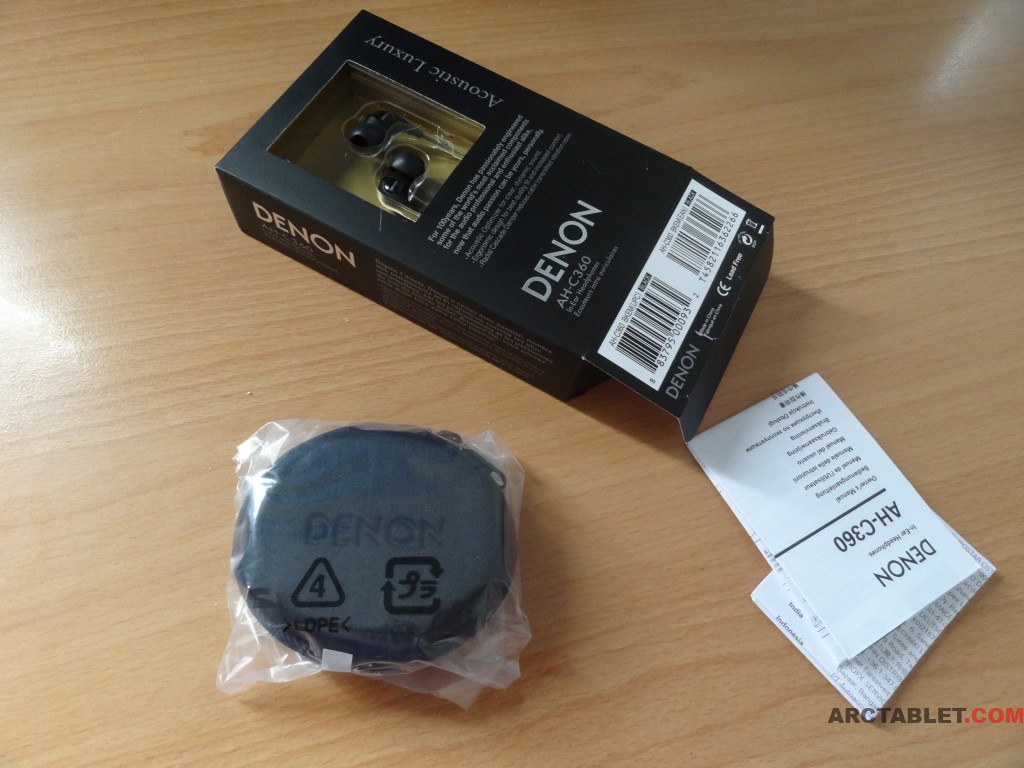 There is some difference in the contains of the boxes though. When we look on the specsheets, in both packages you should find the following:
1 x Comply foam tips
3 x Pairs of ear tips (S/M/L)
1 x Shirt clip
1 x Hard carrying case
1 x Instruction manual
1 x Warranty card
They both come with one set of nano foam tips from Comply. If interested, you can look them up on their website. Brainwavz present them as being something special and even dedicated a small spot on the product packaging: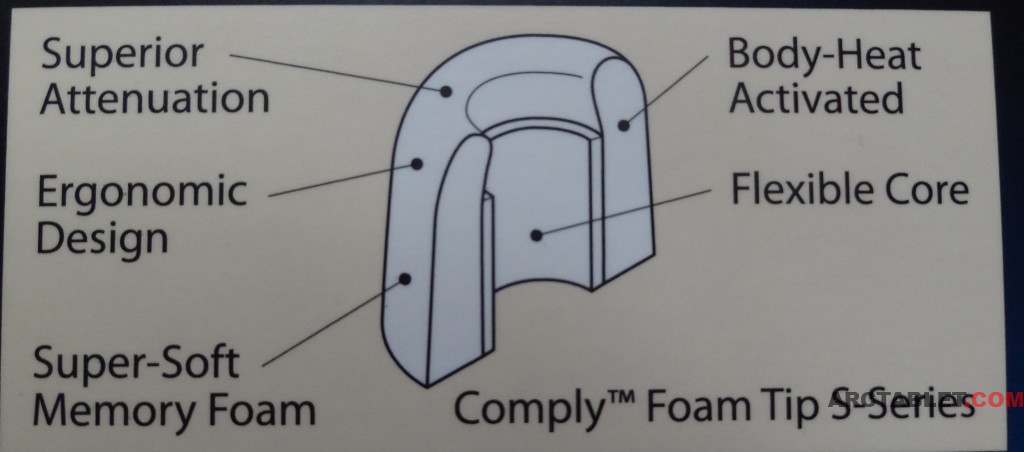 And that's how they look in real life:
Well, I tried them… Rubbish, really. That's not only my opinion – it is also an opnion of my camera, which didn't want to focus first. 😉 Yes, they isolate noise really very good, but they didn't fit my ears that well. And it was quite difficult to take the earwax off(sorry for details). Okey, I agree, if I would have tried the S sized ones, my opinion would probably have been better(I use normal sized sillicon tips, though). However, why on earth do you include only one size then? C'mon Brainwavz! One size fits all? Yeah, right. For me, there is no use from this 9.95$ accessory, but I am sure some people will like it. The "standard" ear tips are different, may be due to the fact that M2 is an OEM product: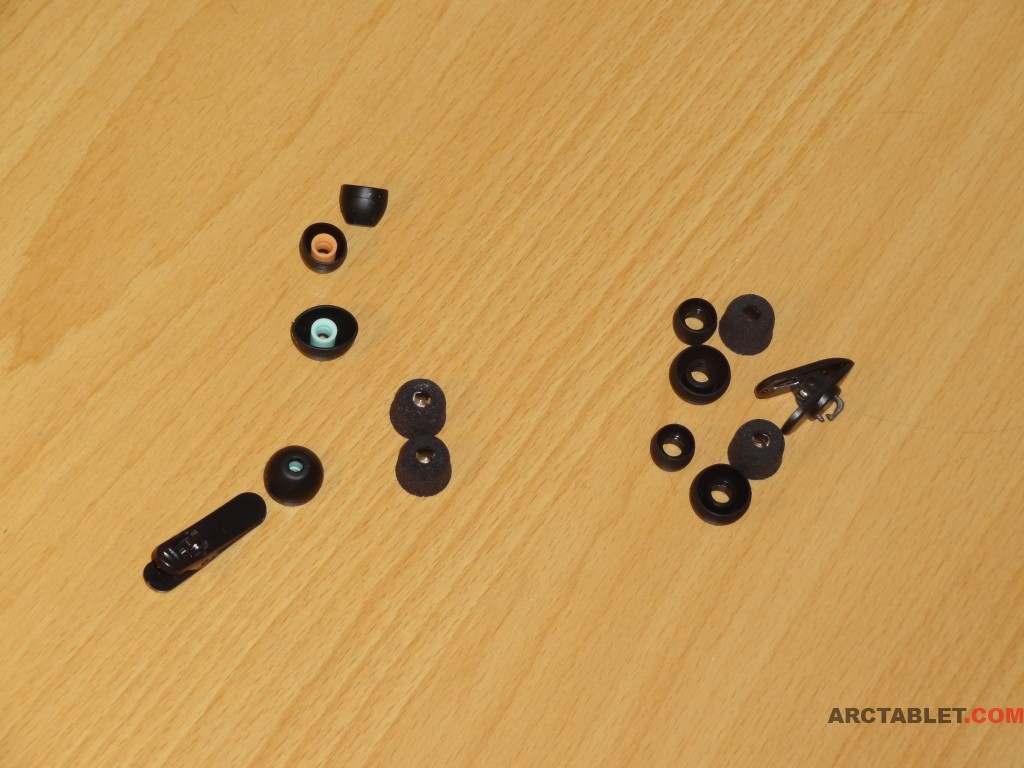 Personally, I like the ear tips for the M2 a little bit more(they are also narrower), but there is not much difference between them. The carrying cases are also different: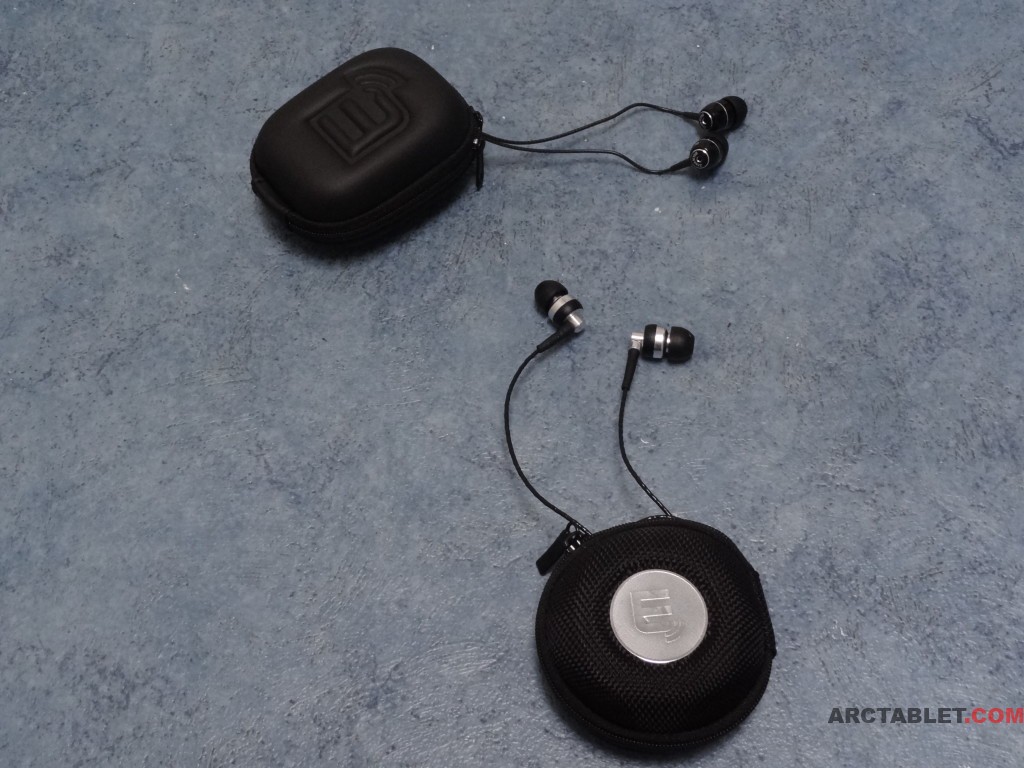 I like the look-and-feel of the M2's one more, but it is much easier to fit the earphones in the M4's one. Still, I would prefer the Denon's carrying case(picture above), the M4's one doesn't feel nice in hands, I have doubts about it's durability and it's just too big.
Build Quality and Look-and-Feel
Brainwavz is a China-based company and when I looked on the spec sheet for the first time, I al ready found it strange that M4's cable was 20cm shorter than the M2's one. I just didn't understand why. When the IEMs arrived, first thing I did, was to measure the lenght of them. What is the result? The M2's cable is 130cm and the M4's one is only 5cm shorter. So, if you left M4's alone just because of the cable lenght, you can go back and still get a pair. 🙂
When it comes to build quality, M2s disappointed me a little bit. After a while, the aluminium part which covers the wire on top and also holds the black, rubber, strain reliefs; came off from the earphone and slided all the way down to the Y-split. I got them back in place and probably, some super glue will also help, but still… The black strain reliefs did come off themselves too, so some super glue here too is also needed. The design itself is quite nice, it is made from aluminium and I like it.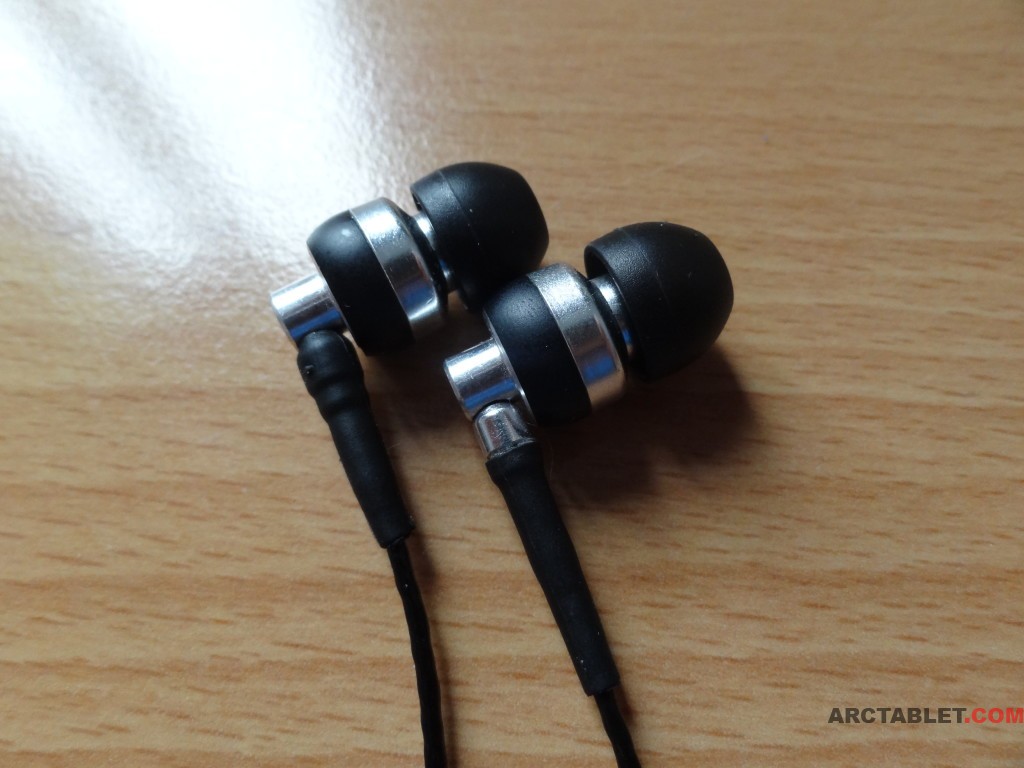 Though I like how M2s look, I like the design of the M4s even more.
They are also made from aluminium and I don't see any parts which can come off, contrary to the M2s(well, Y-split looks a little bit dangerous to me, I don't know). Another difference from the M2s is the R/L marks placement, they are much better visible on the M4s.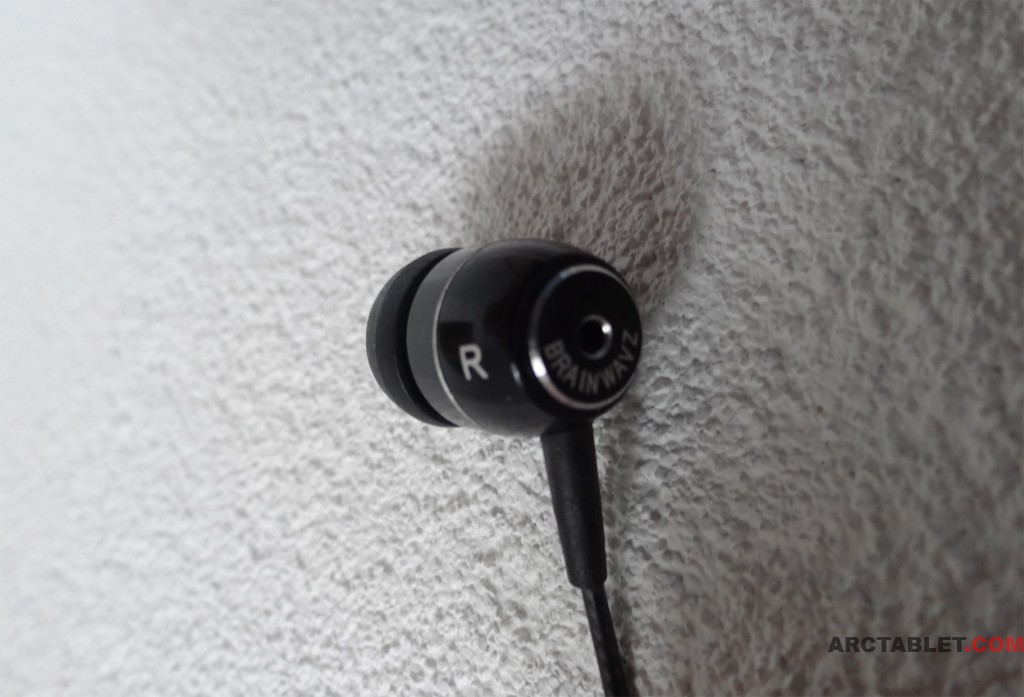 Both have the tangle-free cabling, on the M4s the cables are a little bit thinner and also have some sort of transparant covering on top, whcih looks pretty cool. Of course, they still tangle, but much less than the flimsy cables on Sennheiser CX200 and Denon AH-C360 I tried earlier… They both have an 45 degrees plug(Visang R03 features an 90 degree one), I don't have much much more to say about it. 🙂
Continue to Part 3: Sound Quality.
Brainwavz M2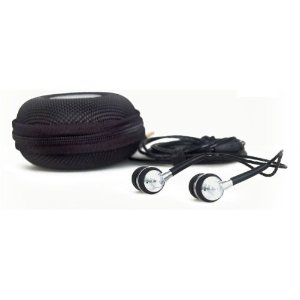 AMAZON USA
$ 49.98
AMAZON UK
Usually dispatched within 24 hours
£ 39.5
AMAZON DE
24.46 EUR
AMAZON FR
Habituellement expédié sous 24 h
44 EUR
Brainwavz M4+microphone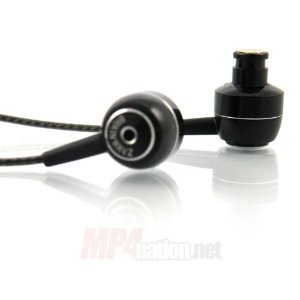 AMAZON USA
Usually ships in 24 hours
$ 44.5
AMAZON UK
Usually dispatched within 24 hours
£ 33
AMAZON DE
24.46 EUR
AMAZON FR
Habituellement expédié sous 24 h
39.5 EUR