Bluetooth support is a missing feature on most Arnova G2 tablets, apart from the Arnova 7c G2 which has a different hardware.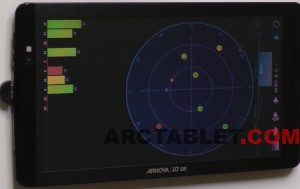 Missing support in the device kernel and system can be added thru kernel modules, to make some external USB Bluetooth dongles work. Fenice57 already did that a while ago on his custom firmware for the Arnova 7 G2.

Loading ...
Bluetooth and GPS support on the Arnova G2 tablets with a custom firmware
We have started to adapt our custom firmwares for the Arnova G2 tablets to include Bluetooth support on the devices that offer an USB Host feature. These firmwares should be published shortly, starting with the Arnova 10 G2.
Here is a video of an Arnova 10 G2 connected to a Royaltek Bluetooth GPS using a Daffodil Bluetooth USB dongle (ref. 06M)

Hardware requirements
The setup to support Bluetooth on the Arnova tablets requires an
USB Bluetooth dongle
to be connected to the USB plug on the tablet, directly if the device has
full size USB connector
or using an
USB Host cable
.
USB Bluetooth dongle
The USB dongle must be based on a chipset made by CSR (Cambridge Silicon Radio, the company has actually been bought by Samsung two days ago), other chipsets are not supported at the moment.
We successfully tested the Daffodil 06M dongle below to be compatible.

USB Host cable, sometimes named USB OTG cable is used to connect the Bluetooth USB dongle (full size USB) to the tablet micro USB port. The Arnova 9 G2 and Arnova 10 G2 already have a full size USB Host connector and do not require the USB OTG cable.

Nokia USB OTG Cable CA 157

AMAZON USA
$ 7.99
AMAZON UK
Usually dispatched within 1-2 business days
£ 1
AMAZON DE
Gewöhnlich versandfertig in 24 Stunden
4 EUR
AMAZON FR
Expédition sous 1 à 2 jours ouvrés
2.91 EUR
Software setup
As you can see on our video, once you have loaded our custom firmware (to be published soon) you will need these two applications to use a Bluetooth GPS on your tablet. Both applications are available for free on Google Play.
Bluetooth GPS
You can then use any application that supports a GPS, including Google Maps.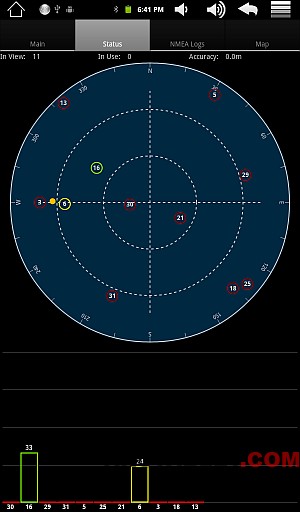 Custom firmware updates with Bluetooth GPS support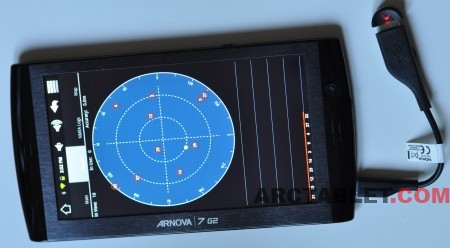 Limitations
So far we have only tested GPS support with this Bluetooth setup, we will update this article when we discover more possibilities.
The tablet does lock up when going into sleep mode when the Bluetooth / GPS module is being accessed.
Support the project!
If our web site and applications helped you, thanks for supporting us by donating using the Paypal form below or visiting our Donations page. Donations will be used to pay the bills for our server hosting costs, tools and purchase new tablets to support.
Thanks to Fenice57 for the Bluetooth kernel modules.