Only half a year ago, Archos released the ChildPad – an android tablet for kids. Now, the company introduced a new family member in Arnova G3 line-up – the FamilyPad. Just like Toshiba Excite 13, this new device packs a massive 13.3″ screen. Featuring lots of connectivity options and the quick stand, it is made for sharing and consuming media. Furthermore, the FamilyPad features an Allwinner A10 CPU running at 1 GHz with 1 Gb of RAM, dual cameras, 1080p HD video output via HDMI, all this combined in a stylish designed case with aluminum finish. Arnova FamilyPad should be available December this year starting at 299 € / £274.99 / ~$349.99, just in time for the big Christmas sales.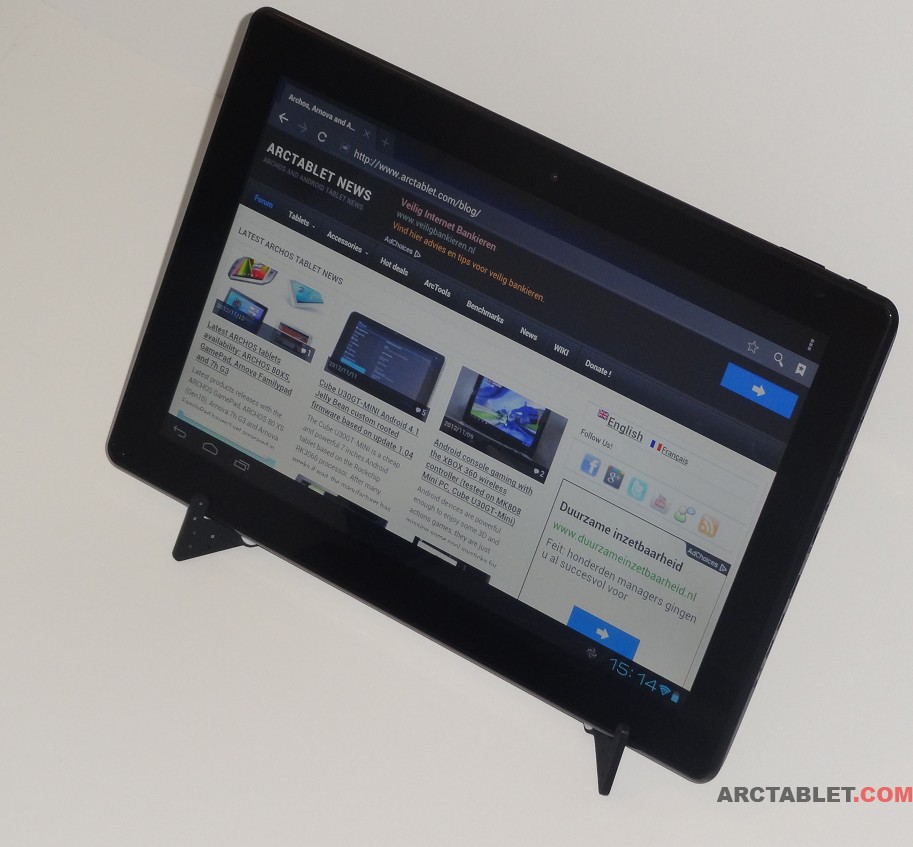 The tablet sample we used for review is a pre-production tablet with a beta firmware. Though some minor things may change, it should give a good idea of the final retail model…
Our review will follow our usual methodology, first presenting the product packaging, the tablet and the quick stand design, performance, multimedia and other features; followed up by our conclusion. Enjoy !

Arnova FamilyPad Specifications
Operating System
Android 4.0.3 (Ice Cream Sandwich)
CPU
Single core Allwinner A10 running at 1 GHz (ARM Cortex A8)
Integrated GPU: Mali 400 (single core)
Flash Storage Memory
Capacity: 8 GB
Speed: Class 4 range (tested Read: 18633 Kb/s Write: 4883 Kb/s)
System Memory
1024 Mb
Additional storage
Micro SD slot (SDHC compatible, up to 32 Gb)
Display
1280×800 13.3 inches(34cm) LCD screen using TN technology
16/10 aspect ratio
capacitive 10 points multitouch, 113 DPI density
Bluetooth
No
Wi-FI
802.11 b/g/n
Gravity Sensor
Yes
Camera
2.0 MPx (back facing)
Pictures resolution: 1600×1200
2.0 Mpx (front facing)
Pictures resolution: 1600×1200
GPS
No
HDMI
Yes(mini HDMI, aka HDMI type c connector)
Interfaces
micro USB Slave
micro USB Host, Mass Storage Class (MSC)
MicroSD slot
Battery life
Video playing: 7 hours 50 minutes tested
More information on video playing test in part 3 of this review.
Google Play Store / Android Market
Yes
Kickstand
No (The quick stand acts as a kickstand)
Dimensions
As announced by Arnova: 262 x 171 x 12.5 mm
Weight
tablet alone: 1286g

quick stand: 78g

Official Product page
on arnovatech.com
Arnova FamilyPad tablet packaging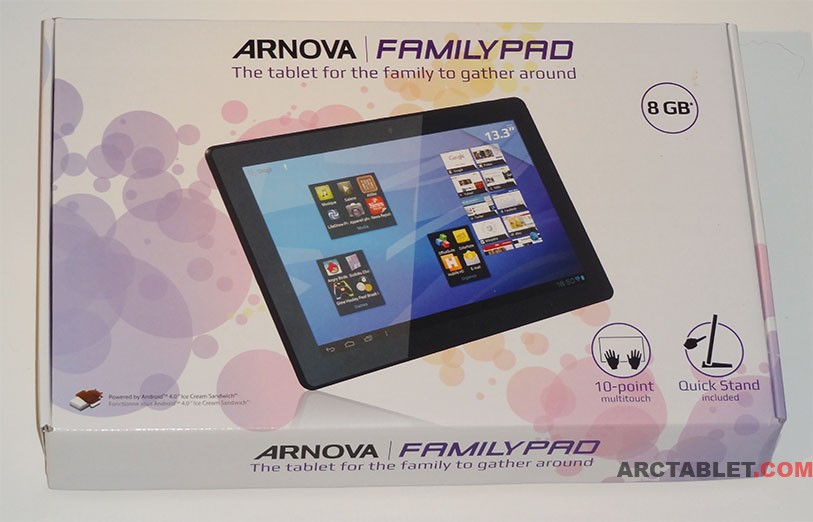 The tablet box contains:
the Arnova FamilyPad tablet
the quick stand (=kickstand)
a micro USB cable to connect the tablet to a computer
a power charger with a DC connector to the tablet, it outputs 5V, 2.5A, with plugs for EU/UK sockets
a micro USB to USB OTG cable to connect stuff to the tablet
booklets: a "need help ?" paper, a warranty/legal and safety notice, a user guide which covers basic topics to get started