The Arnova ChildPad is an children-optimised Android 4.0 ICS Android tablet with great features for an affordable price. It comes with Android 4.0.3 Ice Cream Sandwich, featuring a Rockchip RK2918 CPU, 1 Gb of RAM and is available with capacitive or resistive screens. In addition to our first custom firmware which brings root and Google Play on the device, we are happy to provide another one to provide full Android 4.0.4 experience, CWM Touch recovery and many other options. Though we developed this firmware with the ChildPad in mind, it should also work on Arnova 7d G3.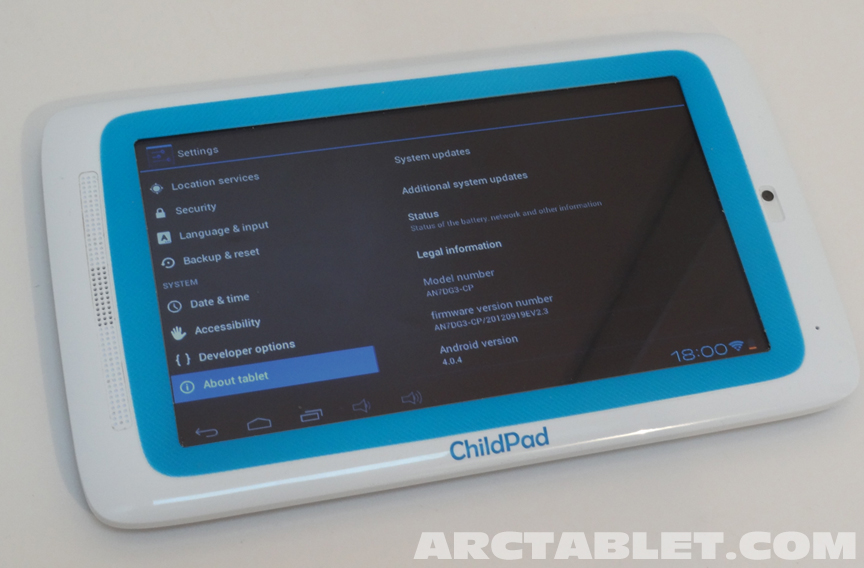 Changes over our previous kasty custom firmware:
Android 4.0.4 built from Evolution 2.3 for Cube U9GT2
CWM Touch Recovery built from Prestigio 5080B
Update fw files to 20120608 Official FW version (capacitive only)
Allow mass storage
Stability improvements
Camera enhacements
Smoother screen rotation
Change browser behaviour(keeps processes going on, for ex. playing music)
Google Ears included
Face Unlock
Apex Launcher
Fix disappearing icons after performing a reboot
Fix Google+ and Google Talk issues
Fix Google Calendar Sync issue
This firmware also features full Google Play support and read/write access to /system partition.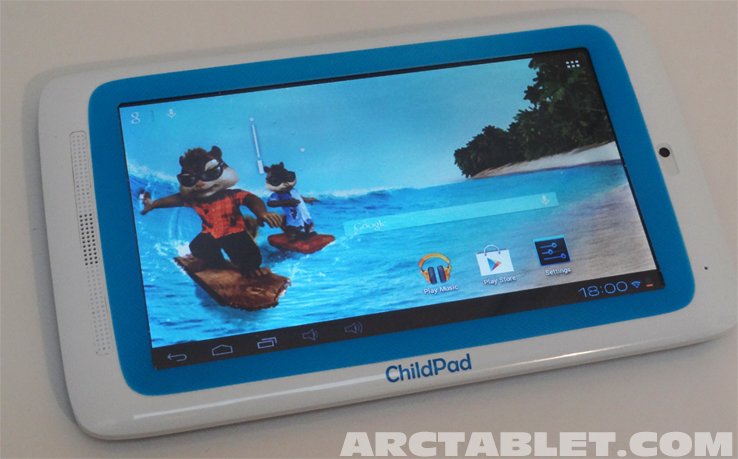 Arnova ChildPad custom firmware install procedure
Before starting, please make sure you backup all your existing apps, data and files that are on your tablet as they will be erased during the flash process. Also make sure your device is connected to the power.
Step 1. Download
This firmware is specific to the Arnova ChildPad and 7d G3 capacitive screen models and should not be installed on other devices.

WE WILL NOT BE HELD RESPONSIBLE FOR ANY DAMAGE TO YOUR DEVICE.
THIS FIRMWARE UPDATE IS USED AT YOUR OWN RISK.
WE RECOMMEND TO FLASH THIS FIRMWARE ONLY IF YOU ARE ABLE TO RESCUE A BRICKED DEVICE USING ROCKCHIP FLASHING TOOLS.
Download the file from above and extract the custom firmware files on your computer hard drive.
Step 2. Installing the driver
Please follow the Rockchip Flashing tool procedure: that will explain how to download Rockchip flashing tool, put your device into flashing mode and install the driver. Because we are using a different setup here(otherwise we would have to build six different firmwares), you only need to follow steps 1-3 from that tutorial.
Step 3. Installation
Run EvolutionRKTool program from the first archive. Check that your tablet is connected by usb and is put in the recovery mode. RKAndroidTool should say "Found RKAndroid Loader Rock Usb". There are three parameter files in the Loader folder. Select one of the three, corresponding to the size of the Apps partition you want to have(parameter for 512MB, parameter-1G for 1GB and parameter-15G for 1.5GB). Now tick the other boxes as shown on the picture below.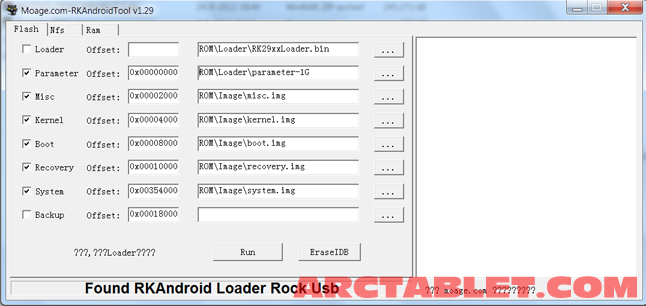 Now, click on EraseIDB. After the proces is finished(should take around 15 seconds), click on Run. When the CWM Recovery will show up on the device, choose Reboot System now. After a couple of minutes, the Start-up Wizard should appear. Please note that the wizard itself may be a little bit slower than the stock one from Arnova.
Tips&Tricks
Improving screen density. 
The procedure is explained on our forum. After applying, don't clear cache and/or data of Google Play, as not all the apps will be visible then.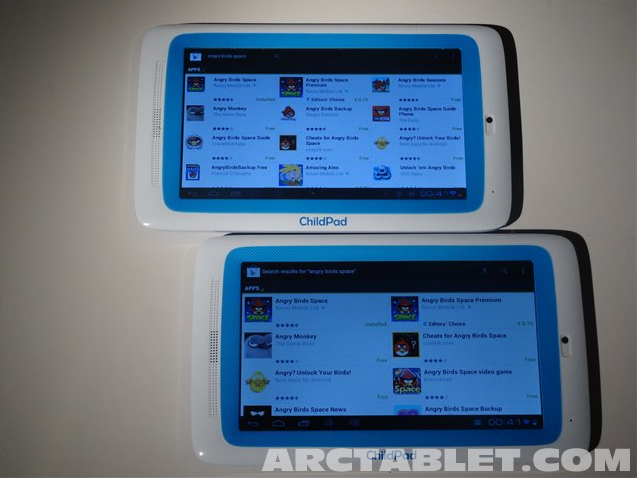 Kaspersky Mobile Parental Control.
With this custom firmware, we decided not to install the Mobile Parental Filter app from Profil Technology. If you still want one, we recommend to use the one from Kaspersky, as it is free and has more options than the stock one on the ChildPad.
Setting up parental filtering on Google Play
This custom firmware will open your ChildPad thousands of applications in Google Play, but you may want to enable filtering, so your little ones do not see applications they are not supposed to see.
To achieve this, start Google Play Store, go to the upper right corner menu, click on it, select Settings


Scroll to "User Controls" section, click on Content filtering item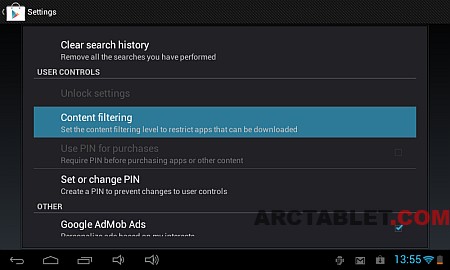 Make sure that only "Everyone" rating is checked.
According to Google, "Everyone" setting should not contain objectionable material, where "Low maturity" setting may include mild cartoon or fantasy violence or other potentially offensive content.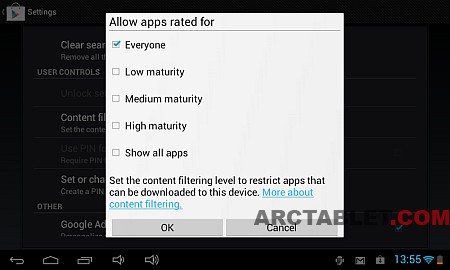 Let us know how it works for you in our Arnova ChildPad forum.