Introduced a few weeks ago, the 9 inches display budget Arnova 90 G3 tablet has been spotted on sale under 100 euros in a few stores. This may look like a tempting offer, we will review the Arnova 90 G3 tablet features and check it is really worth the money and will also compare it with two other tablet models selling for about 100 euros.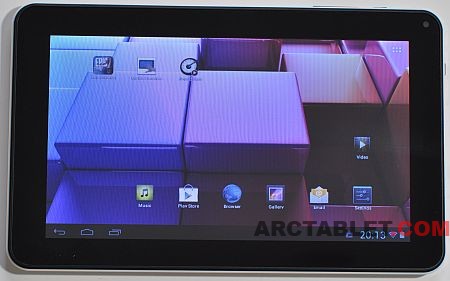 Arnova 90 G3 specifications
Operating System
Android 4.1 (Jelly Bean)
CPU
single-core ARM Cortex A9 Rockchip RK2928 CPU running at 1 GHz
Integrated GPU: ARM Mali-400
Flash Storage Memory
Capacity 4 Gb
Tested speed, on our test device: Read: 9724 kB/s Write: 2732 kB/s Class 2 equivalent
System Memory
512 Mb
Additional storage
Micro SD slot (cards up to 32 GB)
Display
9 inches IPS screen, resolution 800 x 480 pixels
capacitive 5 points multi-touch screen
Bluetooth
No
Wifi
802.11 b/g/n
Gravity Sensor
Yes
Camera
0.3 MPixels(front facing)
GPS
No
HDMI
No
Interfaces
Micro USB 2.0, USB host via OTG
Audio Jack 3.5mm
MicroSD slot
Battery life
not tested yet
Android Market / Google Play
Yes
Kickstand
No
Dimensions
239 mm x 148 mm x 11.6 mm
Weight
480 g


A close look at the devices components and specifications reveals that the manufacturer has been cutting costs on every possible aspect of this 9 inches tablet: low end screen, single core processor, slow flash memory storage. The remaining specs and offered connectivity are quite limited as well: no HDMI, no Bluetooth, no GPS, single camera. Let's see how this setup compares with tablets of similar value.
100 euros tablets benchmarks: Pipo S1 vs ARNOVA 90 G3 vs Hyundai T7
Pipo S1 vs ARNOVA 90 G3 vs Hyundai T7 (~ €100 tablets benchmarks)
Pipo S1
Arnova 90 G3
Hyundai T7
Test setup
Firmware version
Android 4.1.1 firmware dated 2012/10/10
Linux Kernel 3.0.8 dated 2013/03/19
Android 4.1.1 firmware dated 2013/03/13
Linux kernel 3.0.36 dated 2013/03/13
Android 4.2.2 firmware dated 2013/05/03
Linux kernel 3.5.0 dated 2013/05/03
Antutu Benchmark v3.3
higher is faster
Total score: 10435
RAM: 1654
CPU : 1829
GPU: 6115
I/O: 837
CPU frequency: 1608 MHz (dual-core)
Resolution: 480×752
Total score: 4599
RAM: 625
CPU : 1206
GPU: 2308
I/O: 460
CPU frequency: 1008 MHz (single core)
Resolution: 480×764
Total score: 12464
RAM: 2476
CPU : 6755
GPU: 2357
I/O: 876
CPU frequency: 1400 MHz (quad-core)
Resolution: 800×1232
Quadrant Standard v2.1.1
higher is faster
Total: 4289
CPU: 7459
Mem: 3943
I/O: 5529
2D: 1618
3D: 2898
Total: 2014
CPU: 2276
Mem: 1343
I/O: 3677
2D: 962
3D: 1813
Total: 4304
CPU: 13081
Mem: 4152
I/O: 1205
2D: 397
3D: 2686
Vellamo v 2.02
higher is faster
HTML5: 1521
Metal: 472
(ran in portrait mode)
HTML5: 1134
Metal: 315
(ran in portrait mode)
HTML5: 1474
Metal: 478
(ran in landscape mode)
EPIC Citadel version 1.05
Benchmark run in high quality mode performance level
rendering resolution 100%
higher is faster
43.3 FPS
(800×432)
program crashed, doesn't run on the Arnova 90 G3
54.1 FPS
(1280×752)



Quadrant Standard v2.1.1 benchmark video:

Arnova 90 G3 screen
The Arnova 90 G3 tablet features a rather unusual display format with a 9 inches screen at a 800×480 resolution. This gives a screen ratio of ~1,667 which is somewhere between 16/10 (1.6) and 16/9 (~1,778) formats. With these kinds of specs, you won't need to get very close to the screen to see the pixels.
If you are used to mid range Android tablets, you will quickly find a rather poor visual experience on the Arnova 90 G3, even for a low cost model build in 2013: main issues we noticed are poor contrast and display colors (they look washed and show a blue tint) rather limited viewing angles and very low resolution (800×480)
The short video below compares the Arnova 90 G3 (9″, 800×480) with another tablet in the similar 100 euros price range: the Hyundai T7 (7″, 1280×800) tablets displays, showing the difference in screen colors, contrast and pixel density.
Low screen density
One more thing is to consider the screen is a 9 inches diagonal, you get a very low pixel density, actually set at lowest value in Android system ldpi value (120 dpi) which is normally used on small size screens.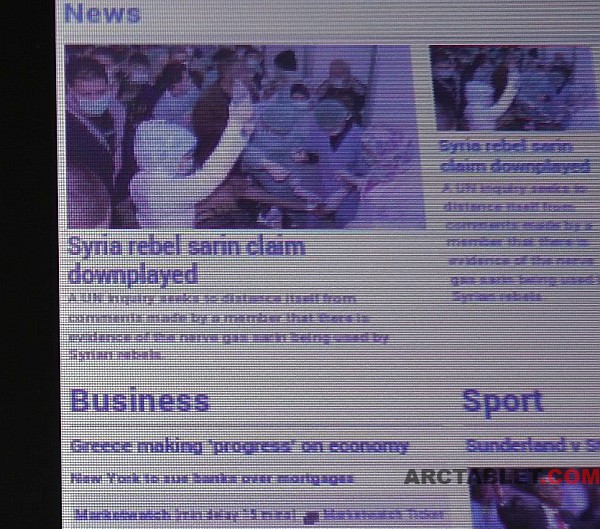 BBC website, displayed on the Arnova 90 G3, using default web "Browser" application, default font size

Loading ...
Multimedia on the Arnova 90 G3
ARCHOS is well known for the rock solid multimedia playing feature on their devices, they recently introduced their own Video and Music applications in Google Play Store. Curiously, with the Arnova 90 G3 tablet, they even saved on the media player application as the tablet ships with ARCHOS Video Player free version, that has is feature limited and supported thru advertisement. The experience goes even worse as we tested a few video files, including "Sintel" animation video file that ships with the device, curiously none of them managed to play with ARCHOS Video Player, resulting in a black screen.
Is the Arnova 90 G3 worth the money ?
The few days spent with the Arnova 90 G3 did not lead to a very enjoyable experience, there is a lot of frustration coming from the slow processor and general performance, the rather cheap display with poor colors, low resolution. Unless you really need a big screen and you can cope with the limited features of the Arnova 90 G3, we'd recommend to turn to models with lower screen sizes such as 8″ or 7″, which can give you better resolution, more accurate colors and a more portable tablet format. It seems good quality 9 inches type screens in the €100 range budget are currently very difficult to achieve without making serious compromises about the quality and features, which is pretty much what the Arnova 90 G3 is about.
Great alternatives are to go with middle range tablets in smaller screen size such as the Hyundai T7, currently one of the best value in the 7″ tablet: great screen, great connectivity and performance, imported models sell for about €110 / $140 / £95 . Another option in 7″ is the cheaper Pipo S1, selling for €62 / $85 / £52 . On the very low end specs, still with a 7 inches display, there is also a model similar to the Arnova 90 G3 such as the Cube U25GT are sold for about €55 / $71 / £46 imported as well.
Hyundai T7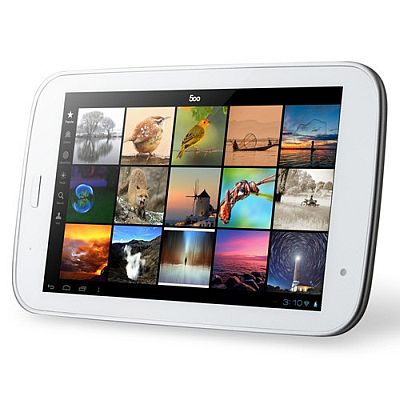 quad-core Samsung Exynos 4412 CPU, 1 GB RAM, IPS 1280x800 pixels display, HDMI output, dual camera (front 0.3MP, back 2.0MP), WIFI b/g/n, Bluetooth and GPS
From $ 140